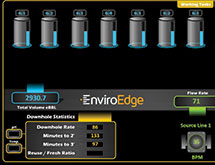 Two of the most difficult problems at active well sites are managing the water supply and securing personnel supervisors. Crescent Companies is succeeding in offering both.
Oklahoma City-based Crescent Companies consists of Crescent Services and Crescent Consulting. Crescent Services offers well site support and logistics, most notably, water management. Crescent Consulting provides well-site supervisors and managers.
Water Solutions
Crescent Services is a full-cycle water management company. It provides solutions to all water needs including obtaining and securing water rights, storage, transfer, flowback and recycling. "The growth of our water management business over the years has been fairly impressive, which has been accelerated by our cutting-edge water measurement, tracking and reporting technologies," says Nick Hughes, executive vice president and CFO.
Water is an essential and challenging component in drilling and completion of operations. From resourcing and storage to transfer and disposal, Crescent says it offers solutions to manage water responsibly and efficiently at every step along the way. Every Crescent location has the expertise, tools and manpower to maximize performance according to the distinct geography and regulations of each region.
Crescent Services overcomes several challenges in managing water resources for its clients. For one thing, water requirements for drilling and completions can be extensive and it can be difficult to find water sources in some locations, especially during drought conditions.
After obtaining rights to the water – which entails understanding location-specific regulations – it must be properly transferred and stored. Crescent Services excels in the use of sonar measurements of pits and pressure sensors in frac tanks to determine precise volumes of water, "so customers know exactly how much water is available for their operations at all times," Hughes says.
Another challenge for the company is to determine the proper procedures for reusing flowback water to ensure the highest-quality water is used on future operations. After the water is flowed back post completion, it must be stripped of bacteria, metals and solids so it won't plug up a well, Hughes explains. It is stored in large round tanks that hold more than 40,000 barrels. Expertly handling, measuring and tracking all of these varied components of water is what makes Crescent Services a full-cycle water management firm, Hughes explains.
Valuable Experience
The consulting business was founded in 2006 to provide oil companies with well-site supervisors. Operators commonly recruit temporary managers from consulting companies to supervise the various operations and vendors onsite, Hughes explains. These highly experienced managers often prefer to work for consultants, as well, since it affords them greater flexibility. The consulting business benefits from the fact that these supervisors can be hard to come by and are much sought-after, Hughes says. The oil companies also prefer to reduce the number of highly paid managers on the payroll, a number that could fluctuate greatly with operator activity levels.
Crescent Consulting thrives at this because of its experience in the industry and longstanding relationships with various operators. "We have been in the industry for so long that we have a vast database of experienced individuals to offer," Hughes says. "So they know when they call us for a drilling well manager, we have an extensive Rolodex of people to call to satisfy them."
Prior to joining Crescent, Hughes was the CFO of Diamondback Energy Services. He also worked at OGE Energy Corp., Grant Thornton LLP and PricewaterhouseCoopers LLP.
Mission for Success
Crescent Companies' turnkey solutions that cover the life of a well and its consulting expertise have combined to make it one of the fastest growing oil and gas service companies in the U.S.
"At Crescent Companies, our ownership is dedicated to maintaining the highest integrity while setting the standard for oilfield consulting and well-site supervision through our personnel and services," the company says. "Crescent will continue to expand nationally with sincerity to safety, service, the environment and our natural resources."