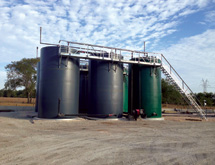 Crimson Energy Partners III LLC
Crimson Energy Partners III LLC knows what it takes to be a successful independent oil and gas company. For the past 15 years, the company has identified, drilled, produced and sold well operations in south and east Texas by employing a strategy that emphasizes partnerships and controlling production costs.
The Fort Worth, Texas-headquartered company purchases or leases properties and contracts with a number of service providers that supply the manpower and equipment it needs to drill and produce its holdings. "We find the best services at the best prices," founder and President Frank Starr II says. "We've put together a great team of dedicated companies who work together as a single group."
Crimson's partners include New Tech Engineering, which assists Starr, a trained engineer, with technical aspects of a project before work begins. After engineering and permitting work are completed, Crimson contracts with Wisco Moran Drilling Company to conduct drilling operations. Premier Directional provides horizontal drilling expertise and Halliburton supplies the drill bits used on all of Crimson's projects.
Other key service providers include Anchor Mud Services, which provides drilling fluids; Baker Hughes, which provides cementing services; and DGM Supply, a tubular provider. Completion work is provided in part by Gray Wireline Services, which perforates and runs plugs provided by Tri Point LLC. Fracing services are performed by Refinery Specialists Inc. (RSI).
Crimson's full-time site supervisor oversees drilling operations in addition to Warren Production Services, which supports the completion and production side. "From beginning to end, there are a lot of companies involved in the process," Starr notes.
Asset Building
Drilling and producing wells resulting in value creation to the point where they can then be sold is the business model of Crimson Energy and its partners. Starr and Vice President Jacob Rivers III founded the company in 1998 as Crimson Energy Co., purchasing its first assets in south Texas in 2000. Both founders have more than 25 years of experience in the industry.
The company's assets were later sold in 2004 to J.M. Huber Corp. Crimson's principals then established Crimson Energy Partners L.P., known as "Crimson II," which began operations in April 2005 and later sold its 5,140 acres of south Texas assets to Swift Energy in 2008.
The current company, Crimson Energy Partners III LLC, was established in 2009 with financing from SW Capital Partners. Since its formation, the company leased 28,000 acres in Brazos County in east Texas and is drilling in three geological formations: the Woodbine formation, in which it has drilled 16 wells; the Eagle Ford shale, with two wells drilled; and the Buda-Georgetown play, in which it has nine wells operating.
The company's main operational focus is on the Woodbine and Eagle Ford formations. The cost to drill and complete the Eagle Ford wells is $6.5 million per well, and the estimated reserve is 300,000 to 400,000 barrels of oil equivalent (BOE) per well over the life of the well. The Woodbine wells cost $4.5 million per well, with a total estimated reserve of 300,000 BOE each, Starr says.
Starr anticipates that all of the company's assets will produce at a 2,500 to 3,000 BOE level per day which would make them desirable for purchase by a larger company within eighteen months.
Positive Stewards
Crimson Energy Partners III's belief in relationship building extends to the owners of the land it leases and the surrounding communities it services. "We make a real effort to go out and interact with landowners," Starr says. "Our responsibility is to be good stewards of their land, and that's what I think we focus on first and foremost."
The company works to minimize its footprint and damage to trees on the property surrounding its wells, and focuses on leaving the sites as good or better than when operations begin. "Being a smaller company gives us the ability to respond to mineral owners needs and make decisions on the fly, whether it's working with landowners or during the drilling and completion process," he adds.
Crimson also makes a positive contribution to communities through its work with charities and organizations including the Kids Links Foundation, which works with children's hospitals in Texas; Kids Matter International, a Texas-based children's charity that supports orphanages; Heart of a Champion, an organization that provides educational programs to a-risk youth; and the Shrine Circus, which benefits underprivileged youth.