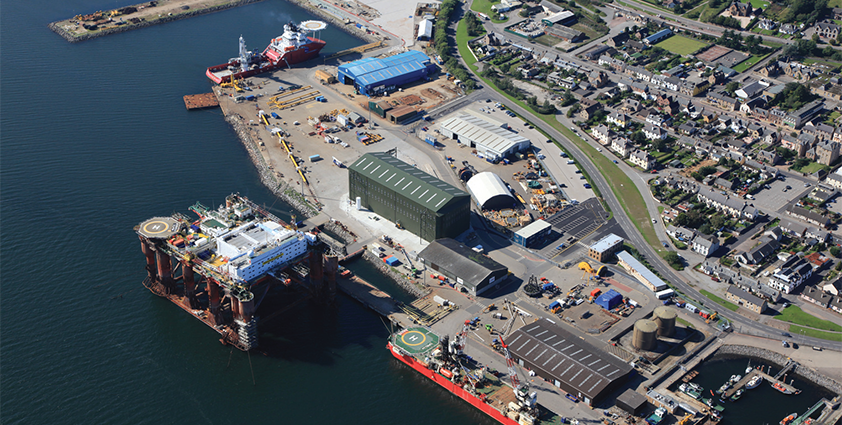 Cromarty Firth Port Authority
CFPA Record Year, Despite Volatile Trading Conditions
The Cromarty Firth has become the Highlands of Scotland's established port facility for all subsea and IRM requirements.
We offer an internationally recognised and locally based skilled workforce combined with deep sheltered water, no weather restrictions and access 24 hours per day 365 days per year, all of which makes the Firth a proven destination of choice for multi-national subsea and drilling organisations.
We pride ourselves on a flexible approach to meeting customers' needs and are preparing for the challenges facing oil and gas exploration in the UK Continental Shelf over the next decade. Originally a Naval Port, when the Navy departed the Firth in the 1970's, the Trust Port was officially established and steadily began to grow until today, where the facilities available at the Invergordon Service Base and throughout the Firth have become recognised worldwide as a centre for excellence in IRM and subsea fabrication, maintenance and logistics.
With dedicated sheltered deep water anchorages, a service base measuring over 30 acres, 450 metres of deep water quay and dedicated facilities for semi-sub and jack-up rigs of all sizes, some of the world's largest drilling companies have used the facilities in the Firth and the experienced local supply chain to meet their IRM requirements.
The figures speak for themselves. Over the last 30 years, more than 630 rigs have visited the Firth to undertake IRM works and to take advantage of the sheltered anchorage. In 2010, there were 469 rig days alongside, which is an increase of 23 per cent on 2009 and rig days moored in the Firth were 1842, an increase on 2009's figure of 15 per cent.
Captain Ken Gray, chief executive and harbour master, comments: "Despite the world economic depression and volatile oil prices, CFPA's business has shown significant growth. 2010 was an extremely successful year, and in particular, subsea shipping activity was better than predicted due to activities West of Shetland."
The modern pipe spooling facilities at Highland Deephaven, operated by Technip, have a causeway spooling facility over two kilometres in length and have been utilised for projects throughout the world. In the last year alone, pipeline spool project work has been undertaken for many of the active North Sea and Central North Sea oil fields, including Pierce, Devenick, Athena, Bacchus, Goosander and Huntington. The arrival of the new Apache II in June 2010 further increased activity at the Spooling base.
The Port Authority has undertaken a programme of upgrade and capital investment in the Invergordon Service Base facilities, for the benefit of customers and the local supply chain, and now offers 43,600m2 of open storage and fabrication hard standing, with direct access to quay areas.
The Nigg Oil Terminal is connected to the Jacky Field and Beatrice Field via pipeline, in addition it has considerable experience in ship-to-ship transfer of crude oil and oil slops processing. This has meant that the operator of the Nigg oil terminal, Ithaca, has invested and ensured the facilities longevity. Ken Gray elaborates further: "2010 saw the Nigg oil terminal handle over 3m gross tonnes of shipping and 3.4m tonnes of crude oil, comprising Beatrice and Jacky crude exports, ship-to-ship transfers, crude oil storage and cargo slops processing."
The future is promising to continue to be busy, with the assembly of two 18m x 18m well head protection structures due to commence at the Invergordon Service Base, plus a 120m pipe caisson is currently under fabrication, targeted at the Kinnoull Field development.
Ken concludes: "The Port Authority has undertaken a 20 year master plan to ensure that we continue to adapt to changing demand and continue to meet our customer's needs and those of the supply chain. We have invested over £5m in improvements to the Invergordon Service Base in the last four years and have further plans for investment in the next five-year period. We are currently the UK's market leader for IRM and are striving to increase our facilities further in the subsea and offshore renewable sectors."
Cromarty Firth Port Authority will be attending Offshore Europe in Aberdeen, on 6th-8th September and can be found at stand 5A100.