Cross Country Infrastructure Services
Expanding across countries
From day one of its existence, what has now become known as Cross Country Infrastructure Services, had in its mind a clear expansion strategy that would take the company across multiple geographies in the US and Canada, and develop its expertise in a wide range of infrastructure-related market segments.
"Our story began in June 2013 when a private equity investor called Odyssey Investment Partners, alongside a group of smaller independent investors, invested in Cross Country Pipeline Supply –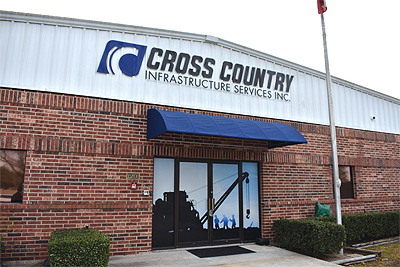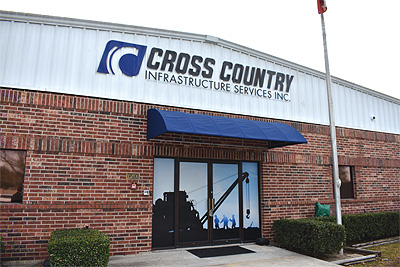 a leading supplier of materials, tools, equipment, and parts for the pipeline construction industry. At the time, about two-third of the business was coming from equipment rental to pipeline contractors and the rest from selling supplies to the same contractors. Then, within the next year and a half, we performed several other acquisitions that allowed us to grow significantly," CEO Gerald Plescia introduces to us the origins of the business.
By the end of 2013, Cross Country had also finalised the acquisition of Power Associates International (PAI), whose specialism lies in renting equipment for the integrity testing of both new and used pipeline installations. It was in 2015, however, when a resounding statement of intent was sent through the industry, as Cross Country purchased four more businesses, thus entering new market fields and establishing a visible geographical footprint throughout North America, including making its first foray into Canada.
Gerry discusses: "These transactions helped us add new competences to our offering. For example, we developed an integrity services capability, as well as infrastructure rental expertise, courtesy of the successful acquisition of Stone Pump & Trench, which led us to broaden our catalogue with items like dewatering pumps, trench plates, and trench safety equipment. Acquisition is a key part of our growth strategy, but we continue to broaden our equipment categories as well. CCIS recently signed a distribution agreement with SCAIP, a premier equipment provider manufacturing industry leading pipeline and agricultural equipment. CCIS will be the exclusive distributor within North, Central and South America effectively enhancing our ability to support our clients with new sales, as well as rental.
"In parallel with introducing new product lines to our portfolio, we also opened up a number of new locations. In a very short space of time, we were able to grow from one major hub operation in Denver, CO, to five such hubs, setting up central facilities in Houston, TX; Eighty Four, PA; Midland, TX; and Edmonton in Canada. In addition, we have opened other smaller sites surrounding these hubs and now all of these locations make up a well-connected network, which enables us to serve our customers efficiently."
Strategic acquisitions
Epitomising the model Cross Country is trying to establish, is the company's growth in Canada. Gerry explains: "Our idea is to be able to put all our capabilities together into every market we target, so that we can provide an unrivalled offering to potential customers there. In Canada, we made one relatively small acquisition, but by being able to offer equipment that had not been seen before in that area, we elicited fantastic customer response, which helped us grow our turnover from about five times our original base revenue in a four year period."
In fact, Cross Country's Canadian operations tell us only a tiny bit of the success story the company has turned into in just over half a decade. Similar rapid growth can be observed in the othergeographies where it is present, all due to the integration of the newly-added types of equipment into the entity's product ranges. "We have certainly begun winning more and more business once we have assimilated all the acquisitions into our work. For instance, if an individual customer was only renting equipment from us in the past, they have already started buying supplies, or renting pumps or hydrostatic testing units, because we can now act as a one-stop shop for them. Speaking in real figures, 2017 saw us achieve a 70 per cent organic growth in revenue, and another 40 per cent organic growth in 2018 over 2017," Gerry enthuses.
Considered a stepping stone along the path that will take it to the glamour of the Western US, Cross Country's acquisitionof Nevada-based Rain2Day has added further variation to the business'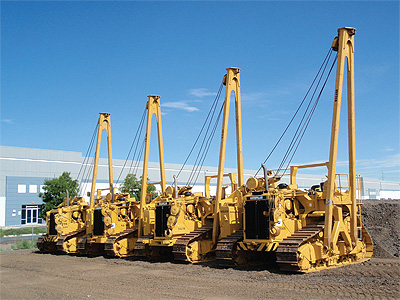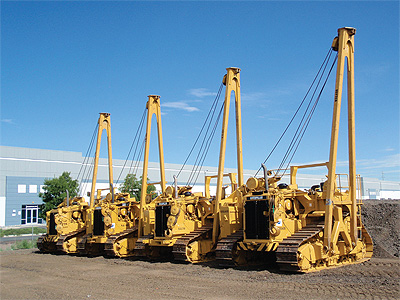 expertise in the construction and civils realm. "It gave us the chance to enrich our dewatering proposition on the pump rental side of the business," Gerry comments. "Furthermore, it works well with our ambition to penetrate the municipal, civil and infrastructure markets deeper, as we can now participate not only in water removal from pipelines, but a multitude of infrastructure projects."
Throughout its short but colourful history, Cross Country has been involved in a multitude of high-profile projects, such as the Dakota Access Pipeline (DAPL) and the Rover Pipeline. "The latter," Gerry contends, "is a particularly good example that shows our involvement in every single phase of the scheme. We were actually the only supplier that extended across all segments of that project, clearly demonstrating the breadth of our capabilities."
Comprehensive services
The Rover pipeline is 713 miles long and transports up to 3.25 billion cubic feet per day of domestically-produced natural gas from the Marcellus and Utica Shale production areas to markets across the US, as well as into the Union Gas Dawn Storage Hub in Ontario, Canada for redistribution back into the US or into the Canadian market.
"We started by supplying part of the equipment required for the processes of site clearing and water removal. After that, we rented specialty equipment for the actual laying of the pipe. Next came the backfilling stage of the project for which we provided padding buckets and other similar equipment to backfill the installation. Lastly, when the pipe had to be tested for its integrity, we were ready with pig launchers, pig receivers, flow metres, and hydrostatic testing units, which we offered to the testing contractors," Gerry reviews Cross Country's involvement in the programme.
Further diversification
Taking into account the host of infrastructure developments that are still needed in the US and Canada, he is confident that the company will be kept busy in the coming years. "From a pipeline perspective, there are significant projects that are waiting to be set in motion. For example, a lot of planning has taken place for the transportation of oil and gas from core development sites to new facilities near ports. This includes connecting Central and Northern Alberta with the Vancouver area in British Columbia. Also, there is relatively inexpensive production of oil and gas in the Permian Basin that needs to be moved to the Texas Gulf Coast for LNG processing and exporting, which is producing large diameter pipeline projects.
"All in all, I foresee continued growth in the future. We are convinced that our business model can be applied to other industries that are very attractive to us and we will also be looking to build upon our expertise with new acquisitions, some of which may even happen in the next couple of months," Gerry divulges Cross Country's aspirations to join new businesses to the organisation.
"The key theme in the long-term will be the further diversification of the business. When we started about five years ago, pipeline rental and supply sales comprised 95 per cent of our work. Today, it represents 65 per cent of our business, while integrity and infrastructure rental has grown to 30 per cent, and the rest comes from services and equipment sales. Five years from now, we should be even more balanced, having maintained our core competencies, while also including new products and services to our offering," he sums up.
Cross Country Infrastructure Services
Services: Equipment rental, sales and custom fabrication, supply sales, integrity rentals and service