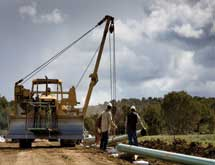 Whether it is laying an 11-mile pipeline in two months, reclaiming oil or natural gas wells, hauling material for levee repairs after Hurricane Katrina or building oil or gas field structures, Crossfire LLC has the skilled employees and safety record to accomplish the job.
Ezra Lee founded Crossfire in 2001 with the idea that his company could be only as good as the people working for it. "So with that in mind, he tries to hire the top people and the best people in their field or in their area of expertise," asserts Brook Lee, office manager and Ezra's spouse. "He is fortunate to have some of the top people in the industry working for Crossfire. He realizes that it's growing into a nationwide, larger company, but I think it still has a small company feel. It does not have a corporate feel."
Employees at Crossfire are not just numbers. "He has an open-door policy, and everyone from upper management down to the laborers can come in and visit with him if they need to," she says. The company also places a high priority on safety and communicates that to all Crossfire employees.
"We have a very high safety rating, and in the oil and gas field industry, that is like a credit rating for a company," Lee says. "So we are able to work for all the major oilfield companies and all the major players in the industry. We have some really talented people that do a very high standard of work. We keep our standards really high, and with the highly qualified people that we have, our clients know they will get a really good finished product."
Versatility Guaranteed
Crossfire provides a range of services that include setting of surface equipment, pumping units and tank batteries, and connecting them to existing pipelines. The company also provides small pipeline repairs, servicing of existing wells, excavation, trucking, water and aggregate hauling, heavy haul transport services and crane services.
The $2 million, 11-mile pipeline being installed in the San Augustine, Texas, area is typical of the company's quick work.
"It's kind of special because of the amount of time we have to complete it in," Lee points out. "The client wants to be flowing gas on Dec. 2, 2010, and we began the project on Oct. 11, 2010."
The company also has hydro-excavation trucks that can inject water into the ground around a buried pipeline and vacuum the water and mud out to uncover it. The method is safer than digging with equipment like a backhoe, which risks damaging the pipeline and causing a leak.
Diversified Early
Ezra Lee was a pipeline inspector before founding Crossfire, which originally reseeded and reclaimed oil and gas fields. "He had a lot of connections and realized the opportunity for many of the other services we now provide," Brook Lee says. "In this economy, the best way to stay in business is to be diversified."
Crossfire provides its services in Colorado, New Mexico, Arizona, Utah, Wyoming, Oklahoma, Texas and Louisiana, and plans to expand further, perhaps farther west. "International work is a possibility," Lee notes.
In 2011, Crossfire will be 10 years old, but so far, there are no big plans to celebrate the anniversary. "We're going to keep working and keep our nose to the grindstone," Lee resolves.