A lasting impression
Operating as part of the Crummock group of companies, Crummock Oil and Gas was incorporated in 2001 and quickly established itself as a trusted partner in asset protection and life extension solutions. The company began working in West Africa, providing refurbishment services to offshore accommodation modules and public living areas on Floating Production Storage and Offloading (FPSO) vessels and platforms in Angola and Equatorial Guinea. More recently during 2014, following several years of successful operation, Crummock has established a new venture in Nigeria. "The business has steadily grown and in 2014 Crummock Oil and Gas Nigeria Limited was incorporated with Nigerian partners to address the need for our services in the Nigerian oil and gas market," reveals Director, Alex Jeffrey. "While the Nigerian company is currently in its infancy, Crummock Oil and Gas employs 22 people, plus subcontractors, however this number will increase as the business in Nigeria takes off."
The services provided by Crummock help to ensure the health and safety of the crew as well as the assets themselves and maintain crew morale. Presently the company divides its operations into three main areas, comprised of potable water solutions, living quarter refurbishments and security stations. For example, the portable water used in FPSO and offshore platforms is chlorinated to reduce bacterial growth. When used in traditional metal pipes, this can cause a side effect of severe corrosion leading to leaks, reduced flow and water discoloration. Crummock provides the solution to this problem by replacing pipes and upgrading water treatment facilities to ensure the flow of healthy drinking and bathing water.
Furthermore the company is able to assist in a full spectrum of living quarter refurbishments through services including the design, manufacture and installation of galleys, the replacement of toilet and shower facilities, as well as the replacement and maintenance of flooring and wall panels. Thirdly Crummock is able to include security stations that include threat detection, access prevention and the design, building and installation of certified bulletproof doors, windows and safe areas/ citadels. With the increasing threat of pirate and terrorist activity, these total security solutions create a safe area for crew and visiting staff to escape to. Commenting on Crummock's commitment to delivering turnkey reliable solutions, Alex says: "All works carried out by the company encompass elements of survey, design and fabrication and core to our services is ensuring that our clients' primary requirements are met to safety, quality, schedule and budget restraints as required. We also work with a team of structural engineers from Fairhurst and mechanical and electrical engineers from RSP Consulting Engineers."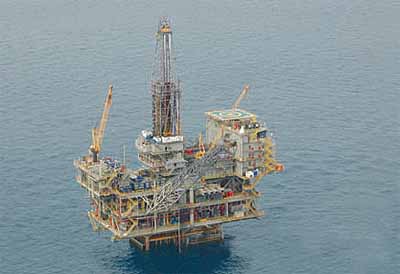 Since the company was founded Crummock Oil and Gas has primarily worked in West Africa for ExxonMobil in Equatorial Guinea and Angola, however it has also completed works for Noble Energy, Hess, FTF, Cameron and WorleyParsons. During the course of its history, these projects have established Crummock as a business with a proven track record in extending the operational life of offshore oil and gas assets. Commenting on the company's success in this area, Alex says: "The vessels that Crummock works on are normally stationed offshore for up to 15 years. Rarely do they leave their site during this time and with up to 150 crew, the accommodation ages, wears and things break. To avoid the vessel being taken into port for repairs, Crummock sends men and materials offshore to undertake our works. The challenges that we have to overcome are getting men  and materials offshore, refurbishing whilst the vessel is continuing its work and with minimal disruption to normal vessel operations and impact on the crew. The result of successfully meeting these challenges is that vessel operators can keep their asset on station for longer."
Throughout all of its operations Crummock provides services using its own multi-skilled staff and trades people that each undertake two to three different trades, which saves valuable offshore bed space. By using in-house staff and through the delivery of up-to-date and innovative solutions, the company can ensurethe quality of its workmanship. Furthermore it uses leading-edge materials and partners to bring cost effective solutions and can boast a faultless safety record, without a single downtime incident since the commencement of trading.  Although the oil and gas sector presently faces the challenges of a low oil price and the resulting slowdown of new projects, Crummock remains confident for the years ahead.
"The whole of the energy sector is facing challenging times due to the low price of oil and within the accommodation refurbishment field, we expect markets to be more competitive. However we are confident that we can maintain and increase our market share particularly in Equatorial Guinea and Nigeria. We can help operators to use their assets for longer without compromising health, safety and the wellbeing of their crews, so presently the outlook is tough but looking positive," Alex says "Over the coming 12 months the team will be securing and preparing for a major project in Equatorial Guinea and securing business in Nigeria. We are also looking to extend our services to Angola. Longer term the vision is to deliver our first class services to the oil majors throughout West Africa and the Middle East with a marketing drive to win work on the numerous ageing vessels currently in service," he concludes.
Crummock Oil and Gas Ltd
Services: Asset protection and life extension
Issue 125 October 2015