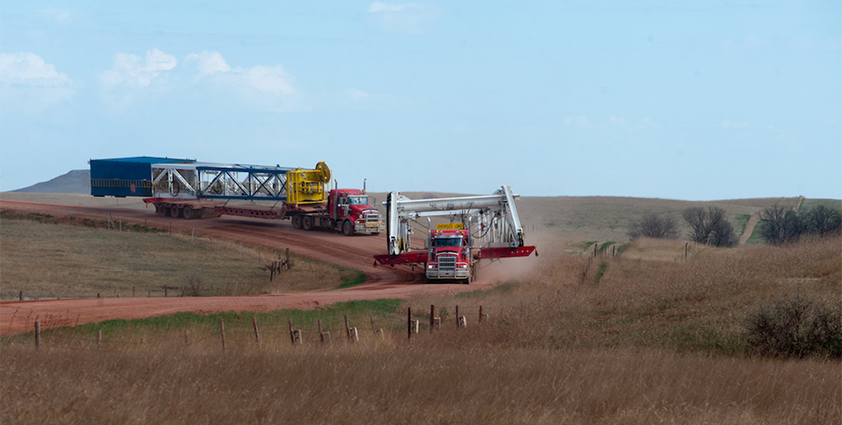 Cruz Energy Services is ramping up its logistics and overall operations to better serve its oil and gas customers.
The lower United States has so much energy work happening with active basins in areas such as Pennsylvania, Texas, North Dakota, Montana and Colorado, as well as ongoing wind energy projects. Operators understand, however, it can be tricky to get all the necessary equipment where they need it to be to get those important commodities out of the ground or to properly harness the wind. Cruz Energy Services understands this struggle and is ramping up its logistics and overall operations to better serve its oil and gas customers.
Cruz Energy serves North Dakota from its main office, where it performs the bulk of its rig-moving services. But the company also has a logistics office in Oklahoma City, from which it serves customers in the entirety of the lower 48. Together with its sister companies, Cruz Construction Inc. and Cruz Marine LLC, the company has supported crane and rigging, industrial construction, heavy haul, logistics and energy services since 1981.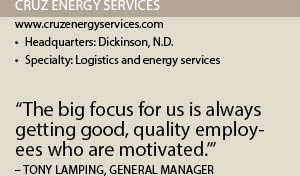 "We work in every major basin that is operating right now," General Manager Tony Lamping explains. "From Texas to Pennsylvania to North Dakota, Wyoming and Oklahoma. Right now we are really focused on expanding the logistics side of the business by taking care of a lot of heavy haul work and long haul. We plan to expand with more brokerage services and logistics management."
Logistics has become one of the key services Cruz Energy provides, helping clients move rigs and providing haul and project logistics services. The company also has a fleet of 10 cranes to assist clients with lifting and rigging. Its crane fleet includes crawler cranes, truck cranes and all-terrain cranes, providing it with rigging capable of lifting up to 275 tons.
"We also take care of smaller stuff like hot shots and hydraulic excavators, as well as general oilfield services," Lamping notes.
A Quality Team
Cruz Energy takes pride in delivering quality services on demanding and logistically challenging projects, and Lamping explains that is due primarily to the depth of experience of its strong workforce. In fact, its team of service-oriented employees include those who have been with the company since it was founded. As a result, the Cruz Energy team understands each job is unique and requires a custom solution from start to finish. Teamwork is key in ensuring it offers clients the best, most cost-effective solution to help projects come to completion.
"The big focus for us is always getting good, quality employees who are motivated," Lamping says. "We are not always the cheapest option, but we believe we provide the best service by staying organized. We stay motivated, which helps us to get projects done and get our clients back to work as soon as possible. Our focus is to help our clients out however we can."
A large part of Cruz Energy's service is a dedication to safety. The company's top priority is to eliminate all injuries, unsafe practices and any incidents that pose risks to its employees or the environment. It actively integrates all elements of its safety program into its operations, and the company's comprehensive HSE management system ensures safety is the foundation of all the tasks it performs. All new employees go through five full days of training that covers every aspect of the company's operations and safety focus, and all employees go through comprehensive hazard identification systems and prevention training.
"We have a rigorous training program and mentor program when new employees start with us," Lamping says. "We make sure they are all up to speed before they go out into the field. In the last six to seven years, we've really focused on improving that part of the operation. We also have onsite safety personnel who keep everyone compliant with all the safety and government regulations."
Cruz Energy reputation for safety and quality service has been key in its ability to grow its business after the market downturn. Lamping notes the company hung on to as many people as it could during the downturn, but now it is adding quite a few new people as business ramps up. He stresses that Cruz Energy has attracted a lot of great workers, and the hard work of its people continues to help the business grow.
"We opened our Oklahoma office in January of 2018 and we started with just two guys there," he says. "Now we are up to six employees, and we are looking to add more people as we gather up more market share and look into different avenues for revenue growth. We were mostly focused on upstream oil and gas, but with the new logistics operation, we are looking to branch out into downstream oil and gas, heavy equipment and windfarms – different markets to diversify our business a little. All of it is due to the hard work that the people on the ground put in for us. They are face-to-face with the client and we couldn't do this without them."