Fuelling tomorrow
When it comes to LNG and cryogenic equipment, Cryo AB can rightfully be considered as a market leader and in a prime position to develop the liquefied natural gas (LNG) systems of tomorrow.
The company produced its first storage tank during the 1950s and has since continued to develop cryogenic equipment for the storage, transportation and handling of liquefied gases as LNG increasingly develops as a fuel source.
Cryo AB operates as an independent company owned by the Linde Engineering Division, which enables it to take advantage of several key benefits, as managing director Lars Persson elaborates: "We have direct access to leading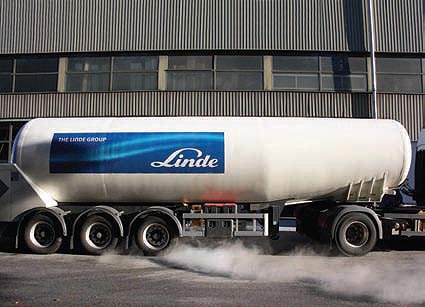 experts in the cryogenic field. Having a strong mother company also enables us to go for larger projects, which wouldn't be possible without strong financial backing. Linde also has global functions such as construction, manufacturing and procurement so we gain synergies in many fields. We are a relatively small local operator, so this opens the door to many global markets."
The company is based in Gothenburg, Sweden from where it has developed a strong base of experience through operation in the Scandinavian and Nordic countries, where it continues to lead projects today. During 2011 for example, it completed Sweden's first LNG receiving terminal and is in the final stages of delivering a second project in the country as Lars explains: "This is the second LNG receiving terminal that Cryo AB has built in Sweden and in terms of magnitude it will be the biggest on completion. We achieved mechanical completion of the plant shortly prior to writing and commissioning will follow soon. We are aiming to handover to Skangass this summer. We also see opportunities for other upcoming projects of this size in Scandinavia, so this will serve as a good reference for those."
The expertise of Cryo AB has enabled it to enter into a number of markets that often overlap with the oil and gas industry. To date it has serviced customers operating within the oil and gas and transport, chemical, shipping, submarine construction, biogas production and engineering industries. A significant milestone for the company was the delivery of fuel systems for the world's first LNG powered tugboats. The boats were ordered by the Norwegian marine services company Busér og Berging AS and were put into operation during 2013.
The design of the LNG fuel system is compact to minimise the space required for installation aboard ship. The advantage of this is that other small vessels aside from tugboats can be designed to operate using LNG as the sole fuel source. The total volume of the tank used in the system's design is 86m3 and the tank is also vertically standing, which serves to limit the physical footprint of the design. The adjoining cold box installation, containing all of the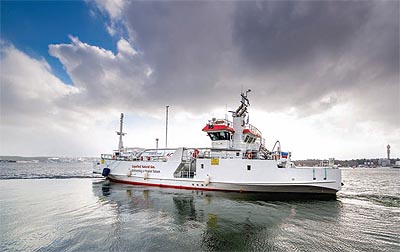 equipment needed to operate the system contains two identical systems separated by a barrier wall. Again, the main advantage of this is space as the design allows for the required 100 per cent redundancy required for operation without the need for another space consuming tank.
"This is a unique system that enables the boat to purely run on LNG, as opposed to a dual fuel set-up, and therefore minimises the need to carry different types of fuel. The solution has been of interest for smaller coastal vessels such as tug boats and passenger ships, as its the first time that they have been able to exploit this fuel, so we expect this to grow further," Lars explains.
Indeed as well as delivering the first LNG fuel systems, Cryo AB also delivered another world first in designing and building the tank and bunkering system for the first LNG vessel for ship-to-ship bunkering. The vessel went into operation during 2013 in Stockholm Harbour, Sweden where it has distinguished itself exceptionally well. Shortly prior to writing Cryo AB received an order for a LNG powered icebreaker, which will be the largest largest vessel the company has delivered with a volume of 400m3. The LNG fuel system aboard the vessel will also be the largest marine LNG fuel system delivered by Cryo AB to date and will represent an impressive milestone for the company. Although the maritime industry is currently showing clear signs of major opportunity for the growing LNG market, Cryo AB has a proven history of trading in a host of markets and has established itself as a leading partner that is able to deliver both quality and expertise as Lars elaborates: "We have extensive cryogenic know-how having been present in the market since it began. The combination of this with our core technology and production capabilities gives us a very strong position. We also focus on offering complete solutions to the client including aftersales services such as education, maintenance and support."
During the rest of 2014 Cryo AB will focus on completing its current contracts as well as tendering for the emerging opportunities within the Scandinavian and Nordic regions. The LNG market is one that is bristling with potential and with its first-class service level and reputation for industry firsts, Cryo AB is set to continue as a key player in the LNG market of tomorrow.
Cryo AB
Services: Cryogenic equipment