A natural history
Liquefied natural gas (LNG) is natural gas that has been converted to liquid form for ease of storage or transport.
This type of energy is transported in specially designed cryogenic sea vessels or cryogenic road tankers, and stored in specially designed tanks. When it reaches its designated location it is then regasifie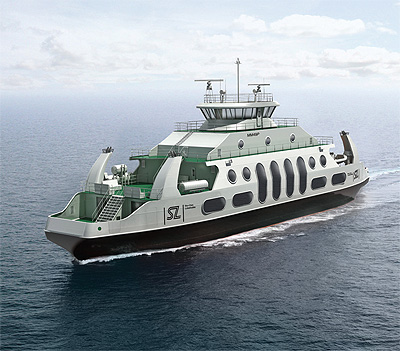 d and distributed as pipeline natural gas. Natural gas can be considered as the most environmentally friendly of the fossil fuels, as it has the lowest CO2 emissions per unit of energy and is suitable for use in high efficiency combined cycle power stations.
Cryo AB is one of the world's leading manufacturers of cryogenic equipment for the storage, transportation and handling of liquefied gases. For almost 50 years the company has put its skills and advanced technology at the service of the gas industry. The organisation works closely with its clients to help select the most efficient and economical cryogenic equipment for their needs. Cryo is a certified manufacturer of cryogenic pressure vessels with production according to several national and international approvals and standards, such as ISO 9001.
In recent years, the company has become heavily involved in the LNG market, as Gunnar Lenneras, managing director for Cryo explains: "Together with our parent company – the Linde Group – we have become engaged in the development and construction of many different LNG applications, especially in the Nordic countries. We are currently focusing on medium-sized LNG receiving terminals for liquefied petrol gas. We are also concentrating on providing LNG fuel tank systems for shipyards and ferry operators."
He continues: "In the Nordic region, LNG is a very attractive alternative energy source. Not only does it boast significant cost savings for end-user but it also produces fewer emissions, such as CO2 and NOx. Furthermore, logistically it is much easier to transport – natural gas is liquefied by refrigerating it to approximately minus 160 degrees, as a result, LNG is about 1/614th the volume of natural gas at standard temperature and pressure (STP)."
Gunnar adds: "One of the major issues within the shipping industry at the moment is the environment. Approximately 40 per cent of NOx emissions are being produced from shipping. To try and tackle these issues, over the next few years, a new LNG distribution system will be developed in the Nordic region, serving the ferry operators and shipping companies. We believe that Cryo will be the main supplier of equipment for this development."
Entering the LNG equipment business, both in the on-shore and the offshore area, has been a logical development for Cryo. The company's LNG programme includes complete LNG receiving
terminals, semi-trailers for land transport, fuel tanks for ships and ferries, as well as gas supply back-up systems and mobile equipment for the testing of gas turbines.
In addition to its wide product range, Cryo offers extensive after-sales services. These include travelling engineers, the updating of transport vehicles to handle higher loads, installation, supervision and well-equipped cryogenic workshops. These are just a few of the services Cryo's efficient service organisation can offer – the business now has plans to develop this area even further.
Today, the company belongs to the Linde Group – a leading worldwide industrial gas, medical gas and engineering company with around 50,000 employees operating in more than 70 countries. Cryo operates within the engineering division of the group. With a focus on promising market segments, such as olefin plants, natural gas plants and air separation plants, as well as hydrogen and synthesis gas plants, Cryo is able to call on this division's own process engineering know-how throughout the planning, project development and construction of turnkey projects.
Cryo became part of the Linde organisation in 2000, and since then the company has benefited from the group's worldwide presence. Gunnar comments: "With approximately 200 employees and an annual turnover of around 35 million euros, we now operate on a global basis with around 90 per cent of our products being exported to countries throughout the world. Furthermore, our headquarters and production facilities are based in Gothenburg in Sweden, and we are located next to the harbour – this gives us a significant geographical advantage."
He concludes: "The company was founded in 1908 and the first cryogenic equipment was developed in 1956. Since then, the business has adapted its product range to meet the changing and demanding needs of its clients. In the year 2000, Cryo built its first helium gas tanker – this was a very important development for the company. We can see an increasing demand for equipment for the transportation of liquefied helium. We are one of two suppliers of this type of equipment in the world and although we are a fairly new player in this market we believe we have the skills to become a major competitor."
Cryo AB
Products: Cryogenic equipment