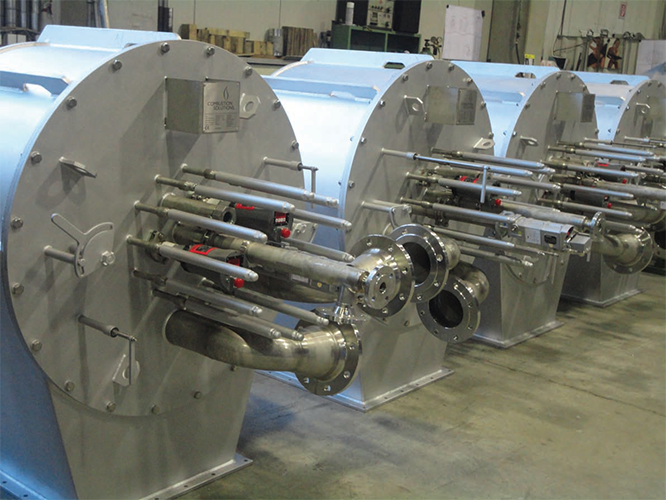 A hot tip
Managed by a dedicated team of senior specialists in the field of combustion technology, CS Combustion Solutions has a proven track record of innovation and dependability in the provision of burners, combustors and injection systems across a host of industrial applications, which are fully supported by its turnkey engineering and service solutions.
As such CS Combustion Solutions is a company that specialises in combustion systems that are applied within the refining, chemical and petrochemical industries through the development of bespoke solutions for burning by-products. Within the chemical industry for example, this could be waste gas and waste air or solvents at any level of concentration, including both corrosive and non-corrosive gasses. The same applies to burning or combustion of liquids. Additionally in the refinery sector, CS Combustion Solutions has extensive expertise in the thermal oxidation of liquids, gases and powdered solids that are produced as by-products of the refining process.
Based in Vienna, CS Combustion Solutions moved to a new office during April 2014 to allow it to better serve its clients and maintains manufacturing facilities within Austria and the Czech Republic. Today the company's team of 25 engineers continues to offer tailormade combustion services to its core markets throughout Europe, Russia, China and Brazil while also continuing to expand into a new market in India. Throughout these markets CS Combustion Solutions has established a proven track record with successful deliveries with clients including Bayer, Phillips66, Fluor, BASF, Lonza, Conoco, Lukoil, Jacobs and others.
The company is a member of the Unitherm-Cemcon Group, which was founded in 1946 and today continues to operate as a successful producer of burners, kilns and furnaces. As such, CS Combustion Solutions is able to call on the resources and experience of its parent company, as managing director Thomas Bartonek elaborates: "We can exchange resources in terms of services and service staff and can work together in-house on burner management; even though we are in different markets we speak the same language and both specialise in burning systems."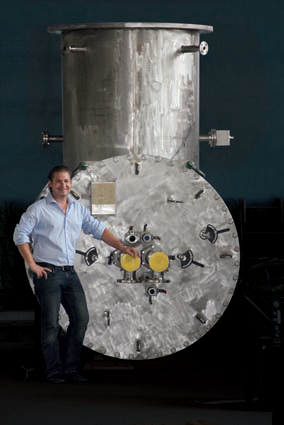 CS Combustion Solutions introduces a unique approach to the design of its combustion systems. It employs high-intensity mixing technology at the beginning of its combustion process, which in turn forms the basis of all of the company's process burners. The mixing characteristics of its burners and cambers result in an extremely high level of reliability and allow clients to achieve the lowest possible emissions. Furthermore through the introduction of several unique innovations in its incineration processes, CS Combustion Solutions is able to provide increasingly economical designs. Indeed whatever the process, CS Combustion Solutions is dedicated to the provision of technology that offers significant advantages relating to both operation and cost including low emissions; excellent flame stability; high turn-down ratios; the ability to cope with upstream upset conditions; low maintenance; low lifetime cost and energy cost savings. "We are particularly focused on the refinery sector and on applications for waste gases and waste liquids that contain some sulphur or sulphuric acid, which is due to refineries desulphuring all of the crudes that need to be removed, which is where our combustors come in," says Thomas. "As sour gases increase it is causing an issue in the oil and gas industry; we are doing more gas incineration in relation to sulphuric acid compound and are continuing to develop and design high turbulence combustors or combustion systems."
The range of products and auxiliary services provided by CS Combustion Solutions can broadly be divided into four categories comprising burners, combustors, injection systems and engineering and service. Through a trusted network of agents and partners it is able to deliver a full turnkey service, which includes everything from engineering, design and manufacture through to commissioning and start-up.
All of the burners supplied by CS Combustion Solutions are built according to EN, ASME and GOST standards and are delivered to handlespecial applications with performance ranges of between one and 90 megawatts. Customised and designed to specific requirements, the SWB Burner for example, operates on a range of standard and special fuels, such as NG, diesel fuel, HFO, H2S-gas, Tailgas and coke gas, which can be injected directly and simultaneously into the burner. Fields of application include industrial boilers, rotary kilns, combustors, static incinerators, O2 applications and furnaces.
As a bespoke solutions provider, CS Combustion Solutions is dedicated to enhancing its existing systems as well as finding new solutions across every market application. As such, the company manages its own in-house research and development capability and presently has new patents pending and several new projects in the pipeline. This expertise and commitment to innovation has led to the company becoming one of the preferred suppliers of burner and combustors for Haldor Topsoe, a Danish catalysis company that develops process technology for petroleum refining and other industries.
Through the combination of its advanced combustion solutions, technical expertiseand growing partnerships, CS Combustion Solutions is keen to expand its presence andincrease its standing as a preferred supplier to a growing customer base. By combining the strengths of its partners it is able to increase its customers' ability to reduce operating costs and achieve compliance with environmental legislation, reinforcing the reputation of CS Combustion Solutions as a market leader in combustion technology.
CS Combustion Solutions
Services: Combustion technology
Issue 122 July 2015