How CSI Energy Group is reshaping the African energy
A changing continent
For more than 25 years, CSI Energy Group has been working side-by-side with the power, oil and gas, and mining industries to successfully deliver projects across Africa
Formed from the creation of Coastal Steel Industries in 1978, the company has evolved into a diversified group committed to increasing access to energy, delivering sustainable solutions, and promoting gender equality across its broad African footprint. Using extensive local knowledge in the development of sustainable solutions, CSI Energy Group has won a number of high-profile clients, including Mitsubishi, Siemens, ABB, Kengen, and TANESCO.
Into 2022, CSI Energy Group is embarking upon a process of diversification, organizing its business into three distinct clusters. The first of these is its energy contracting cluster, encompassing a full scope of design, procurement, construction, and commissioning services, delivered on a turnkey basis for projects across the continent. CSI Energy Group's second cluster is energy development. Leveraging the company's EPC capabilities, it combines project financing with the provision of solutions to all segments of the oil, gas, chemicals, power, utilities, renewables, industrial products, and construction sectors, with a focus on initiatives such as electrification and decarbonization. The company's third cluster – energy investment – is driving innovation across the African continent, by facilitating the incorporation of new, advanced technologies and groundbreaking ideas and solutions from across the energy industry, through the provision of corporate support and acquisition of equity positions in female-founded energy-focused SME.
CSI Energy Group is positioned at the cutting edge of the development of the energy sector within Africa, but as for many players across the continent, realizing untapped potential requires an ability to navigate a set of distinct challenges. "The number of individuals without access to electricity is increasing since continuing electrification initiatives are typically overtaken by rapid population expansion," says Dominique Augsburger, Chief Operating Officer at CSI Energy Group, when speaking to Energy, Oil & Gas. "Especially for Sub-Saharan Africa (SSA), making energy reliable and affordable for the population remains difficult."
The reasons for Africa's energy access problems are various, from insufficient power generation capacity, difficulties in managing energy infrastructure, and securing investments in the sector, to challenges in serving low-income users. Likewise, as the continent transitions to a carbon-zero future, barriers to adoption of renewable energy are numerous. People still over-rely on fossil fuels, and we come across political and regulatory barriers. Technical, market-related, social-cultural, financial and economic, and geographical and ecological obstacles need to be overcome.
"One of the biggest challenges we face when talking about renewable energy projects is attracting capital to the continent," Dominique continues. "The private sector is the driving force behind many of these projects across Africa. Regulatory frameworks and 'ease of doing business' can, however, make these investments challenging. African governments must keep enhancing their political and regulatory frameworks for the continent to achieve its goals in the energy transition. This includes making it more stable for funding institutions and investors to invest in projects and achieve long-term environmental sustainability. The impact of the ongoing Covid-19 pandemic has also increased uncertainty surrounding the continent's risk profile, adversely affecting the continent's ability to play on the world stage, by reducing the number of financial opportunities."
But despite the impact of Covid-19, the energy sector within Africa continues to present significant opportunities. Among CSI Energy Group's current projects is its work on the Kinyerezi I Thermal Power Station (TANESCO), an electricity-generating power station, driven by natural gas. Located in Tanzania, East Africa's third-biggest economy, the power station is benefiting from governmental efforts to boost power generation capacity, with the hope of ensuring 100 percent universal access to modern energy by 2030. The project represents a milestone in Tanzania's efforts to reduce dependence on costly diesel-powered plants.
"Our relationship with TANESCO is a long lasting one. Indeed, we've been involved in power generation at Kinyerezi I since the original 150MW powerplant was constructed," Dominique explains. "When the previous EPC Contractor went bankrupt in 2018, together with TANESCO and GE, we looked at various solutions to complete the project. In 2021, we were awarded a contract to complete the powerplant. By this time the plant had stood idle, with equipment deteriorating for almost three years. The project has been immensely challenging, and against the backdrop of continuing global supply chain challenges, finding solutions has been almost a full-time job for our team. But finding solutions is what we do, aided by the immense support we've received from TANESCO.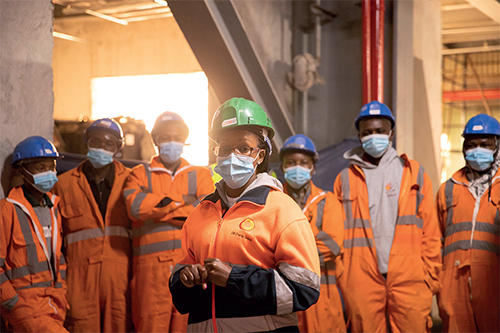 "The addition of the power at Kinyerezi will add 100MW in September, and a further 85MW before the end of the year," she adds. "That will go a long way towards improving the capacity availability to Tanzania, at a time when power generation from Hydropower plants is reducing due to seasonal water level drops. It will enable TANESCO to better-support remote communities thanks to improved power stability and additional investor confidence."
Another key project for CSI Energy Group is its development of the Mtwara port, also located within Tanzania, in the southern city of Mtwara. Initially constructed during the British Colonial period, the Mtwara port was underutilized for a number of years owing to poor transport infrastructure, until a surge in interest in oil, gas, and other natural resources brought about an increase in operations between 2010 and 2011.
Since then, CSI Energy Group has been working to support infrastructure improvements for both government partners and industry giants around the port. In 2012, the company was contracted to upgrade the electrical and mechanical installations to support the commissioning of a second mud plant, as well as a new 33kV distribution system. Key deliverables included the installation of a 1.5 MVA substation, the installation of mechanical process pipelines and piping systems, tank erection, fire-fighting reticulation, as well as perimeter fencing and flood lighting.
As Dominique explains: "With the development of its Southern mineral resources, which include coal, graphite, uranium and various rare earths, the Mtwara Port is positioned to be a key facility in global energy logistics. A once sleepy town is on the verge of becoming the center of hundreds of millions of dollars of energy mineral export essential to support global renewable energy programs."
Moving forward, the primary challenge for CSI Energy Group is the ongoing development of its energy clusters, as it looks to bring an even greater number of sustainable solutions to the energy sector. "CSI Energy Group is progressive, and we recognize the need for sustainable energy solutions," Dominque reflects. "Our focus is on enabling a more efficient, diverse, and accessible energy sector. Expansion of our service provision is a key aspect of our strategy, and we'll continue to invest in small energy businesses and entrepreneurs, with a specific focus on females.
"We will also continue to focus on being an impactful business, and we deliver projects that do good," she concludes. "We need to see people's lives being impacted positively by our work, through giving access to electricity, reducing the carbon impact of energy solutions, and creating opportunities for others with aspirations in the energy space to succeed and achieve their ambition."
CSI Energy Group
www.csi.energy
Energy contracting, development, and investment