Adept at adapting
CTC Marine Projects was established in 1993 as a private limited company in the northeast of England.
CTC's initial core business was the provision of fibre optic cable lay and burial solutions for the global telecommunication market, with the company later diversifying to include trenching services for the North Sea oil and gas industry.
Playing a pioneering role in global subsea markets, the company was one of the first to bring a geoscience and engineering based approach to its projects, and over the past 17 years it has developed into a leading player in the global oil and gas, telecommunications, offshore renewables, power transmission and subsea defence markets. CTC's service portfolio includes through-life support and engineering solutions such as marine trenching, flexible product installation, subsea construction and decommissioning services. CTC has built a reputation for delivering successful and reliable performance in the most challenging applications based on its people, technology and experience.
Today, CTC Marine Projects has the ability to trench or install products, in any water depth, in any region of the world for the offshore oil and gas and submarine cable markets.
Operating some of the world's largest, most technically advanced fleet of marine trenching vehicles enables CTC Marine to complete projects ranging from trenching to a more comprehensive construction and protection service for the international offshore construction industry. The company continues to invest in class-leading technology, and its fleet now includes pipeline and cable ploughs, jet trenching ROVs (remotely operated vehicles) and mechanical trenchers, supported by several multi-role construction vessels.
2009 was a very successful year for CTC Marine Projects, as it saw the company – which started as operating predominantly in the North Sea – diversify into new regions of the world and new markets.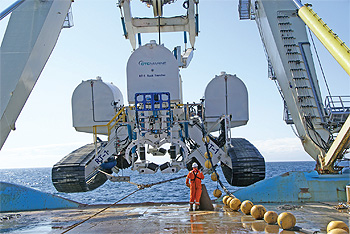 In fact, such was the company's success and contribution to the industry, that it was recognised by NOF Energy, the business development organisation for the UK oil, gas and energy sectors, with the honour of two awards. NOF Energy celebrated the very best of the industry at its Annual Awards and Dinner on 10th December 2009 where CTC scooped both the 'Company of the Year' and the 'Innovation and Technology' award.
Daryl Lynch, managing director of CTC Marine Projects, said: "These two awards are testament to the exceptional hard work, dedication and drive that our team brings to CTC Marine Projects. We have built a global reputation for delivering solutions at the cutting edge of the sectors we work in and these awards are recognition of our achievements."
The awards marked a year of accomplishments for the company, including the first diverless subsea construction and development project in the Mediterranean with a contract value of approximately $30 million, expansion into several new regions including Brazil, China, Egypt and the Middle East and diversification into the offshore renewable market.
CTC has made a successful entry into this market having completed two projects for client E.ON, on the Alpha Ventus and Robin Rigg Offshore Wind Farms. CTC is actively pursuing further works in this market, while being very optimistic in the outlook for 2010 and beyond.
CTC has completed its first project in the Middle East where the scope of work included the laying of power cable, which is three times heavier than any power cable previously installed by CTC, as well as being the largest power cable ever laid in the Persian Gulf.
The Innovation and Technology award specifically reflected CTC's commitment to innovation, in particular the development of the world's largest underwater tracked trenching vehicle, the RT-1 Rock Trencher, which has had success in its first offshore scope of work off the West Coast of Ireland.
Although barely a month into 2010, CTC is already predicting an increase to its order backlog, following the announcement of a contract award worth $39 million is for the cable lay and ploughing activity on the Jeju Island Project. The work, for client KT Submarine, will involve the installation of two 105-kilometre cable bundles between Jeju Island and Jindo Mainland Korea in water depths of up to 160 metres. The first bundle will be installed in 2010 and the second bundle will be installed in 2011. CTC Marine will use a DPII multi-role construction R class vessel for this project, as well as CTC's modified ISU umbilical plough. This sort of contract illustrates the strength and diversity of CTC Marine's cable lay and installation business.
Thirteen years after the company was established, it was acquired by DeepOcean AS and operated for the following year as a 100 per cent owned subsidiary. In 2005, as CTC's presence in the Asia Pacific region grew after opening offices in Singapore a representative office was then established in Perth to support CTC's tendering and technical efforts in Australia. In May 2008 CTC and its parent company, DeepOcean AS, was acquired by Trico Marine Services Inc. CTC now forms part of the Trico Marine Group as the Trenching and Installation Division.
The Trico Marine Group offers an array of specialised services and superior vessels and equipment, along with a global team of experienced, innovative, project-driven professionals. Its depth of experience and expertise in both vessel and subsea service operations allows the Group to offer its customers packaged solutions or individual vessel and service offerings in markets worldwide. It is ready to support client's offshore or subsea projects efficiently and seamlessly, anytime and any place.
After almost two decades, CTC Marine has successfully completed over 100 trenching and cable installation projects ranging in scope, value and complexity. With approximately 15,000km of fibre optic cable and seismic array cable installed, 400km of control umbilical, power cable and flexible pipeline, trenched or installed and 590km of steel pipeline trenched, the company is continually adapting, always developing and never standing still.
CTC Marine Projects
Products: Marine trenching vehicles