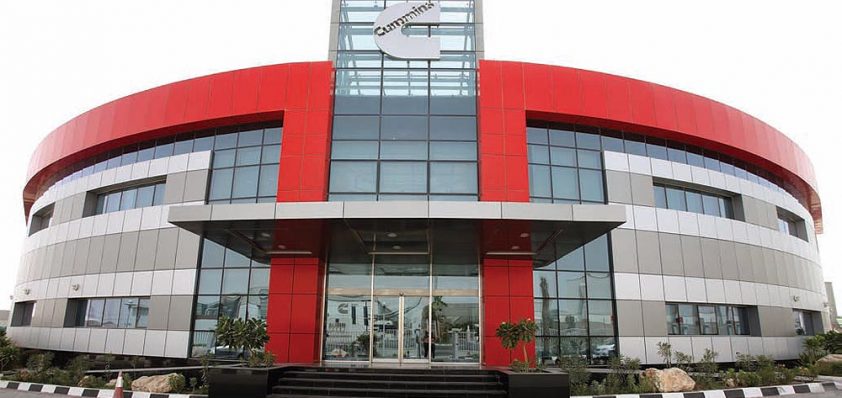 Power house
The first regional wholly owned subsidiary of Cummins Inc., a global power leader and group comprised of four complementary businesses that design, manufacture, distribute and service engines and related technologies, Cummins Middle East FZE was established in early 2000 as a distributor for the region.
Covering more than 12 countries in the Middle East has resulted in major growth opportunities for the subsidiary as infrastructure developments and a booming oil and gas industry continue to dominate the markets. Keen to take advantage of this, Cummins Inc. has invested billions in its R&D facilities and has strategically expanded its services in 2014, including in the Middle East.
Elaborating on the history of Cummins Inc. and its developments in the Middle East, Rachid Ouenniche, managing director of Cummins Middle East FZE begins: "Cummins Inc. has been in operation since 1919 and was the first company to successfully market large diesel engines in North America and today is the biggest independent large diesel engine manufacturer in the world. We are active in 190 countries, are publically listed on the New York stock exchange and had a global revenue of just above $17 billion in 2013. We are structured in four business segments, the largest being our engine business, followed by power generation segment, a components business unit and finally distribution. Historically Cummins Middle East FZE has been a distribution organisation, but since early 2014 we have expanded this part of Cummins Middle East by bringing to market the commercial leadership from each other business segment to ensure we can support our customers and distributors more efficiently."
This renewed commitment to the Middle East market follows a number of investments within the Cummins Inc. group, as it strives to continue meeting the demands of existing and potential customers in a number of industries.
"Our main customers are power generation customers in the Middle East," says Rachid. "We also work with OEMs, particularly in the UAE and have a foothold in the marine industry as well as a growing presence in the oil and gas market."
As a supplier of engines for drilling operations within the stringent oil and gas industry as well as engines for other industrial applications such as mud pumps or dredging pumps, Cummins Middle East FZE benefits from being part of a major global business with direct access to its factory and expert personnel, as Rachid highlights: "The engineers who are developing these products gain constant feedback from the field that they can then act on to enhance a product and thus ensure we have leading technologies in the market. Research and development is one of the most important aspects to our business because we regularly sell products to our customers who are also our competitors, so for us to stay successful we have to offer the very best products. In order to survive as a business its not enough to be as good as others, we need to be better; this is why Cummins Inc. continues to invest."
Another recent service offering for the Middle East market is the High Horsepower Master Rebuild Centre; part of a global network of purpose-built facilities that provide high quality, high volume rebuilds of Cummins Inc.'s 19 litre and above engines. "The high horse power engines all require rebuilds at some point in their life cycle, so we moved away from a work shop environment into a manufacturing environment that has a production line and enables us to provide a complete rebuild in one location," says Rachid. "We have one of the best rebuild centres within Cummins Inc., which is benchmarked by other distributors around the world as best in class. Volumes have increased significantly over the last year by three times and we are getting ever closer to full capacity as customers return to us, so in that regard this is probably one of our most successful initiatives for our business in the Middle East."
As the company continues to grow it has begun collaborations with three universities with the aim of hiring engineers through internships before converting these training schemes into full time work opportunities. "We have a focus on increasing the representation of women in the work force and have had a lot of success in the UAE, Saudi Arabia and Afghanistan. We are also working with universities to ensure they use the right curriculum so their programmes meet the needs of industries out there," says Rachid.
Having set the foundations for continued growth in a region rich with promise, the future looks bright for Cummins Middle East FZE as it looks to take advantage of upcoming projects, as Rachid concludes: "We have a presence in 14 countries here; this is one of the fastest growing markets in the world and when I look at different local government plans I see the upcoming World Cup in Qatar and the Expo in 2020 in Dubai. These significant infrastructure investments will require power generation products and also a huge amount of machinery with Cummins Inc.'s engines in them. We have aggressive plans in place, to not only grow, but to also gain market share from the competition with the products and people we have; we have a vision to be a preferred supplier for all of our customers and to be a key destination for employment and talent. With recent developments and our core values, we believe we are on the right track to achieving this."
Cummins Middle East FZE
Services: Power generation