Power to grow
The Cummins brand is recognised around the world as a leader in the design and manufacture of heavy-duty diesel and natural gas power solutions. With its home in Indiana, USA, the company currently employs 55,000 people around the world in 190 countries and in 2015 achieved sales of $19.1 billion. Part of being able to deliver on such a global scale is Cummins' extensive network, which includes approximately 600 company-owned and independent distributor locations and around 7200 dealerships.
The company took its first steps into the Middle East in 1956, appointing GCC Olayan as its first independent distributor in Saudi Arabia. Over the years more distributors followed, until in 2000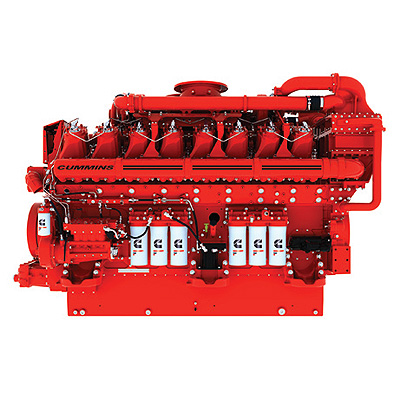 Cummins established its first company-owned business in the UAE. In 2014, the Cummins Middle East ABO (Area Business Organisation) was set up and headquartered in the UAE. The ABO consists of all Cummins business units, each represented in the region by a commercial leadership team.
Energy, Oil & Gas last featured Cummins Middle East back in April 2015, and a year on MD Rachid Ouenniche is happy to report a strong 12 months. "It has been a very successful year for Cummins in the Middle East," he says. "We gained significant market share and grew across all segments. In particular, we experienced double digit growth in our power generation segment, a market that actually shrank overall. As a matter of fact, the Middle East was the fastest growing region for Cummins' whole power generation division. This is due to our focus on adding value to our customers by providing engineered solutions. In 2015, to support this, we doubled our win ratio for turnkey power generation projects from two years ago and expanded our engineering group with significant investments in talent acquisition."
In general the Middle Eastern region is a lucrative market with widespread economic development taking place across a number of countries. However, Rachid notes that with the recent drop in oil prices, governments in the gulf region have reigned in infrastructure investment that has seen a softening to Cummins' power generation business. Yet, with significant power plant projects won across a variety of sectors from infrastructure, healthcare and airport developments to manufacturing and residential complexes, the opportunities to grow still remain. "The oil and gas industry, which fuels much of this region's growth, is a cyclical market and is bound to recover in the next few quarters and our ability to gain market share will allow us to continue capitalising on the momentum we have gained over the last couple of years as it does so," he says.
Indeed, despite the prospect of challenging market conditions, Cummins continues to invest heavily into the development of its business in the Middle East. The company has become an engineering hub for the international group, and it has plans to expand its scope beyond the region to support other developing markets around the world. It is also home to a Cummins High Horsepower Master Rebuild Centre, part of a global network of purpose-built facilities designed to provide high quality, high volume rebuilds for Cummins 19 to 95 litre engines.
"All engines of this sort require a rebuild at some point in the life cycle, so we moved away from a workshop environment into a manufacturing environment that has a production line and enables us to provide a complete rebuild in one location," Rachid outlines. "We believe this is one of the best rebuild centres within Cummins Inc and the best in the region – it is generally benchmarked by other distributors around the world as best in class. Volumes have continued to grow as customers' confidence that their Cummins engines will have much longer durability when they use this
centre also rises."
Developing the scope and strength of its distribution capabilities has also been the focus of investment over recent years in the Middle East. In 2012, for example, it established a joint venture with Jaidah Group, which has represented Cummins in Qatar for 35 years. "Cummins manages the venture, using its people, systems and processes, allowing us to increase the focus on our customers," Rachid continues. "It's a much more efficient and effective model that allows us direct access to other Cummins business units that manufacture the products we sell and service in the region."
More recently, in March 2016, the company announced another joint venture, this time with The Olayan Group, which has distributed Cummins products in Saudi Arabia since 1956. The move to create Cummins Arabia is significant in that it consolidates the distribution of Cummins products across the UAE, Saudi Arabia and Kuwait, which represent three of the biggest markets in the Middle East. The partnership also allows Cummins to greatly expand access to the Saudi and Kuwaiti markets.
Another key part of Cummins Middle East's development of recent years has been its exemplary approach to increasing the representation of women in the workplace. The company has doubled its ratio of women over the last four years since it launched its internship programme. In 2015, 16 of the 18 annual interns brought on board were female and the business is now working with five regional universities to develop the scheme. "Crucially, what started out as an initiative to increase the representation of women in the workplace has now developed to become a great pipeline of future leaders," Rachid highlights. "This is important, as whilst we have the international brand recognition of Cummins behind us, it is the dedicated, innovative and agile workforce that gives us a competitive advantage in the region so supporting their development opportunities is key to our continued success."
The future for Cummins in the Middle East looks bright then. Rachid notes that over the next 12 months continuing with the current growth strategy will be the primary focus. In particular, will be the integration of the Cummins Arabia joint venture, which is due to become operational by the second half of 2016 and which will improve the company's service capabilities, especially in the oil and gas sector. "We also aim to continue market share growth in our power generation segment over the coming months despite what appears to be a shrinking market," Rachid concludes.
Cummins Middle East
Services: Middle Eastern business of global power leader, Cummins