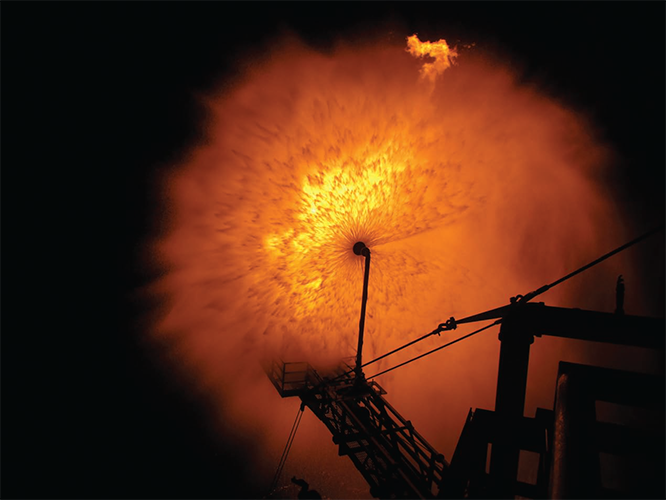 Cyprus National Hydrocarbons Company (CNHC)
Building blocks
"When hydrocarbons were discovered in 2011, the Cyprus government decided to set up a wholly owned state and private company to deal with the exploration and exploitation of the Cypriot hydrocarbon resources.
The Cyprus National Hydrocarbons Company (CNHC) officially began operating on 1st January 2013, which is when I also began working at the company; there has been a lot of discussions on the best way to exploit our resources and it was agreed that an LNG plant would offer the most market flexibility and best results. We have only just started operations and have a long way to go in bringing our plans to fruition," explains Charles Ellinas, introducing the Aphrodite gas field, situated in Block 12, which has the potential to shoot Cyprus out of its present economic difficulties.
With estimates of approximately 1.7 trillion cubic metres of natural gas in the Cypriot Exclusive Economic Zone (EEZ), CNHC and its Block 12 partners signed an MOU to develop the LNG plant in Vasiliko in July and intend to reach final agreements for the LNG project by the end of 2013. The Block 12 licensors include Israeli firm Delek, which has confirmed interest in taking part in the construction of the plant; it holds a 30 per cent stake in block 12 alongside subsidiary Avner Oil. The majority share of 70 per cent is held by the operator of Aphrodite, Noble Energy, which announced it had begun an A-2 appraisal of the block in June 2013. The first well A-1 was drilled in 2011 and the resource size for the natural gas discovery was estimated to be between five tcf to eight tcf; the results of A-2 are key in deciding the next steps in developments.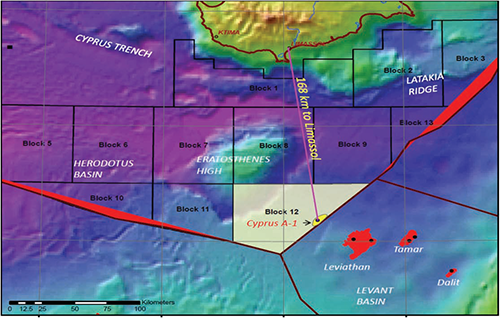 "We have leased six blocks; Noble operates block 12, ENI and its partner Kogas are the operators of blocks two, three and nine and Total operates ten and eleven. It is anticipated that Total, following analysis of results, will start exploration drilling in the final quarter of 2014 or early 2015, while ENI aims to begin exploration drilling in the second half of 2014 and 2015," says Charles. "Noble is the first to proceed with plans to construct the offshore facility and take responsibility of train one of the LNG Plant." With Cyprus in the early stages of planning the building of an LNG terminal, Noble contracted Technip, which conducted a design study on the potential LNG terminal in Cyprus. Following this both CNHC and Noble Energy aim to enter into a joint venture LNG project agreement in 2014, consisting of three main components: shared facilities, an LNG train and marketing and sales.
"Initially we will start with one train for Aphrodite, but once we get this project off the ground we will expand the facilities to include the likes of Total and ENI, depending of course on their gas finds; each train will have a capacity for five million tonnes of LNG per year. We are ensuring there is enough available land for up to eight LNG trains, which could then also accommodate gas from Lebanon and Israel. Cyprus is a great base to act as a hub for the region as it is aligned with the European Union's legal and regulatory systems and offers security and stability," says Charles. Once the joint venture between the two companies is fully established, both Noble Energy and CNHC will begin seeking appropriate finance, with various international parties already expressing interest in playing a role in these plans and in Cypriot gas exports. It is expected that an LNG terminal, along with the required offshore installations could reach costs of up to $9-10 billion.
Although the company's plans are in the early stages, Charles believes the role of the natural gas market will play an integral part in the growth of Cyprus over the coming decades; with an expected 10,000 jobs to be created in a country that has struggled in a weak economy; there will also be a boost in construction and support activities within the gas sector. "If we are successful by 2016 we will start construction and expect to create jobs for up to 10,000 people; so we are starting to train people now through special courses for this industry to make sure we have the manpower in place. Following this milestone, the next major step is when we allow gas to Cyprus in 2019 and achieve autonomy for electricity generation and domestic consumption. At the moment 98 per cent of the country's electricity comes from the burning of oil fuel. This is very expensive, but if we manage to bring our own gas in the cost of electricity will fall by about 40 per cent and immediately save Cyprus 400 million euros per year.
This will be a tremendous boost for our people and industry as the costs saved will be massive," highlights Charles.
With the results of block 12 due in October 2013, and the LNG project agreement concluded by the end of the year, a final investment decision between Noble Energy and its partners, and CNHC on the LNG installation will be made in 2016, leading the way for construction to begin. On top of this, Noble Energy anticipates further exploration in block 12 in 2014, which will result in further business opportunities as the companies prepare for the first exports in 2020. "There are many challenges ahead but we have big plans and are working hard to make this massive opportunity a reality. From 2020 we will start selling LNG to the markets; initial profits will be used to repay original investments and significant profits will start coming by 2023. Our government is in the process of implementing the right policies to enable these developments; if we get this right, the potential for Cyprus is enormous," concludes Charles.
Cyprus National Hydrocarbons Company (CNHC)
Services: National oil company