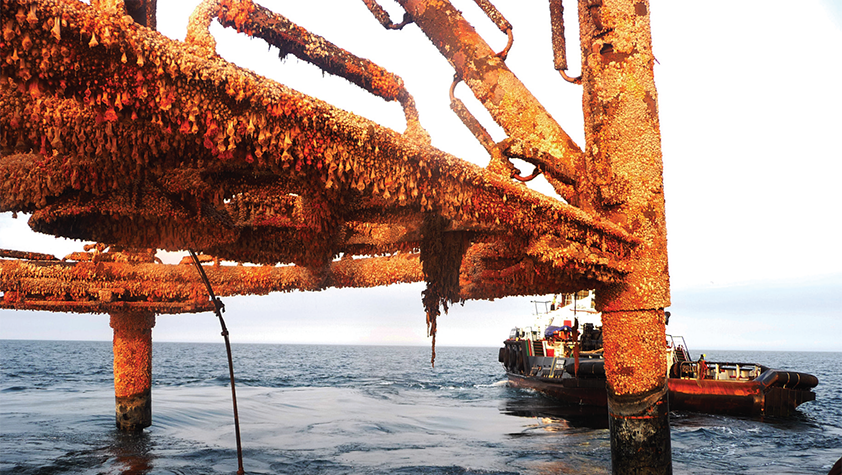 A cut above
Sixteen years ago D.E.C.O., which stands for Diving Engineering & Consultancy Office, was just a two-man venture carrying out small underwater maintenance and inspection works in Belgian harbours.
As time went on and the business gained greater exposure, D.E.C.O. began to take on bigger projects, including participation in the search for the Anna-Catherina, a vessel of the East Indian Company. This helped establish the business as a recognised diving company, and just four years later D.E.C.O. had three truck-mounted mobile diving spreads operating all over western Europe.
Today, the company has a service suite to match its name, but is perhaps best known for its innovations in underwater cutting tools. "At the time divers were still using thermal cutting techniques, which obviously carries great risk. Using our engineering experience, D.E.C.O. designed a new cutting technique that uses a high-pressure water jet and abrasive additive to cut through steel and concrete structures. Over the years we have continued to test and fine-tune this technology, and as it stands now we set the industrial benchmark in underwater ultra-high pressure (UHP) abrasive water jet cutting," enthuses managing director Maarten Van Dromme.
At present D.E.C.O.'s biggest market is the offshore decommissioning and deconstruction industry. Here, as well as UHP abrasive water jet cutting, the company's core competences lie in diving and ROV services. These capabilities are also used in its other two markets; offshore wind farm installation projects, and wreck salvage and removal.
"Over the last 12 years D.E.C.O. has consistently invested in technological innovation for offshore infrastructure decommissioning solutions. Our signature UHP abrasive water jet cutting technology is industry leading performance wise. It delivers groundbreaking results in the realm of underwater deconstruction projects and is capable of cutting through reinforced concrete, high tensile steel, and sandwich structures like pipelines. We can already cut at 43,500 psi in a single motion through high tensile steel of up to 230mm thickness, cast iron of 450mm, and highly reinforced concrete of 1200mm. With further optimisation we anticipate to be cutting at 55,100 psi by summer 2013, which will yield increases of 27 per cent in cutting depths and 15 per cent in overall cutting speed," describes Maarten.
"However, it's not enough just to develop techniques that improve performance," he continues. "We believe that in a high-risk environment such as a drilling rig, cold cutting techniques like abrasive water jet cutting offer huge benefits in terms of a safe working environment. Cold cutting means there is no thermal or mechanics stress on the cutting edge, and so it helps reduce fire and explosion hazards. At the same time we have been developing robotised cutting frames, which means the crew can monitor the work from a safe distance whilst the machine carries it out on the seabed or structure."
As well as such proven and patented technology, D.E.C.O.'s other defining strength is its open working method towards clients. On the basis of its initial risk analysis and defined methodologies, the company will draw up a project plan and present it to the client in detail involving them as an active partner. D.E.C.O. also believes that the combined action of its UHP abrasive water jet cutting, ROV and Diving services delivers greater value than the individual actions. This synergy-driven approach helps the company achieve its objective of implementing time and cost effective solutions for the decommissioning of offshore installations.
At the end of 2012 D.E.C.O. joined Decom North Sea, a move which Maarten believes will benefit the business hugely: "In an industry that is driven by intense market demands we believe that partnerships and collaborations foster innovation. Decom North Sea is a knowledge based platform that supports us with market insights to establish new business leads. As a smaller company in comparison with some of the major players in this industry, it also presents us with the opportunity to exchange notes and generate awareness of our technological solutions.
"The offshore industry is a fast moving one so those responsible for decommissioning seek to collaborate with experts to have the strategic strength and proven competence to deliver those cost effective solutions. Decom North Sea has succeeded in effectively mapping the industry's value and supply chains, but more importantly has established strong bilateral relations between different nationalities within the industry, which we can tap into," he adds.
Just recently D.E.C.O. has mobilised on a decommissioning project on the SEP Orion platform in Brazil, and elsewhere is cutting conductor piles for N-Sea. The company is also completing a cutting test for SeaRenergy, which has seen it cut through 80mm thick grade 55 steel with a tolerance of less than 0.08 degrees. Yet these projects are just a drop in the ocean of work that D.E.C.O. foresees coming in the future, starting with the North Sea: "According to the Department of Energy and Climate Change (DECC) statistics, there are approximately 500 oil and gas installations, 10,000 kilometres of pipeline, and over 10,000 wells on the UKCS," notes Maarten.
"Fifty-one of those installations are due to be retired in the following two years, and a total of £452 million forecast to be spent on topside and jacket removal between 2012 and 2016. We believe that D.E.C.O.'s capabilities and competences, and the sector's intense market demands are a match made in heaven. Beyond 2016, UKCS decommissioning activity is anticipated to increase to around £1 billion per annum so it's a very important sector for us."
Although the North Sea is clearly a focal point for the mid-term, D.E.C.O. has also ventured more and more into international waters. In all cases though the decommissioning process of removing heavy structures from some of the most inhospitable environments remains one of complexity and technical challenges. As such the experience of companies like D.E.C.O. is crucial to supporting this marketplace in its growth.
"For the future we seek to continue to push innovation in the offshore decommissioning industry, delivering technologically-sound solutions where needed. This sector has some intense market needs and therefore we want to keep improving in terms of both performance and safety. We are especially looking forward to participating in the decommissioning of platforms in Scottish waters. The prospect of working together with the global leaders in subsea and deepwater expertise promises a bright future," concludes Maarten.
D.E.C.O.
Services: Diving, engineering and consultancy