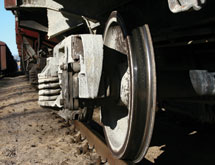 "Slow and steady wins the race" is not the motto of Dakota Transload, but it nicely describes how the company operates. It started with one client and has built its business "from the ground up," according to co-founder and Vice President Josh Boyko. By slowly expanding its services, Dakota Transload has seen steady growth in the oilfield market.
"We take pride in the service we provide – customer service is No. 1 for us," Boyko says. "We're not trying to be the biggest in our market, but we do want to be the best. We have high-quality standards, and we try and perform faster and more economically."
Dakota Transload got its start just more than a year ago as an offshoot of Boyko Inc., a family business founded by Josh Boyko's father Ron Boyko and uncle in 1987. Based in Stanton, N.D., Boyko Inc.'s operations evolved over the years, and it was buying and selling used food-processing equipment when it began to set up auctions.
"We started selling equipment to a friend in Williston, N.D., and he got us into the transload business by hiring us to transload totes of ceramic proppant," Josh Boyko says. "We would get the proppant at our site in Zap, N.D., and flatbed it out or load it via pneumatics."
Keeping Clean
Dakota Transload is based out of Stanton, and a railroad runs through the town, but Dakota Transload did not start with its own spur. "We were at the mercy of other people transporting product to us," Boyko says. "We wanted to get our own spur from Burlington Northern, because if you can control your rail, you control product flow better."
The company got its own spur earlier this year, and now Dakota Transload has a 48,000-square-foot facility with 5,000 feet of usable track. Boyko explains that he and his father designed the facility to ensure it fit their needs exactly. The design allows it to transload product directly from rail cars into the facility, and then a system of conveyors loads the product into trucks. This enables Dakota Transload to achieve exact weights.
"We can unload natural sand from hopper-bottom cars and ceramic proppant from totes and prop cars," he says. "With hopper-bottom cars, we use pneumatics to deliver the product directly to the oilfield site.
"We are expanding, though, and now we're unloading rebar at our facility," he adds. "We unload it, store it and then load it onto flatbed trucks for the owners. We started out with just frac sand, but now we're expanding into more day-to-day operations with products like rebar. We're looking into transloading drill stem or pipe, as well."
He explains that Dakota Transload's employees are "a good group of guys" who know how to keep inventory secure.
"Our guys are great at what they do," he stresses. "We keep a very clean facility, which eliminates contamination. There is virtually zero contamination in our facility and customers look for that – that's often their No. 1 concern. Contaminated products ruin expensive well pumps. It's part of the quality service we provide. We run 24/7 for some of our customers."
Benefits and Advantages
Dakota Transload wants to start loading drill stem and pipe because that will help it remain busy between frac jobs. Boyko explains he is proud of the company's capabilities and services levels, but it is working to improve.
"We want to improve our load-out times – we're at about 10 minutes right now, but we can do better," he says. "The faster we go, the more likely we're able to help decrease the demurrage fees our customers face. We're focused on getting faster, but at the same time maintaining strict inventory control and not allowing any contamination of the product."
The business plans to continue to grow by taking advantage of the existing rail in the area. Boyko explains this will allow Dakota Transload to handle larger volumes of product for its existing customers and acquire new customers that have large volumes to move. Dakota Transload's goal is to continue its transload service and expand into oil by transloading crude oil from trucks to rail.
"The key is getting the right customers," he explains. "There is a limited supply of railcars in circulation to move the oil, so that's why finding the right customer is key. We have a lot to offer the right companies, and we look forward to serving them and growing." EMI