Dales Marine Services Ltd
First class service
Celebrating its 30th anniversary in 2017, specialist shipping solution provider Dales Marine Services has established a reputation for delivering optimum results and high levels of technical skills as dry dock specialists, for fabrication, maintenance and ship repair.
Today the company offers an extensive portfolio of services to accommodate all clients shipping requirements, repairs and engineering needs, and as Dilwyn Jones, Business Development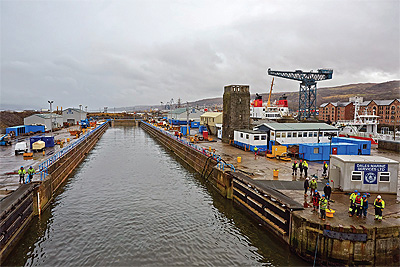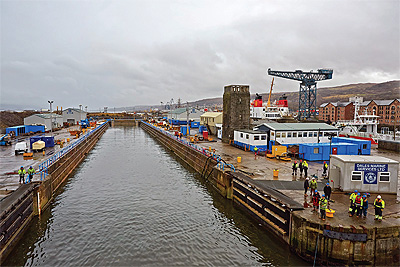 Manager for Dales Marine began by explaining, thanks to thirty years of experience Dales Marine Services can utilise its extensive shipping knowledge to handle any challenge: "We are able to offer expert advice and complete shipping project solutions for the complicated technical challenges faced by the industry," he said: "Leading offshore companies have continued to rely on Dales Marine Services for multi-disciplined projects that are cost effective and efficient, and we have become highly regarded for our ability to turnaround precision engineering projects within tight deadlines."
The services available from Dales Marine Services extend across the shipping, oil and gas, chemical, and power generation industries, and include bespoke engineering services, dry dock servicing, ballast water management system (BWMS) retrofits, vessel conversions, specialist structural steel fabrication, general ship repair and maintenance, vessel mobilisation and demobilisation, and mechanical engineering. "Our services are provided from our strategically located facilities in Aberdeen, Leith, Greenock, Grangemouth and Troon, with Leith, Greenock and Aberdeen being the three main sites, and the others being more satellite sites," added Dilwyn. "These are located in major Scottish ports and this provides unrivalled access for clients 24/7, 365 days a year. Having a workforce based at different locations but who are willing to move between facilities, gives us a competitive edge in the market, and it means we can fabricate larger scopes of work on multiple sites."
Blue-chip clients
It is apparent from the list above that the services available from Dales Marine are comprehensive and therefore appeal to a varied mix of clients. However, one of these services does set it apart – describing itself as a 'dry dock specialist', the company has five strategically placed dry docks at its key locations across Scotland, and can also boast one of the largest dry docks in the UK. It is one of the few companies that can dock vessels over 100 metres in length at all five of its sites, which provides greater flexibility and the ability to cater for large and complex projects. Furthermore, the docks are equipped with state-of-the-art equipment to maximise and extend the performance of clients' vessels.
The power behind these facilities is a team of experienced management and time served professionals, which not only provides reliability and quality on every project, but also offers clients peace of mind and reassurance that their vessels are in the best possible hands.
With a commitment to quality Dales Marine is certified to the ISO 9001 standard, ensuring all projects follow a set criteria of standards and efficiency. "It is thanks to this approach that we have built up a considerable client base including major industry companies in the UK and internationally," noted Dilwyn. In fact, over the years Dales Marine Services has worked with a number of recognised blue-chip clients covering a spectrum of maritime sectors including Technip, Subsea 7, Saipem, Stena Drilling and Maersk Line to name a few. As such the company can boast a strong global reputation and an established presence in a host of market sectors.
"Leading offshore companies continue to rely on Dales Marine for multi-disciplined projects that are cost effective and efficient and we now service most of the main players in the offshore support vessel business, and we are also very much involved with the Caledonian MacBrayne (CalMac) ferry maintenance and support programme," added Dilwyn.
Diversify and evolve
There are also some exciting new projects on the horizon for the business, because of the downturn in the oil & gas sector over the past few years, Dales Marine and Michael Milne the MD at Dales Marine are always looking for ways to evolve and diversify the business into other areas to keep the facilities operating at capacity. One example of this is at the end of October this year Dales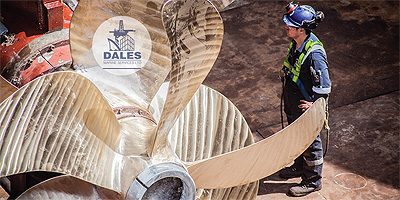 Marine Services was granted a Waste Management licence. "This was awarded by SEPA and Edinburgh Council, and it gives Dales Marine the ability to carry out 'end of life' Decommissioning and De-polluting work at the site in Leith. This is the first site to offer a de-polluting service along with recycling within the UK," Dilwyn explained. This type of extra service is a welcome addition to the extensive services already offered by Dales Marine, and allows it to, in effect, 'go full circle' by helping bring new vessels into service, maintain them through their working lives at sea and then decommission them when their service comes to an end, plus as Dilwyn noted, the market is looking more positive as well: "We see the recent upturn in the oil and gas sector as a good opportunity to look to the future and to diversify and evolve into other sectors, ensuring that the expertise that we have in the current workforce is not only retained but is also being put to good use," he confirmed.
The last time that Dales Marine Services was featured in Energy, Oil & Gas was in 2015, and at time of writing the company was one year into amalgamating the acquisition of the marine engineering company Forth Group into its operation – the combination of the two companies resulted in the number of worldwide clients reaching into the hundreds. "The Forth Group has now settled in after three and a half years so we would now consider a new opportunity for expanding further," revealed Dilwyn. "There is little room to expand on our current sites but we are always looking for new opportunities. Given that 2017 is our anniversary year, we anticipate some noticeable developments within the business as we celebrate this milestone throughout 2018 and beyond."
Dales Marine Services Ltd
Services: The Dry Dock Specialists for all fabrication, maintenance and repair needs