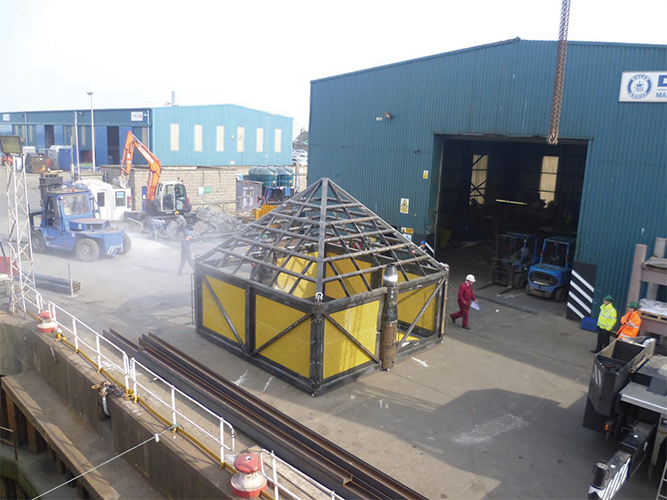 Dales Marine Services Ltd
Fast and effective
A FAST turnaround and quality work is the name of the game for Dales Marine Services Ltd.
The firm has completed 60-plus jobs in its specialist fabrication yard in the last six months. But Kevin Paterson, Dales MarineServices' contacts manager, said the company has procedures in place to ensure the quality of the work – welding and fitting – is not compromised.
He said: "We have internal procedures to ensure we are completing the job to a set list of criteria, and, over and above that, we operate using the gold industry standard, ISO9001, and frequently get third party approval while jobs are ongoing, so clients are assured of the best possible service.
"Then, if there's a tight timescale and the job is critical, we have a night shift and robust overtime procedures to ensure it is completed on time – we really pull out the stops when needed."
Dales Marine Services has one of the few fabrication facilities in Aberdeen which can operate 24-hours a day – the firm usually operates a night shift to ensure any last minute or quick turnaround jobs can be finished.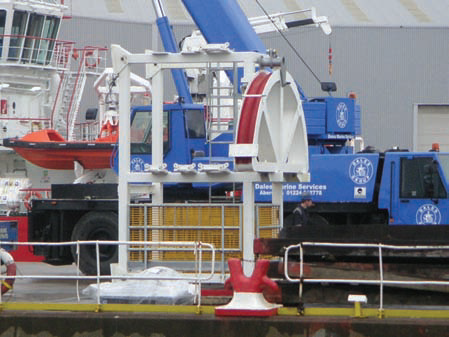 The company, which is best known for its ship refitting services, has recently made a push on its fabrication services catering for more difficult jobs, either directly for oil and gas clients, oil and gas sub-contractors, windfarm owners and contractors, or specialist design companies.
Kevin said that Dale's employees relish these technically demanding jobs as it stretches their knowledge, and they learn new skills that can be passed onto other clients' jobs. He said: "We have extremely experienced welders and fitters and while every job we do is bespoke, there are some that stretch them that little bit more.
"Our welders and fitters enjoy the challenge that something a bit more difficult can bring them, whether it's intricate work on the job itself, or a structure that's so big we need to part assemble it in the workshop then finish the build off beside the dry dock.
"We had one massive job earlier this year for BP where we constructed a walk to work support frame (used to support an Ampelmann gangway system to transport personnel from vessel to platform) partly in the workshop, then outside afterwards. But it was so big we couldn't fit it in our normal yard, which is approximately 400sq metres, and is considered big by most standards.
"This was a fantastic challenge for us, both in build and organisation, as we only had four weeks to complete the fabrication and installation. We demobbed the system for winter and are storing the structure in our yard. This was another challenge as we had to get local authority permission to close the road in between the yards to transport it the 50 yards from the harbour side to storage.
"It does make a huge difference having the dry-dock here and the harbour location, as pieces of fabrications can be loaded straight on to a boat and transported directly to the offshore platform.
The firm also has the advantage of another, bigger dry-dock at its base in Leith, Edinburgh. Kevin explained: "Having these three bases is a major advantage for our clients as it means work can be shifted between them if one is busy, so you're not waiting about for one job to finish before yours can start."
Dales Marine Services is renowned for fabrication of structural steelworks and pipe spools, as well as engineering and fabricating highly specialised structures and equipment in carbon steel, stainless steel and non-ferrous materials. It offers these engineering services to the shipping, oil and gas, chemical, power generation, and civil engineering industries.
The company started after Maurice Nicol founded Dales Engineering Ltd in 1987 in Peterhead as a company specialising in heavy fabrication and ship repair. Dales Marine Services was started in 1991 in Aberdeen as an offshoot from Dales Engineering and as part of the Dales Group, and with eight employees – it now employs about 100 people with an additional 20 to 50 subcontractors.
The company operated from various harbour locations in Aberdeen until taking over the only dry-dock in Aberdeen from its previous owner in 2004. It has one of only two shipyards in Scotland that can dock vessels more than 100m long, the other being the company's other facility at Leith in Edinburgh. The Aberdeen dry-dock has docked approximately 360 vessels in the last nine years, an average of 40 to 45 per year.
Since 2004, the firm has increased annual turnover from about £3 million to £24 million in 2012 and Dales Marine Services' general manager and director, Michael Milne, said the business is delighted to have gone from strength to strength.
He said: "We have come a long way since the firm started and many of our staff were with us in those early years, and it's due to the hard work and dedication of these loyal and hard-working employees that we're in the position we're in today. We have got great plans for the company moving forward and hope to offer our quality service of structural fabrication to more clients."
Dales Marine Services Ltd
Services: Fabrication, structural steelwork, dry-dock facilities, mechanical engineering, services and facilities for a range of industries