On time, every time
With a strong background in fabrication, structural steelwork, dry dock facilities, mechanical engineering, services and facilities for a range of industries, Dales Marine Services has a proven track record in providing reliable engineered solutions to clients through the marine, offshore and oil and gas industries.
The business was established as an offshoot of Dales Engineering, which was established in 1987. Dales Marine Services was incorporated in Aberdeen during 1991, predominantly carrying out ship repairs afloat for vessels within the oilmarket. The business grew steadily and changed location on a number of occasions to cope with the increasing demand for its services, which resulted from its ongoing success. The companyfinally settled at its current location at Aberdeen's only dry dock in 2004. Today the Dales Marine Services facility incorporates large fabrication and engineering workshops from which it caters to, and dry docks a host of vessels including small tugs, ferries, platform supply vessels (PSV), emergency response and rescue vessels (EERV), diving support vessels (DSV), tankers and coasters.
A major milestone in the company's history came in May 2014, when Dales Marine Services announced that it had acquired the fellow marine engineering company, Forth Group. "We were approached to purchase the Forth Group late in December 2013," elaborates director, Michael Milne. "The acquisition went through late March 2014 and it was a natural progression for us to take over the group and was something we had considered for some time. We now have a total of six dry docks and seven workshop locations. At the time of writing, this weekend was the first time we have had a vessel in all six dry docks and something we hope to continue with. Clients also get the comfort that they do not have to phone around different companies to organise dock space, they have one point of contact and one price for any of the locations.
"Dales Marine Services operates two dry docks in Aberdeen and Leith and we also operate a workshop in Montrose. Forth Estuary Engineering operates a dry dock in Leith, while Grangemouth ship repairers operates a dry dock in Grangemouth and Garvel Clyde manages two dry docks in Greenock and Troon located on the west coast. We have workshops at all locations with overhead cranes and we operate nine mobile cranes up to 100 tonne capacity, 14 forklifts and some 43 company commercial vehicles, which service the whole of Scotland There are plans to expand the workshops and facilities within the current locations but nothing is firm as yet."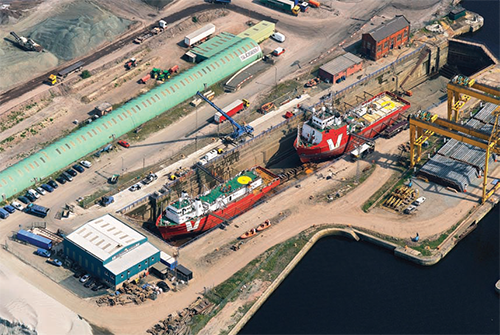 Prior the purchase of the Forth Group, Dales Marine Services took the decision in May 2013 to extend its lease at both its Aberdeen and Leith harbours by a further 20 years, cementing itsposition as a vital part of the marine and offshore community. "It was crucial for us to extend the lease of both facilities in order for us to show commitment to both employees and clients," Michael explains. "Quite a number of our clients book vessels up to two years in advance so they need to know that we will be here and are committed to the locations. We also want to be able to improve the facilities so the longer leases make that more viable."
Over the years Dales Marine has worked with worked with a number of clients covering a spectrum of maritime sectors including Technip, Subsea 7, Saipem, Stena Drilling and Maersk Line to name a few. As such the company can boast a strong global reputation and an established presence in a host of market sectors. "Dales Marine and Forth Group have hundreds of clients worldwide," says Michael. "The businesses' west coast facilities focus is mainly on tugs and inter-island ferries, while the east coast is predominately oil related work. We have recently completed two stability tank installations on sister PSVs in Aberdeen, where the units weighed in at 56 tonnes each and were pre-fabricated in three weeks. They were then installed on the vessel over three weeks. We are always looking into new revenue streams and are currently engaged in meetings regarding power station work."
Dales Marine Services has an unquestioned history of first-class fabrication and market growth that has solidified its reputation as a leading partner within the oil and gas, marine and offshore sectors. As such, it is confident that it has the right capabilities and knowhow to enable it to continue to grow, as Michael concludes: "Clients are keen to secure dry dock space with a reputable company who they know will deliver their project on time and to budget. Fabrication has always been a difficult market, especially in the northeast where there are many companies competing for the same work. Fortunately we have a reputation for being able to supply large amounts of labour at short notice and always exceed our clients' expectations when it comes to delivery of goods rapidly. We always have night shift working and weekends so are able to slot in last minute requests without falling behind with our normal day to day work. We have increased our turnover this year by some 50 per cent at Dales Marine and at Forth Group by 25 per cent."
Dales Marine Services
Services: Fabrication, structural steelwork, dry dock facilities, mechanical engineering, services and facilities for a range of industries