Moving things forward
Having amassed over 18 years of experience in the oil and gas business since its founding in 1994, what was once a business operating solely in the UK is today a $4 billion company with exploration and production operations in the UK, Egypt, Norway, the Netherlands and Africa.
As a part of the Korea National Oil Corporation (KNOC), which took ownership of the company in October 2010, Dana Petroleum today has a unique opportunity to develop and grow, and will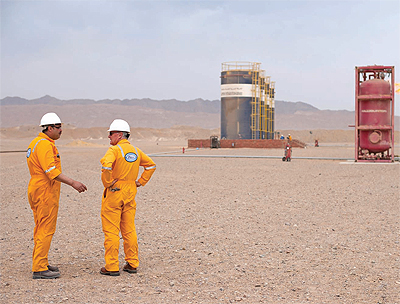 play a central role in helping KNOC achieve its goals of reaching 300,000 barrels of oil production by 2012 and 1.2 million by 2030. Dana's own goal meanwhile is to double in size to more than 100,000 barrels a day by 2016, a goal it aims to achieve through an annual investment of $1 billion.
"The purchase of Dana by KNOC was really a part of a broader global objective to secure production reserves and guarantee energy security for the Korean nation, which is the fifth largest importer of oil and the second largest importer of liquefied natural gas on the planet," explains Marcus Richards, group chief executive officer. "Following KNOC's takeover the agenda of the company became one that was focused on repositioning Dana for long-term growth and to build the frameworks needed to transform it into a very distinctive, independent national oil company.
"In addition to the significant amount of capital we plan to invest over the coming years we also have a debt facility of approximately $870 million that we plan to use to acquire assets and, in some cases, companies that fit our strategic agenda. This plan will encompass all of our existing operating centres, from the UK and Norwegian sectors of the North Sea to the Netherlands and Egypt. In addition to these locations the business boasts a significant presence in Western Africa where we have recently been invited to become an operator of a significant exploration license in offshore Cameroon."
While 2011 was very much a transitional year, 2012 has been spent preparing the groundwork for growth, repositioning Dana's exploration focus while also molding a new approach to business development: "The last several years have provided an interesting journey for the business, however now is the time for us to determine how best to turn all of our operations into growth businesses," Marcus continues. "One way will be to turn our Netherlands office into its centre for Central European activity in terms of exploration, development and production.
"Further afield, Egypt is an area of significant importance to Dana, as is the possibility of moving further into the Middle East. The reason for this lies in the fact that we are increasingly looking to apply the skills we already have to field redevelopment and reactivation."
Having the benefit of being able to discuss projects with a much longer-term perspective than it would previously have been able to now also enables Dana to use its strong reservoir management skills to work more closely with national oil companies in order to further support local economies. In providing education and employment to local people Dana aims to create vibrant oil and gas colonies in the countries in which it operates, something that really encapsulates its belief in creating mutual benefits for all parties.
A major ongoing development for the company is its Western Isles project, located West of the Shetland Islands in the Northern North Sea, which involves the development of two fields Dana discovered some time ago. Revolving around the drilling into the fields' reservoirs before connecting to a subsea template that then ties back to an FPSO, the company has spent the last two years following standard project management practices as it plans the future of this asset.
"The first phase of this predominantly consisted of selecting a range of options that could open up the field for future development," Marcus states. "We looked at a variety of different options that involved taking the oil back to either existing facilities or through a more flexible design, in this case being the FPSO solution that is now being evaluated through a detailed design phase. We believe this project presents a perfect opportunity to demonstrate the way forward as the North Sea moves away from the more conventional, large structures and towards floating infrastructure options."
The Western Isles project is a highly strategic one for Dana, one that will add around 26,000 barrels of oil a day to its production capacity by 2015. The FPSO itself, based on a design by specialist design firm Sevan Marine, is a unique circular unit that has been adopted by a number of the major oil and gas players throughout the world and will be constructed at the yard of China's COSCO. The project is equally as important to the European market, and most specifically the UK, providing employment to some 200 people. With the total investment of the project calculated at $1.5 billion gross, the Western Isles development is a prime example of a company taking the very best elements from different sources and bringing them together to achieve a common goal.
"Today, Dana finds itself in a unique position as the industry is witnessing a shift as a number of the so-called 'super-majors', particularly those that have traditionally been based in the North Sea, begin moving their capital to more frontier areas," Marcus highlights. "The challenge then for the more conventional mid-category companies is being able to access the liquidity needed for investment. While Dana obviously has the full support of KNOC, it is important to remember that it is run as an independent oil company and that a lot of what it does today comes on the back of its own track record.
"Where Dana sees the greatest potential for the North Sea is in the coming together of these mid-sized companies in order to make the changes it believes are necessary to take the industry forward. These changes include moving to common operating areas in the region, the common alignment of equity and the simplification of tax and legal structures. If all the appropriate bodies and players can come together and achieve these targets then they have the opportunity to do something quite spectacular in this part of the world."
Going forward, the main focus for Dana over the short-to-medium-term is the rebalancing of, and investment in, all parts of its value chain. Significant work continues apace in the field of new country entry, particularly in Africa, while it retains a keen interest in working alongside a partner in the Middle East in order to build relationships at a national oil company level.
"Strong relationships are absolutely fundamental in this industry and many of these centre on building local capability," Marcus says. "The best example of this may well be Egypt, which over the last year or so has grown its oil production levels from a figure of 8000 barrels a day up to what is expected to be some 14,000 barrels a day by the end of 2012, all at a time of huge geopolitical evolution. It has been because of the company's commitment to the country, its relationship with the government and its continued investment, that its operations have been largely unaffected during what has been an unprecedented period of change.
"It is because of this approach to business and attitude towards the communities in which it operates that Dana continues to attract so many hugely talented people to its organisation. Whether they be from the likes of BP, Shell, Maersk or elsewhere, each individual is excited to join a company that is driven to grow and move the industry forward in the right direction."
Dana Petroleum PLC
Services: Oil exploration, development and production