Above and beyond
Providing helicopter transportation of personnel and material from base to offshore installation, DanCopter always strives to ensure that safety and reliability are its top priorities.
Its head office is located in Esbjerg, Denmark, where it offers services to customers, which include HESS, DONG Energy, and Maersk Oil & Gas in the Danish sector of the North Sea. From its base in Den Helder, the Netherlands, DanCopter works with companies like Shell and Chevron in Dutch waters and from the base in Norway the customers include Det Norske and Wintershall.
Despite its recent formation in 2003, DanCopter has developed rapidly to become a leading provider of offshore helicopter transportation solutions with an unrivalled service offering in the industry. The company provides an exceptional service level while making sure that the safety of employees and clients alike takes precedence. Personnel are highly skilled and experienced, possessing considerable knowledge of the offshore industry, with some having spent over three decades in the flying trade.
Another strength of the business is the sense of teamwork displayed by DanCopter's employees, which contributes to an enhanced flexibility and, most importantly of all, increased safety. The firm operates under a set of three core values – safety, reliability, and precision. DanCopter has reported a reliability rate of 98.6 per cent over the last two years, in relation to on-time flights. This means arrival within the minute and not the 15-minute acceptance criteria that is the industry standard.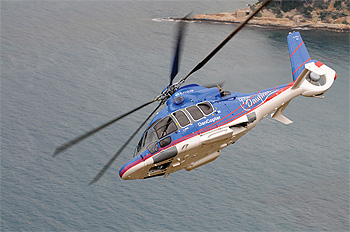 Looking at safety, maintenance and technical manager Arne Lange explains how the company ensures that it maintains a consistently high level of protection among its clients and employees: "We introduce a new safety policy each year. We also have quarterly safety meetings for all the employees to ensure that everyone is up-to-speed with improvements. As part of the policy, we have implemented a safety management system for each different department within the business, so requirements can be specifically tailored for each department's work.
"As a rule our pilots are required to complete simulator training at regular intervals. We also have a system for improvement and tackling any issues whereby if an employee sees any problems, he fills in a simple form that goes to the quality manager, who will then pass it on to the manager of the relevant department. This procedure streamlines the process of repairing a fault in our system. We have never had an incident as we work very hard to prevent them but we have to understand that this does not make our systems infallible and therefore we need to be prepared for every eventuality."
DanCopter's goal has always been to provide safe, flexible, and punctual transportation of personnel to platforms and vessels in the North Sea region.
Having serviced Gaz de France as well as Statoil Hydro with operations from the west coast of Ireland, DanCopter has completed a number of important projects in recent years. May 2009 saw the commencement of a multi-annual contract in the Norwegian sector for Det Norske and Wintershall, which Arne Lange described when speaking to European Oil & Gas Magazine in April 2010.
These projects are still underway, as Arne explains: "Our projects with Det Norske and Wintershall each involve offshore flying from different bases in Norway to an oilrig. Each contract is for three years. The projects involve us following one rig, which operates for all three companies, so we will move our activities in accordance with the oil rig and work on a monthly basis with each company for the next three years.
"For example, one month we will perform operations for Wintershall, the next for Det Norske, and the next for PetroCanada and so forth. This requires a great deal of flexibility on our part, which fortunately happens to be one of our most important qualities."
Finally, as he looks to the future development of DanCopter, Arne reveals that he's confident of the company's potential for growth in Denmark and Norway, and beyond: "Generally we are always looking to gain more contracts and we are very interested in the British market. We also want to secure more offshore projects and for this we are looking at the North Sea but also further afield to Africa and Brazil. We are willing to travel all over the world to pursue these contracts.
"Another area we will focus on is offering our maintenance service to clients as an additional service, including the sale of part 145. In the interest of broadening our scope we are also interested in working with bigger aircrafts so hopefully, within the next two years, we will have secured a contract with helicopters such as the EC225 or the Sikorsky S-92."
DanCopter A/S
Services: Offshore helicopter transportation