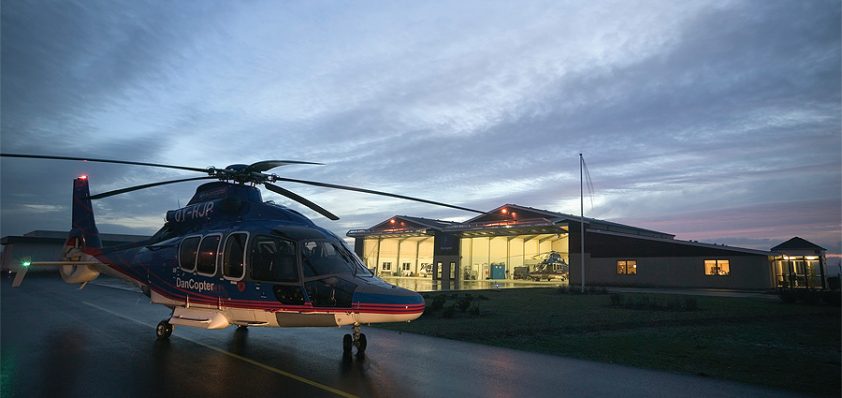 Sky-high quality
With the North Sea as its biggest market, DanCopter provides a reliable helicopter service to the oil and gas industry, delivering transport solutions to offshore clients.
Though it was formed a mere six years ago, DanCopter's level of service quality is already second to none within the industry, partly because the company was formed by former employees of Maersk Helicopters. DanCopter greatly benefits from a workforce that possesses significant knowledge of the industry, with some staff members having spent more than three decades in the flying trade.
The initial premise was to create a business that would provide exceptional service levels, whilst prioritising the care and safety of employees and clients. DanCopter's goal has always been to offer safe, flexible and punctual transport of personnel to platforms and vessels in the North Sea region, as so many of DanCopter's employees have experience in this region as well as in the offshore
sector. Offshore operations began in February 2003 with a workforce of just 17 people. Owing to its ensuing success, DanCopter has added to its fleet and grown, to the extent that the company employs about 75 staff in its facilities in Esbjerg, Denmark, Den Helder in Holland and several destinations in Norway.
Discussing the work that DanCopter is currently undertaking, maintenance and technical manager Arne Lange says: "At the moment we have entered contracts with Det Norske and Wintershall. In fact, Det Norske, which is also known as DETNOR, is an organisation with which we have recently secured a long-term contract. The work will involve offshore flying from different bases in Norway out to an oil rig, and DanCopter will move its activities in accordance with the rig. That will require a great deal of flexibility on our part, which is one our core strengths. In general, we are looking further afield, to areas such as Africa, and we see our future presence will be where oil industry is and continues to go."
Considering how DanCopter has managed to occupy such a prominent position in its field, Arne defines the company's qualities: "We have a strong sense of teamwork and we're very flexible. DanCopter has three key values that we all work towards – safety, flexibility and precision. To this end, over the last two years we have reported a reliability rate of 98.6 per cent, concerning on-time flights, and this means within the minute and not the 15 minutes acceptance criteria that is normal for the industry. It helps that most of our pilots and mechanics boast a great deal of experience; some of them have around 30 years in this industry, some have joined DanCopter from similar businesses and most have worked for us for a long time.
"Additionally, we have an aircraft PBH contract, which is a strength as it means we're paying by the hour and companies have to deliver parts to us within 24 hours. Besides this, we have a consignment stock for the aircraft. Having the PBH contract and the consignment stock in-house means we don't have to wait for the shipment – we can access stock directly and use those parts in the helicopter right away, and then ten minutes later we're ready to fly again. Basically, I'd say that the wealth of experience held by our workforce, our PBH contract and the consignment stock stand out as factors that help us achieve our extremely high number of reliable flights."
In terms of the helicopters used for DanCopter's missions, the organisation utilises a fleet of six Eurocopter EC155 models, each flying an average of 1200 hours per year.
The EC 155 helicopter offers several practical advantages regarding rotor design, which distinguishes itself through low vibration and a low noise level significantly below current guidelines. The design of the EC 155 emphasises high cruising speed, comfort and complete safety. This type of equipment is designed to deal with the movement of personnel within the oil and gas industry, but the helicopters also have potential to meet the needs of the growing wind farm installation sector crew changes in pipe-laying operations in the North Sea.
DanCopter's fleet has been built up gradually and is always expanding in order to meet the demands of offshore companies in the North Sea. "The six EC 155 helicopters we have in operation are a type of aircraft that is popular with passengers and crew alike," Arne reveals, commenting on the company's endeavours to expand its aircraft numbers. "We have one EC 155 and two EC 175s on order, the latter of which will be delivered in 2012. This year we received a helicopter in March and one in June."
Clearly DanCopter is secure in its market position and, with a name already established as a quality provider of helicopter services, the business is confident in expanding its fleet so as to maintain a network of satisfied clients. Now that the world is starting to move out of the global recession that has gripped industries across the board in recent months, Arne feels very positively about DanCopter's future: "It feels as though there is an upturn in the marketplace and conditions are improving in relation to the economic downturn. Dancopter is built on safety, flexibility and precision, and over the next five years I have no doubt we'll grow and we may even change to offering another type of aircraft if that's what's needed to best fulfil our customers' requests."
DanCopter AS
Services: Offshore helicopter transportation