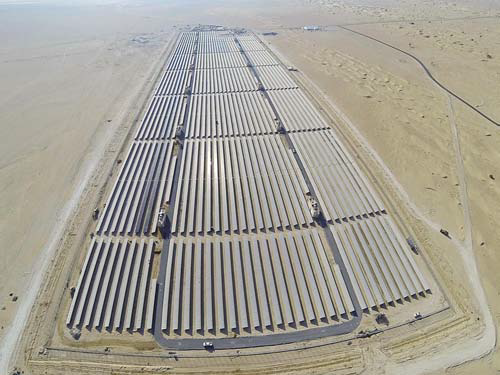 Danway Electrical & Mechanical Engineering LLC
Targeting the future
With a history dating back to 1976, Danway Electrical and Mechanical Engineering (EME) LLC has a long history of delivering expert engineering support to a range of industry sectors.
Its services have been successfully applied within the energy, infrastructure, industrial and oil and gas markets, as well as in a host of maintenance and testing capacities. Today, the company operates as a fully owned subsidiary of M/s. Al Nowais Investments LLC, a conglomerate established in the UAE that tenders diversified interests in power, water, oil and gas as well as industrial projects within the region.
Danway EME is able to deliver unparalleled expertise in the provision of turnkey electrical, instrumentation and mechanical projects. The company offers a full package of support solutions from design development, through to erection, testing commissioning and maintenance services across a diverse spectrum of industrial and infrastructure related projects. Danway EME operates with full ISO 9001:2008 accreditation alongside its own quality assurance, workplace health and safety and environmental protection initiatives. As such, it is able to guarantee complete customer satisfaction through rapid mobilisation, qualified project management and quality and safety assurance, alongside highly skilled manpower to achieve the timely completion of projects.
"One of the main strengths for us is that we are very particular on giving a prompt service to the customer," explains managing director S.G Nair. "The timely and prompt service we have delivered has clearly demonstrated that we are a reliable and trusted partner. This is very important to us, as positive testimony and repeat orders are what drive our business. We have worked with Dubai Aluminium for the past 20 years on both major and smaller projects. Our personnel have had a presence at the company continuously during that time, we have just completed one project and immediately been awarded another package on a larger scale. This kind of repeat order shows the trust that our customers have in our company."
At present Danway EME is undertaking a comprehensive portfolio of projects throughout the UAE, including a turnkey 132kV Substationin Dubai, UAE's first photovoltaic solar power plant for DEWA, the installation of airfield ground and apron lighting systems and other facilities for Abu Dhabi Airports Company, and an infrastructure project in Lusail, Qatar. As well as these projects, the company is involved with a major water transmission project in Fujairah for TRANSCO, where a pumping station is under construction to pump water from Fujairah to Al Ain. Within the oil and gas sector, Danway has recently secured a role as a major E&I subcontractor for a project in Ruwais, Abu Dhabi.
Although it has maintained a diverse project portfolio and strong service reputation, the global economic downturn has impacted Danway and the wider engineering sector inrecent years, resulting in challenging trading conditions throughout the market. "The last 12 months have been very competitive," acknowledges Mr. Nair. "There were a lesser number of projects awarded in 2012 within this region, which has resulted in severe competition around what is available. When there are fewer projects and a significant number of players, the margins are less and always leading to unhealthy competition. However, the situation is looking brighter for 2014 and there is something of an upward trend in the market at present, especially in Dubai and Abu Dhabi. We expect the market to pick up strongly in the next six months.
"Even though 2013 was fiercely competitive we have done reasonably well in comparison to many of our competitors because we maintain diversified activities. We do not 'put all of our eggs in one basket' by operating in a single sector. We were heavily involved with the Emirates Aluminium Phase 2 projects throughout 2012-2013, which has actually offset some of the areas where we experienced greater competition or limited work availability."
Its robust project portfolio has enabled Danway EME to focus on consolidating its operations and to prepare for a proactive approach to the emerging market in 2014. Part of its strategy has been to relocate its main office to a centralised location in a new facility with its own calibration lab and fabrication facility. "The move to a new location had always been in the pipeline, because we wereoperating in two to three different locations in Dubai," Mr. Nair elaborates. "We decided to reposition all of our activities under one roof by building our own offices and warehousing as well as a calibration lab. We feel that the company is more consolidated and that we have more control than in previous years. To further consolidate our position, we went live on ERP solutions from SAP during the end of 2013 which has enabled us to embrace industry best practices and has also created transparency on all levels of the business, automating our processes and providing seamless integration across the company."
As 2014 gets underway and Danway anticipates an upturn in the fortunes of the region's economy, the company is considering wider markets as a possible means for expansion and growth. Traditionally, it has operated primarily within the UAE, Qatar and Oman,however markets in Iraq, Libya, Kazakhstanand Azerbaijan all offer interesting opportunities that Danway may be able to capitalise on. In the mid to long-term, Danway is keen tofurther demonstrate its ability to deliver worldclassoil and gas services and enjoy a boom innatural growth as Mr. Nair concludes: "As themanaging director of the company, I wouldsay that I would like to see our turnover and profit double! Maybe I am a bit over ambitious,however the board of directors are very proactive and supportive and that is exactly what we are targeting now. During the past three to four years we have had a lot of success in the oil and gas sector, completing as many as four to five major projects. That is our main strength and that is where we really want to catch on."
Danway Electrical & Mechanical Engineering LLC
Services: Electrical and mechanical engineering and contracting