Taking the lead
DCD-Dorbyl Marine has recently been involved in a merger with Globe Engineering, the rationale for the transaction was to create a viable ship repair company, with the necessary infrastructure and capacities to handle both ship repair and oil rig refits. DCD-Dorbyl acquired the business interests of Globe Engineering Works, effective of 1st April 2009.
Speaking at the time, Johann Venter, executive director at DCD-Dorbyl stated that this new business entity would attract larger projects, giving work to the wider Cape Town industry and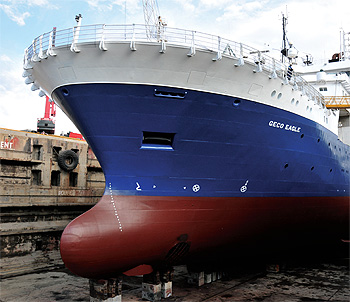 ensuring the viability of its suppliers by offering a full range of capabilities. "The DCD-Dorbyl Marine/Globe combination is taking the lead to achieve this vision for Cape Town, and more importantly to preserve and create jobs. We are pleased to report that our Labour Unions supported the merger. This is a good example of industry and labour working together to create jobs," Johann explained.
First established in 1946 as Dorbyl Heavy Engineering, the company provided a much-needed service to the rapidly growing heavy engineering industry in South Africa. Continuous growth and development of new business and new market areas led the company to create new divisions to form self-sustainable business units. The purchase of Dorbyl Engineering Division from Dorbyl Limited incorporated these self-sustainable businesses into what is today the DCD-Dorbyl Group of companies. The group is a multi-faceted organisation, committed to delivering top quality to its varied clients within the mining, rail, marine and metallurgical industries. Its core activities include dry-docking, thruster overhauls, modifications, conversions, oil rig refits, travelling repairs, pipe fabrication and blasting and painting.
The group incorporates companies under three main business segments, marine, rail and heavy engineering. Dating back to 1903, DCD-Dorbyl's Marine unit has many years of experience servicing the marine and offshore markets along the Southern African seaboard. It has become the largest marine engineering company south of the equator in Africa, and is a dynamic and competitive leader in the ship repair sector. The division's competent multi-national workforce is experienced in all types of marine work, and is backed by a highly experienced team of supervisory staff. Ship repair managers and technical personnel are available to meet with owners' requirements, and teams are formed to tackle the largest and most demanding projects in the shipping field. In order to fit in with a vessel's itinerary, work can be undertaken at any time of the day or night, 365 days a year. The company complies with the requirements of the Lloyds ISO 9001 quality standard and adheres to international safety regulations. The integration of two shipyards allows Marine Cape Town to service the whole of the South African coastline and is enhanced by repair squads, which are able to travel internationally if required.
DCD -Dorbyl's heavy engineering operation services its markets with specialised design processes and world-class manufacturing standards, whilst adhering to the highest safety, health and environment standards. The business through their successful attainment of the local and global market share. Within the division, Mine Support Products Ltd has the unique distinction of being the only private company under the DCD-Dorbyl Group banner. It was created through a joint venture between DCD-Dorbyl and Robor Ltd. The company specialises exclusively in the
manufacture and supply of underground roof control systems, which cater for soft and hard rock mining environments.
Also within the division is Venco Works, which was established in 1973, and works with the broad range of industries operating within the South African market, and Heavy Engineering Vereeniging is the third company within this business area. It was established in 1946, making it the oldest of the DCD-Dorbyl business units. From a large and diversified company, employing over 5000 people, it has over the years become a more specialised unit, focusing on the production of engineered, heavy mechanical equipment products, which are in keeping with changing mining, steel and allied industry markets. Today, Heavy Engineering Vereeniging has a much smaller and specialised team of staff, consisting mainly of highly skilled specialists and engineers to serve the global markets.
The takeover of Globe Engineering should help to achieve the Western Cape's vision of becoming the preferred destination to the West African oil and gas sector, by serving as a world-class service hub for vessel owners and operators. This can only be achieved through the merger between DCD-Dorbyl and Globe, as it will create a streamlined and functional entity with the required infrastructure and financial strength to invest in modern infrastructure and skills to comply with the high standards required by offshore oil and gas companies.
The future challenge facing DCD-Dorbyl Group is to grow its export markets exponentially, whilst continuing to carry out business in local areas. The company's immediate plans are to broaden its product offering to present to the market by investing in capital equipment, in particular specialist on-site machinery, specialist valve testing equipment and piping detail design, as well as pre-manufacture and installation equipment. The development of new products and new markets will increase its versatility. In this way the company aims to continue its growth and to consolidate its position as an industry leader.
DCD-Dorbyl
Services: Mechanical engineering