The pick of the bunch
Realising that most subsea contractors offer a similar service package, Patrick Feeleus, Manager Offshore of DCN Diving, felt that the company had to find a way to differentiate itself from the rest. As a result, the Dutch solutions provider started to expand its competence in the hyperbaric pipeline repair niche by investing in a dedicated hyperbaric test centre in 2014.
"It is a facility that allows us to perform a variety of activities, such as simulation of hyperbaric welding environments at pressures of up to 200 metres, testing of equipment under pressure (e.g.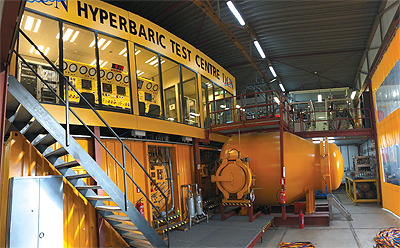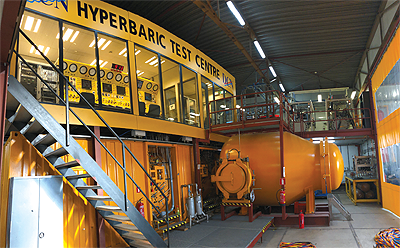 subsea valves), welder coding, procedure qualification, and even training for divers and welders," Patrick begins. "The centre is only the second of its kind in Europe and the decision to build it just for ourselves has continually paid off as we now have full control of our operations in the area. Furthermore, it enables us to be more competitive in our projects."
Another notable development for DCN that has helped the company to distinguish itself was the creation of its second welding habitat system last year. According to Patrick, alongside the hyperbaric testing centre, the habitat is a key element of the business' offering, giving DCN a competitive edge over its peers. "In a sense, the new system is even more crucial, because it can be used in both shallow and deep zones, sandy and muddy environments and is also allowing us to operate on pipes of different sizes. Traditionally, our competitors specialise in serving larger pipelines in deeper areas, but we are fully prepared to cover pipes as narrow as two-inch in diameter," he discusses, adding that the Habitat 2.0 system is currently stationed in Singapore, whence it is deployed in projects in South East Asia, the UAE, and the Red Sea.
There is no better way to illustrate DCN's capabilities than taking a look at some of the works the company has completed in recent years. Patrick draws our attention to two particular projects, which he regards as veritable case studies demonstrating in full DCN's skilfulness. "The more recent of the two was a hyperbaric pipeline repair for a client in Japan, where we had to work on a pipeline that was originally laid in 1969, meaning that we had to deal with a very challenging pipeline material. First of all, we performed the necessary procedures for weld qualification, during which phase, we discovered that due to the properties of the material, we had to employ an alternative welding process. Then, when the actual execution of the repair started, we mobilised a habitat on-site and sent a team to Japan, which completed the job in under 20 days. In fact, with this project, we helped our client establish new legislation, because prior to the programme, hyperbaric welding activities were not allowed in Japan."
In what Patrick considers an even more complicated project than the one he just presented, DCN did hyperbaric repair on a live pipeline in Jakarta in 2015. He elaborates: "The customer could not shut down the pipeline, lest the supply of energy to the island country of Indonesia was disrupted. Consequently, we had to qualify a process, which had to involve various contingencies to address potential leakages while we were welding.
"I believe that this is the project that really put us in the spotlight of the whole subsea industry," Patrick posits. "It was a scheme that really proved our fearlessness in pushing the boundaries and thinking outside the box. Many other contractors would have said: 'Sorry, it is impossible to get this job done', but not us. We are always looking to come up with truly innovative solutions to overcome complicated issues."
Being a family company (established in 1957 as Vriens Diving making it the oldest diving company in the Netherlands), DCN reinvests every penny it makes to continuously improve its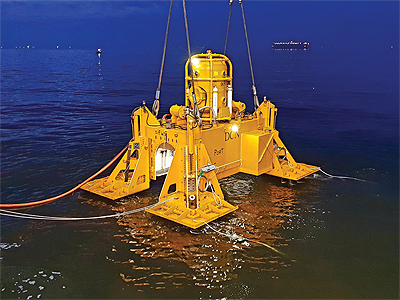 proposition. "Projects in the hyperbaric repair niche market are less competitive and therefore allow us to run such operations with more healthy budgets than e.g. in the highly competitive IRM market segment and better margins give us more opportunities to grow the business," Patrick explains. "Whether we build a new dive system, invest in the hyperbaric test centre and habitats, or invest in supporting, developing and empowering our staff such is all very instrumental to the type of service we wish to provide, the idea of constantly adding value to our offering is deeply rooted in the way we operate."
As an example, he reveals that, not long ago, DCN revamped its premises in Bergen op Zoom, in the south of the Netherlands – an undertaking that included an investment in new Work Shops, Storage Areas and a number of apartments where the company's clients can now stay during their business trips. "We want to make the access to our facilities as convenient as possible for our customers and, in my opinion, providing them with accommodation enhances our overall proposition immensely."
The period of active investment from DCN coincides nicely with the gradual increase of the number of projects in pipeline construction and installation all over the world. "Everyone is getting busier," Patrick remarks. "We are working on several greenfield projects in the North Sea, but as a real global player, we see a lot of developments in the Gulf of Mexico, South East Asia, and the UAE, too.
"What we will really try to do in the future, is evolve from a project-executing contractor to a company that regularly sets up retainer agreements with operators based primarily in the North Sea," he opens up on DCN's business development vision. "When following the approach of tendering for separate contracts, there will inevitably be ups and downs in the amount of work we pick up. Therefore, we want to get in a position where we have our equipment and personnel on standby for our clients, guaranteeing swift and efficient response to any emerging issue. If we achieve that, it could be a game-changer for the company, because the fee our clients will be paying us, will allow us to invest further into our capabilities and take the business to a higher level," Patrick concludes.
DCN Diving
Services: Engineering, diving services, hyperbaric welding, ROV support, vessel supply, dry space creation, underwater concreting