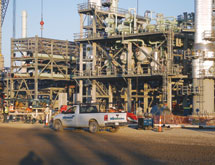 It appears the people at De-Cal Mechanical have one primary goal – to keep growing into the future.
The company, which was founded in 1992, offers a full range of mechanical contracting services including industrial and municipal piping, plumbing and HVAC, and design/build and engineering. In addition to its corporate offices in Warren, Mich., the company also has offices in Pittsburgh, Pa., and Youngstown, Ohio.
De-Cal has completed an impressive list of projects including installing piping systems in commercial and healthcare buildings. More complex projects, such as water and wastewater treatment plants, industrial fueling systems, hydraulic power systems and corrosive fluid containment, are also among its areas of expertise. Additionally, the company has extensive experience in new plant construction, expansions and retrofit projects.
The firm also offers in-house engineering capabilities. In addition to AutoCAD and 3-D-BIM coordination, De-Cal's Trimble Total Robotic Station provides a 3-D positional data interface. "This system allows us to find ranges and lengths of piping systems using a laser-based system," General Manager Michael Montgomery notes. "It helps us to create more accurate systems and avoids relocating and reworking systems."
The company continually builds on its experience to create new opportunities. "We are a forward-thinking group of people," Montgomery asserts. "We've taken a proactive approach to look into new industries to become more competitive."
One such project is the company's involvement in the exploration and drilling endeavor in the Utica and Marcellus shale play. The project itself involves the extraction of 500 trillion cubic feet of natural gas in a six-state area that includes Ohio and Pennsylvania. Horizontal drilling operations in the towns of Youngstown, Ohio, and Warren, Pa., are making this venture possible.
In anticipation of the drilling project, V&M Star is expanding its plant, which will produce the steel tubing needed to drill shale gas. De-Cal's participation in this $650 million expansion entails installing various underground high-density polyethylene (HDPE) piping sys- tems. According to the company, HDPE requires a high-quality fusion operation in the field. "De-Cal has invested in this fusion equipment, self-performs this operation and has become a leader in this technology," the company says.
"We realized that we had the basic skill set to work within the gas industry," Montgomery notes. Having worked on considerable projects in the iron and steel industry, De-Cal was well-positioned to expand into the natural gas arena. "It's a matter of tweaking the skill sets that we already had," he says.
The company is currently working as a third-party fabricator of process piping for the drilling skids that will be put into service. "We will also be handling piping in the processing facility's compressor stations," Montgomery attests.
Safety First
These projects involve maintaining a high level of safety. As a participant in the Management and Unions Serving Together (M.U.S.T.) program, De-Cal helps both management and craftspeople understand the value of maintaining a safe worksite.
In addition to drug and alcohol testing, the program offers safety awareness training via an online portal. The 18 learning modules are based on safety issues from the OSHA 30 Hour Outreach Training Program. The company employs a full-time safety director to oversee its training programs.
"Our safety trainer is a certified OSHA trainer," Montgomery says. In addition to offering real-life scenarios, the safety director will have daily toolbox talks that involve all tradespeople and managers.
"Our safety director will try to get the workers to consider what they think are important safety issues," Montgomery declares. "When you include [the workers] in discussing the safety issues, it becomes a brainstorming activity that brings its importance to light." He adds that these meetings have led to a tremendous improvement in safety and implementing best practices.
"Our safety director understands that near-misses and problems are learning experiences," Montgomery says. "Instead of just shutting down an operation at the site, he tries to encourage workers to report these incidents. This process enables workers to step back and think about the critical nature of the situation." In addition, De-Cal has developed a safety incentive program in which financial bonuses are sometimes awarded.
Encouraging open lines of communication between workers and management also helps promote teamwork and encourages workers to pursue growth within the company. "We're almost like a big family," Montgomery says. "We have great managers who mentor and encourage employees to advance." EMI