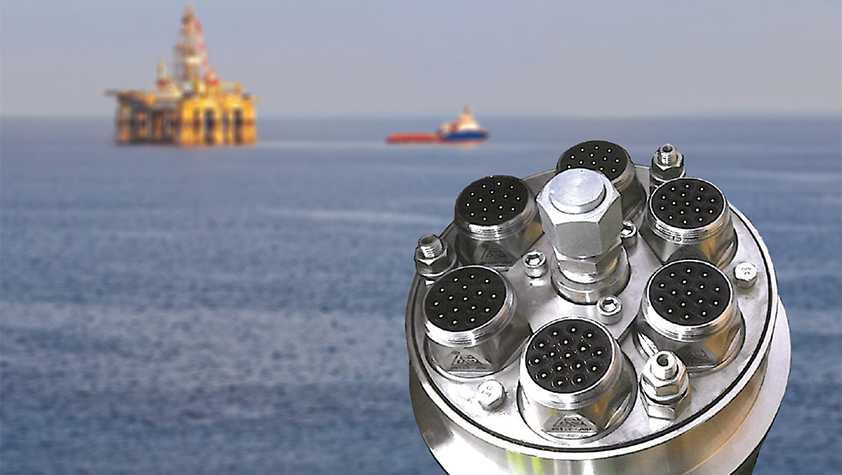 A strong partner
When it comes to the design, manufacture and supply of custom-engineered, speciality, dynamic or static cable solutions for use in subsea applications, DE REGT Marine Cables is one of the leading names in the industry.
The company, which has more than 90 years of technological innovation and experience in advanced cable design, is the supplier of choice for leading clients in the oil and energy, defence, seismic exploration and scientific market sectors worldwide.
DE REGT Marine Cables has a long history of excellence in cables. DE REGT Marine Cables as it is today operates in the equipment division (Sercel) of CGG. The company predominantly focuses on the design and production of marine cables for the subsea, geophysical and defence markets. The business today operates from its facility in the Netherlands with a strong team of engineers and innovators that are capable of working on conceptual design studies as well as working with clients at a project level, co-operating closely to translate initial concepts into working products.
DE REGT Marine Cables has four key product lines within its portfolio – oil and energy, defence, seismic, and research and development. Whichever industry the company is working for it maintains the same high standards and works towards the same key objectives and goals of 'we design and manufacture the key interfaces in your subsea infrastructure. We develop and deliver the essential links in your marine data gathering system. We will maintain them too – for the whole of the product life… helping to maximise your business opportunities by meeting your operational goals.'
In terms of the oil and energy field, DE REGT Marine Cables is the leader in providing engineered umbilical solutions that meet a wide range of oil, gas and renewable project requirements. Through its vast experience the company is highly familiar with even the most demanding design challenges that this sector presents, and accordingly is able to offer a wide range of custom built systems for installation at ever-greater water depths and in increasingly hostile environments.
In order to survive these conditions, DE REGT Marine Cables' products combine the qualities of maximum strength with minimum diameter to enable efficient data and power transmission, whilst surviving repeated duty cycles of extended time periods and in harsh conditions. For the oil and gas sector DE REGT Marine Cables chiefly offers solutions for ROVs (workclass/trenching/inspection), offshore service companies (sampling/drilling/pipelaying/production), and monitoring (sensors/advanced communication).
For workclass ROVs the company's products are optimised in order to give the high flexibility, good durability, neutral buoyancy and minimum drag qualities that are required by leading operators. As this is such a demanding industry sector DE REGT Marine Cables largely focuses on designing and manufacturing one-off, custom made solutions for individual clients but is able to integrate a number of products into a complete turnkey package on request.
While the ROV market represents a significant proportion of DE REGT Marine Cables' work, the business is also well known for producing reliable and effective surface to seafloor multiplex (MUX) control cables that are used for deepwater blowout preventer (BOP) applications.
DE REGT Marine Cables has been considered the natural choice for conducting business, concerned with safety and quality. Its BOPMUX cables are manufactured from high quality raw materials with in-process testing and evaluation throughout the entire manufacturing process in order to ensure the highest standards. The company also conducts regular and extensive Factory Acceptance Testing (FAT) on all its cables before shipment to client. Incorporating the latest technology, the MUX cable design uses fibre optics for data transmission and is field proven to have an extremely long mean time before failure (MTBF), often requiring little or no intervention during its entire service life.
As the oil and gas industry continues to push the boundaries in terms of exploration, collecting seismic data about potential reserves becomes increasingly important, and in the field DE REGT Marine Cables' products are playing a key role.
The company's custom-engineered marine seismic data acquisition cable systems and products are currently in use around the word on all major seismic and survey fleets and are engineered and manufactured to exacting standards in the most challenging operating environments.
The company's product portfolio, available to international marine seismic and oceanographic clients includes:
Single hose seismic airgun umbilicals and termination systems
Armoured lead-in cables and tow leaders
Hybrid penetrator and cable assemblies
Deep tow and bottom laid cable systems
Dynamic subsea control, communications and service cables
AUV cable assemblies
Subsea vehicle cables
With significant investment in enhanced design, manufacturing, research and testing facilities, DE REGT Marine Cables demonstrates its commitment to continue responding to future industry challengesand technological demands, pushing the limits of depth, temperature and harsh environment capability.
Even now, DE REGT Marine Cables is testing alternative types of copper, which will improve durability, novel steel armour wires and alternative strength members using Aramid fibres to cope with hazardous fluids, and innovative insulation materials to withstand high temperatures.
DE REGT Marine Cables is a 'technology partner' and fundamental to this ethos is its commitment to sharing lessons learned and exploiting new technologies and products across all subsea sectors to the benefit of all DE REGT Marine Cables clients and technology partners.
DE REGT Marine Cables
Services: Cable systems and solutions