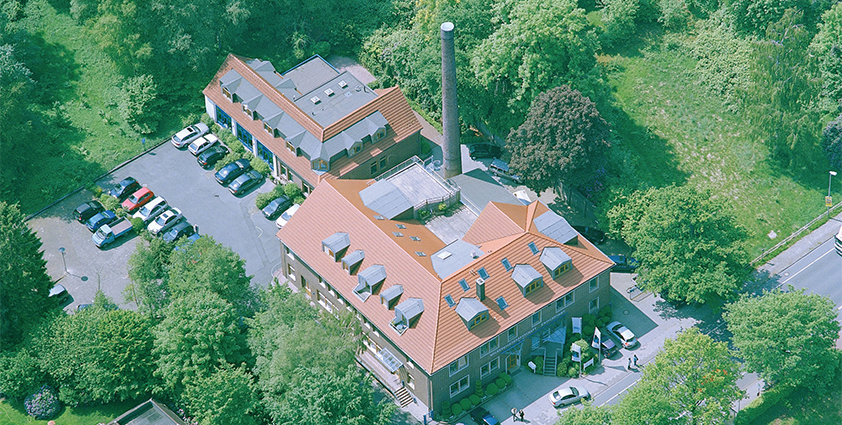 Success in storage
DEEP. Underground Engineering GmbH was established in 1995 in Bad Zwischenahn, Germany.
The company operates as a key partner in the planning and construction of underground salt caverns for oil and gas storage, and it has contributed to a number of projects across the country. Having started with just five personnel, the company's workforce has since expanded to more than 110 employees.
KBB Kavernenbau- und Betriebsgesellschaft GmbH of Hannover was initially established in 1971 in order to plan and build the German crude oil reserve in Etzel. This outstanding storage project, with a storage volume of 13 million cubic metres spread across 33 caverns, has since been administered and operated by IVG, the project's principal. KBB was formed as a joint venture by the two then state-owned Lower-Saxony-based conglomerates of Preussag and Salzgitter.
During its early years, demand grew for similar services relating to natural gas and compressed air storage projects – and this helped to cement the importance of KBB's existence, whilst also consolidating a large base of qualified personnel. As the market grew, further significant contracts arose for KBB to take advantage of – such as the planning and construction of the US-American strategic petroleum reserve, for example. This facility based on the Gulf of Mexico has a total storage volume of approximately 72 million cubic metres and the contract was awarded to KBB together with Parsons-Brinckerhoff, a US-American engineering firm. The result of this specific venture also led to the establishment of the US holding firm, PB-KBB.
KBB then took over the personnel and the competences of the former Preussag Erdöl and Erdgas (oil and gas) organisation in 1990, marking the start of many years of activity in the field of gas facility engineering. Its services at the time ranged from the construction of surface facilities for the operation of gas storages, to services in the field of reservoir engineering and porous reservoirs. In fact, these latter activities have now also been re-established at KBB UT.
Even during its early years, KBB was very active in other areas, both domestically and internationally. During the late 1970s, it constructed the world's first compressed air storage cavern in Neuenhuntorf, with the purpose of shaving peaks in electricity demand. It also developed a number of gas cavern storage projects during this period, including a butane cavern in Morocco. Furthermore, the company was involved in a large-scale rock cavern storage project in Saudi Arabia during the 1980s and 1990s.
In 2000, Preussag sold KBB to the US company Schlumberger, which in turn sold it on again in 2004 to DEEP. Underground Engineering.
By this time, the KBB subsurface competences had been consolidated together under a new name – KBB Underground Technologies. Together with its affiliated company, DEEP., KBB UT has evolved into an innovative and robust player in the storage business. The two companies share the work: KBB UT takes exclusive responsibility for fields such as completion, tightness testing and rock mechanics, while other areas are handled together with DEEP. In turn, DEEP. concentrates on or is exclusively responsible for tasks relating to plant engineering and drilling technology.
General manager of both companies, Christian Hellberg, elaborates upon the common strengths of the two businesses, discussing how they work together to achieve their goals: "KBB UT and DEEP. share various synergies, but also focus on their own specific areas too. Each has its own drilling group, for instance, its own laboratories and its own testing facilities. This allows the companies to operate semi-autonomously whilst also using the common expertise and knowledge to help them develop side-by-side."
Together, DEEP. and KBB UT currently employ a staff of 170 in Bad Zwischenahn, Hannover and at other site locations throughout Europe. Every year the two organisations drill 20-30 wells totalling between 30,000 and 40,000 drill metres, and solution mines between 5-7 million cubic metres underground space. The two companies continue to be involved in major projects, such as Etzel, Nüttermoor and Jemgum. International orders include gas storage projects in Zuidwending, in the Netherlands and Carriço, in Portugal.
The Etzel project is perhaps one of the most renowned that KBB UT and DEEP. are working on together. Constructed more than 30 years ago, this strategic crude oil reserve was built across 33 caverns at Etzel and, 15 years ago, work started on converting some of the oil caverns to store gas – marking the start of the gas era at Etzel.
With the start of the new millennium, the Etzel salt dome and the IVG organisation were faced with new prospects and new challenges. The new situation was driven by a number of new considerations, including for example the sensitivity and insecurity of German gas supplies. In response, plans were put in place to increase the scope and scale of how gas caverns were used to secure not only Germany's but also Central European energy supplies. Work started in 2004 on solution mining the planned caverns. The planning was based primarily on 3D modelling of the entire salt dome and the schedule is to construct more than 100 caverns with a gas capacity of some 120 billion cubic metres by 2020. The average cavern size is approximately 600,000 cubic metres in volume, with depths ranging between 800 and 1500 metres.
The majority of wells drilled in the Etzel project will be directional, with up to seven caverns fanning out from a shared cavern pad, which will help to reduce space requirements and improve logistics. The operating models of the new gas caverns will also differ from that of the strategic crude oil reserve caverns, and there will be a number of different contract-based models, to be agreed and co-ordinated with IVG. On a number of occasions to date, drilling has taken place simultaneously on five rigs erected immediately adjacent to one another. This will mark the start of more extensive activities relating to the operation of several gas handling facilities – the construction of which has already started.
The planning and construction of what will soon be Europe's largest cavern project is being undertaken jointly by DEEP. and KBB UT, which are working in close collaboration and in turn tightly co-ordinated with IVG. KBB UT is in effect continuing along the same track it started down more than 30 years ago.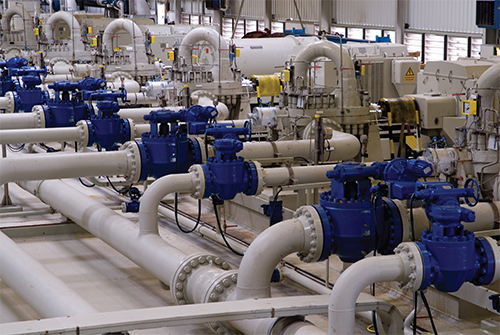 The scope of work in the latest phase of cavern construction has not only impacted on the size and activities of KBB and DEEP. personnel, but it has also resulted in changes to the growth of the personnel structure at IVG. DEEP. and KBB UT are managing the project from their respective headquarters in Bad Zwischenahn and Hannover, as well as with staff on site at Etzel. Those members of the team responsible for planning, coordinating, supervising and inspecting the drilling and completion work as well as snubbing jobs and tightness tests are temporarily on site.
Over the last three decades, the technologies and techniques employed have been subject to considerable changes. In addition to new and innovative geological methods such as bromine analysis and 3D modelling, these include the deployment of directional drilling rigs and other new methods in connection with drilling and completion as well as in the intensive implementation of computer technologies throughout all areas and departments. IT helps not only handle the detailed and extensive calculations and monitoring of the various activities, including the remote supervision of the solution mining process, but also provides the basis for achieving higher precision in geological interpretation and rock mechanical calculations with correspondingly detailed cavern configurations.
Overall, the art of cavern construction has gone through decisive changes, technically and with respect to co-operation between IVG and its consultants. KBB, in its earlier guise,was involved in providing decisive input to the project from its earliest days, while today, DEEP. and KBB UT together are continuing this work as affiliates.
Another key project that KBB UT is currently overseeing is at Nüttermoor, near Leer in the state of Lower Saxony. A total of 18 caverns have been completed here, while three more are currently approaching the final phase of solution mining. The caverns are located at depths of between 950 metres and 1300 metres, and the working gas volume of the entire gas cavern storage currently amounts to approximately 1.5 billion cubic metres in volume.
In parallel to the construction of new caverns, a number of old caverns have been successively recompleted and adapted as of 2004. This process involves the secondary solution mining of the caverns by flooding them with water to compensate for volume losses resulting from convergence during the preceding operating periods. A key component of the recompletion is the installation of a subsurface safety valve compliant with current engineering standards. One cavern has already been recompleted in this fashion, with the flooding phase about to start on a second.
The former KBB has been providing engineering support and consulting for the construction of caverns here from the very beginning. During past phases this was in relation to both surface and subsurface plant and engineering, although, following the restructuring of KBB into KBB UT, the firm is now exclusively involved in subsurface operations. These activities include solution mining planning and support during cavern construction, followed by gas engineering completion including tightness tests and snubbing tasks.
DEEP. is also working alongside KBB UT in the Jemgum project, which is a salt dome located to the west of the River Ems, opposite the EWE gas storage project at Nüttermoor. Wingas and EWE are jointly active on the Jemgum salt dome, and DEEP. is responsible for the 3D modelling. Wells will be drilled to depths of up to 1600 metres, with individual caverns ranging up to 750,000 cubic metres in size.
Wingas intends to initially build 18 caverns with a capacity of 1.2 billion cubic metres of working gas. In contrast, EWE has plans for 15 caverns and a capacity of approximately one billion cubic metres of working gas. DEEP. has drafted the detailed planning for the solution mining plant and the solution-engineering concept for the caverns, and will be supervising the preliminary and main wells for Wingas and also the main wells for EWE. Some of the wells, will also be directionally drilled
DEEP. was also responsible for planning the leaching plant operated by Wingas, which is to be designed for the simultaneous leaching of six caverns. In addition, DEEP. is active on behalf of Wingas with respect to the planning of all pumping, instrumentation and control systems, the nitrogen and blanket plants, the preliminary planning of the entire gas handling plant as well as for the planning of the field pipeline system in its entirety.
The final major project that both DEEP. and KBB are involved in together is in Carriço, Portugal. With initial exploratory work taking place in 1994, this is the first gas storage cavern ever constructed in a salt formation in Portugal. The EPC contract for the turnkey construction of a gas storage plant and four gas storage caverns with a minimum volume of 1.2 million cubic metres was granted by REN in 1999 to a German-Portuguese consortium under KBB leadership. The completed facility comprises four caverns used for storage operations with a cumulative storage volume in excess of 2.0 million cubic metres. KBB UT is currently involved in the construction of a fifth gas storage cavern, and project Carriço realisation involves contributions by KBB UT engineers in Hannover and, working in close collaboration with the solution mining team on site.
With such a wide scope of projects being planned in the coming years, Christian remains positive about the future prospects for his company. He concludes: "In the future, we expect the demand for underground gas storage to remain stable in Germany, whilst growing significantly in other countries in Europe. Portugal, Denmark and the UK are showing an increased interest, and so we hope to penetrate these markets too in the coming years. We also want to expand our storage capabilities into other fields of energy, such as compressed air, hydrogen and even electricity from solar panels. Whilst the financial crisis may have made it a bit of an upward trek at present, we are certainly on course to maintain our success in the market for several years to come."
DEEP and KBB
Services: Underground storage of liquid and gaseous hydrocarbons