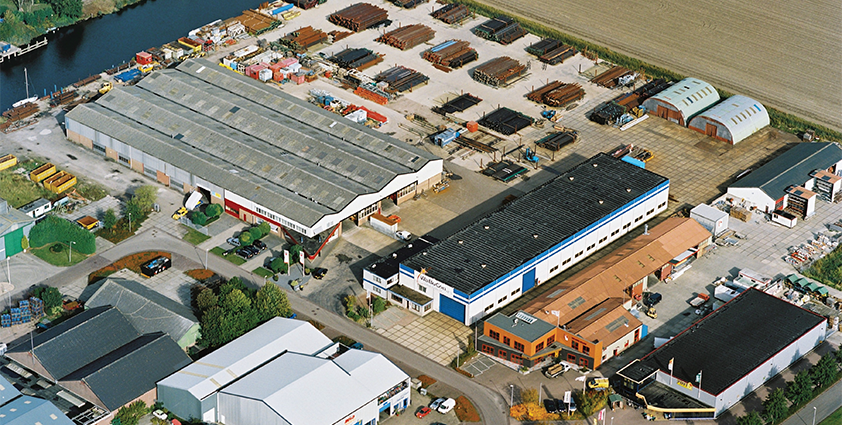 Drilling deep
The Deep Drill Supply Group is a collection of three Dutch companies supplying equipment to both the offshore and onshore drilling industry.
It possesses a large standing inventory of branded products as well as items engineered in-house capable of providing a complete well setup and rig package to customers across Europe, Northern Africa and Western Russia in the oil, gas, geothermal, salt and mining industries. Having grown extensively over the last five years, plans for continuing this focus on opportunities to deliver a wider range of products into new geographic areas.
Deep Drill began 30 years ago as a supplier of surplus materials before it developed a group providing complete hardware solutions. Its founder, Ing van Amsterdam, is the father of current owners Jochem and Jurriaan van Amsterdam. Since its inception Deep Drill has remained a self-funding, family run business employing 34 people in total. It is located on a 21,500 square metre site consisting of offices, workshops, warehouses and yard with cleaning, inspection, testing, rigging and storage facilities in the Dutch town of Middenmeer.
Managing director Jochem van Amsterdam further discusses the company's capabilities today: "Deep Drill Supply Group is formed by three companies: Deep Drill Equipment, Deep Drill Rentals and Deep Drill Tubulars. Through these, we are able to supply a complete package for both well and rig requirements. As a hardware supplier we stock the best quality brands with a high emphasis on quality, and logistic and financial control. Because we are set just between Den Helder's offshore port and Amsterdam's Schiphol airport, our location is very convenient for international activities."
Each of the three companies has a different focus. Deep Drill Equipment, for example, supplies drilling and pressure control equipment including wellheads, pumps, handling and hoisting equipment, rotary equipment and solids control equipment. Deep Drill Tubulars, as the name suggests, is responsible for all tubulars and associated accessories including drill pipes, casing and tubing, couplings, protectors, cement and float equipment. Meanwhile Deep Drill Rentals – formerly Rent A Tube – functions as the hire division of the group, enabling clients to make use of Deep Drill's inventory on a short-term and cost-effective basis. It specialises in pressure control and workstring packages.
Jochem explains the reasons behind splitting the company's services and the benefits gained by doing so: "All three companies work closely together and form specially designated teams for specific jobs. For example, if a salt project were coming up, that would require both a rig and well equipment so people from all companies work together, supplying the operator, contractor and service companies. The customer outlines the project with just one person from our company but when that contact person needs help he has a whole team to back him up. The decision was made to split the business to ensure it functioned as efficiently as possible, but nonetheless each business unit supports the other."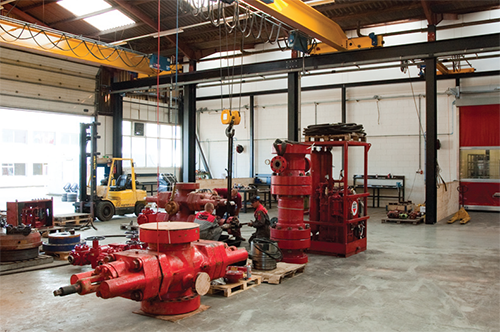 Safety and quality are two very important issues for a business like Deep Drill and are things that the company take very seriously. Firstly, for its in-house products, it has an experienced member of staff appointed as quality manager who organises a quality management to be followed by the entire workshop and warehouse. Second, to ensure that stock remains in top quality condition between rentals and before sales, the company has two certified inspectors. Finally, in support of its quality management procedures and personnel, many third party inspection companies including Franke, Vetco, Lloyds and Bureau Veritas control in-house and its authorised manufacturing facilities. This means the quality of items undergoes a second, independent opinion before they are transported to the client. Tubulars and equipment supplied by the company meets not only American Petroleum Institute (API) specifications but Fearnley Procter's NS-1 and TH Hill's DS-1 standards, as CE, and APEX as well.
Over the last five years there has been an increasing company emphasis on three business areas: oil and gas, geothermal and salt mining. Though it is a relatively small supplier within the oil and gas industry, Deep Drill has managed to maintain a steady growth working with many small and large operators throughout Europe. Because sales tend to be on an ad-hoc basis, this remains the lesser of the company's business areas; the business has maintained long-term contracts with Shell, Chevron, Baker, Schlumberger and Noble amongst others. The business is a lot more successful in the geothermal industry, where it currently dominates the Dutch market as well as maintaining a 35 per cent market share in Germany, 25 per cent in France and 15 per cent in the UK. It also has a presence further afield in Nigeria, Egypt, Syria, Romania, Bulgaria, Greece, Algeria, Poland and Denmark.
Working with such a spread of clients inevitably presents the company with obstacles, as Jochem points out: "There are always challenges, particularly after the evaluation stage of our services. As such the biggest challenge at the moment is the contractors, because their payment behaviour has become increasingly difficult to cope with. However, these problems lie mainly with contractors and not the operators or service companies so this is something we can manage.
"There are still a lot of opportunities though" he says on a more positive note. "I think with our concept of providing the complete package we have made a niche for ourselves in the market. There is also a great amount of expertise within the company so that we can respond immediately to requests. New people have joined us; there are more new people on the way. We continue to expand and our customers are happy so we are pleased with where we are at the moment."
An emerging area of importance for the drilling industry, particularly within oil and gas, is that of depth. To attain extractable reserves operators have started going deeper into the earth and this of course presents new challenges to everyone involved, including a supplier such as Deep Drill. To meet these new challenges it has started investing into advanced technology. "Previously we were only hardware suppliers," Jochem comments, "but we have had to add new workshops and staff with oilfield and other specialised expertise to help us expand into higher technologies. To extend reaches and cope with more difficult completions, we've acquired a great deal of experience recently. Supported with more advanced technology, we are able to do a lot more for a lot less."
Meeting these types of industry demands is an important part of securing a stable future for the company. This, however, is just one part of Deep Drill's strategy for the next 12 months and the years ahead, a strategy that sees a focus on the expansion of product offerings and geographical markets.
Jochem explains: "We always look at least one year ahead and the plan for 2011 has just been completed. Having discussed it with management, we are looking to add one or two new product lines to our package so that they are well rounded and complete. The other part of the plan is to expand our agents in the countries that are more difficult to travel to, such as Africa, Russia and the Middle East. We have just started working with some excellent agents in these regions and expect our presence there to grow."
He concludes with an outlook on the long term future for Deep Drill: "It is difficult to say how we want to grow in terms of people, turnover or profit but of course a priority is for everything to be more efficient and effective. The growth we have seen over the past five years, from gaining 28 staff and improving our service and outfit, is something we want to continue. We used to be in small offices with a small warehouse but today we have 21,500 square meters and fully own everything. We hope to continue operating like this and improve for the benefit of our customers, by living by our slogan: 'we go the distance'."
Deep Drill Supply Group
Products: Drilling equipment and tubulars