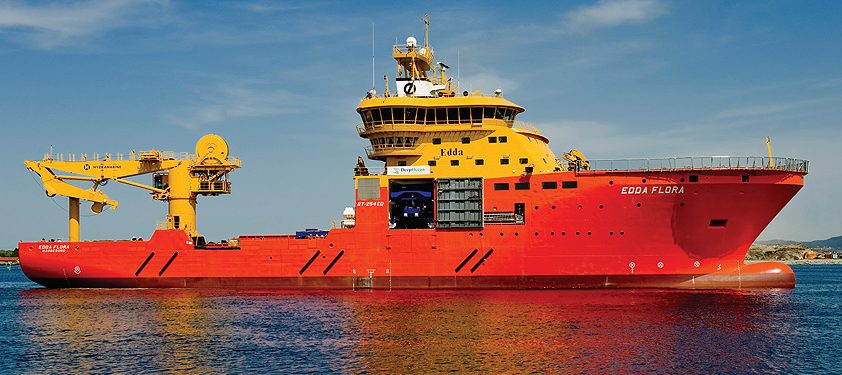 On the crest of a wave
Founded in 1999 on the provision of first-rate equipment, services and experienced personnel, DeepOcean AS is a recognised market leader, providing high-quality IMR, survey and construction support, and subsea intervention and decommissioning services.
Through its subsidiary, CTC Marine Projects Ltd., it is also the leading supplier of marine trenching and cable laying services and is headquartered in Haugesund, Norway, with regional offices
located in Darlington and Norwich, UK, Den Helder, Holland, Ciudad del Carmen, Mexico, Perth, Australia and Singapore. Its offshore bases are located in Teeside, UK and Killingøy, Norway.
The company's impressive portfolio boasts a wide range of complex projects including: a long-term IMR (inspection, maintenance and repair) contract with a Norwegian oil major. In this project DeepOcean is acting as the subsea caretaker for one of the most complex subsea installation and pipeline systems in the World, occupying two to three vessels on a permanent basis and providing a variety work tasks and operational modes. Further operations for the business include flexible pipelines trenched in water depths of up to 2000 metres, and long-term engineering and operational support to emergency pipeline repair systems for a major oil and gas producer.
DeepOcean, employing over 600 people worldwide, controls a modern fleet of dynamic positioned ROV/Survey, IMR and construction class vessels and has driven the development of state-of-the-art multi-purpose support vessels equipped with heavy weather launch and recovery systems, enclosed hangars and
moonpools for deployment of subsea modules and ROVs. DeepOcean also operates a fleet of modern ROVs and trenching equipment, and has pioneered the development of deepwater module handling systems.
Rolf Ivar Sørdal, commercial director and Keith McGregor, business development manager at DeepOcean, discuss the business. Rolf comments: "We have recently been acquired by Trico Marine Services, which took place in mid May 2008. Trico is primarily a provider of marine support vessels to the offshore oil and gas industry and has been looking at expanding its service range; hence it acquired DeepOcean and CTC Marine Projects." The acquisition, which took place through Trico Marine Services' subsidiary Trico Shipping, should accelerate both companies' positions in the industry, with Trico expecting the addition of DeepOcean to enhance its assets and the range of technologies offered to its customers, therefore increasing its earnings in the future significantly.
Rolf discusses how Trico will benefit DeepOcean: "If our company is to grow and expand in the business, we need to look at other areas of the world. Trico Marine is already reputable internationally, this will provide an advantage for us in moving forwards as we can make use of their well-established client contacts and infrastructure." Trico Marine Services operates primarily in international markets, with operations in the North Sea, West Africa, Mexico, Brazil and Southeast Asia, as well as in the Gulf of Mexico. Rolf continues: "We anticipate all of the areas Trico works in as having great potential. We know for certain that both West Africa and Brazil are moving forwards, and the number of installation and field developments is ever increasing. The US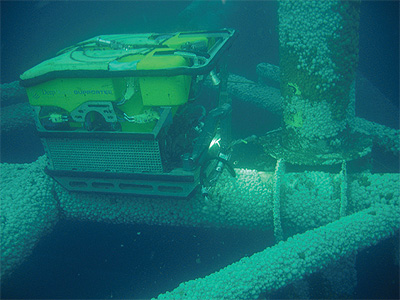 Gulf will also be positively affected by the developments being planned for deeper waters there."
Keith adds: "It is only around four months since the acquisition took place and we are in the middle of discussions to pave out the strategy for the company together. Our tactics for moving forwards will be heavily based around entering these new areas of the market in various locations."
Trico has invested a substantial amount in terms of new equipment and this will help to carry DeepOcean forward. Rolf elaborates: "Currently Trico operates approximately 60 vessels and has 11 new builds in the pipeline; all of these vessels are suitable for being used in the services we offer, as well as being used in the ordinary business in the supply market."
Rolf continues, outlining the business' significant contracts: "This Autumn we are starting our first long-term contract with Petrobras in Brazil. We have also identified
vessels in the current Trico fleet that are suitable for being upgraded to the services we offer." DeepOcean and its Brazilian partner Comphania Brasileira de Offshore (CBO) have been awarded a contract by Petrobras in Brazil. Valued in the region of $50 million, the contract is for an agreed period of two years with an option for a further two years extension. This is a particularly advantageous contract for DeepOcean and will help to expand its international activities in line with its strategic direction. The involvement with Petrobras will allow the company to benefit from the opportunities available in this significant deepwater region.
Looking ahead, DeepOcean's progression is set to continue, while remaining committed to providing an exceptional service to its present customers. "We have a target of growing the fleet by around two vessels per year, which, although a bold goal, we think that if we take full advantage of the Trico presence in the regions it operates in, then we have promising expectations for achieving our ambitions," Rolf concludes.
DeepOcean AS
Services Advanced subsea services