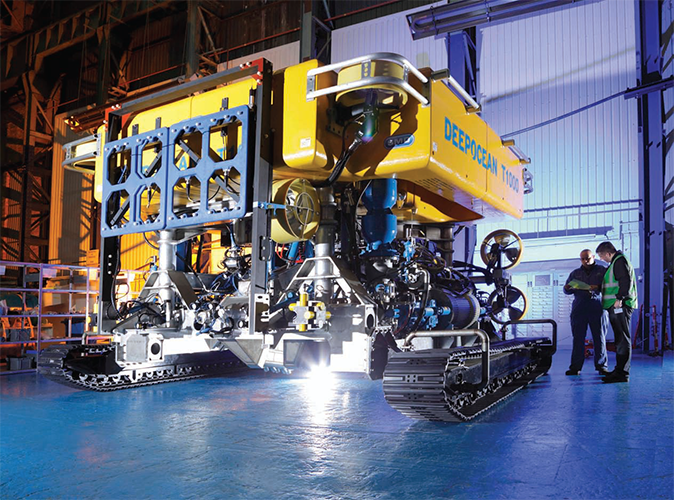 Subsea persuasion
Operating in the oil and gas, offshore renewable and power transmission industries, DeepOcean Group is an efficient offshore service provider with a global presence.
Delivering safe, high quality, innovative services and technologies for the subsea industry has become second nature to the Group that was first established in 2011.
The group was formed following the merger of DeepOcean AS, founded in 1999 and CTC Marine Projects. Furthermore, in 2013 DeepOcean acquired a 50 per cent interest in ADUS, forming ADUS DeepOcean extending its offering to the provision of 3D subsea imagery of structures such as offshore facilities, wind turbine foundations and seabed architecture.
With an extensive track record, DeepOcean offers a breadth of subsea services including survey and seabed mapping, subsea installation, seabed intervention, inspection, maintenance and repair (IMR), and decommissioning. This strong portfolio of services, coupled with a fleet of owned and controlled specialised equipment and multi-purpose support spreads, enables DeepOcean to bundle its subsea services to deliver cost-effective, tailored solutions to meet individual client needs. DeepOcean strives for customer focus and operational excellence, which is supported by a global team of highly professional and experienced project teams operating from offices in Norway, UK, Holland, Brazil, Mexico and Singapore.
Delivering innovative engineering solutions and turnkey project management for complex offshore operations, in 2014 the Group announced a number of substantial developments. "The first of which is that we have chartered a new build vessel which can install very long lengths of umbilical, flexible pipe and power cable. The new vessel, to be delivered in Q1 2016 by Maersk will be equipped with a 7000 tonne carousel and a 100 tonne subsea crane. This is a really state-of-theart vessel for the laying of long power cables or umbilicals," says Pierre Boyde, commercial and business development director.
The Group also entered into a five and a half year charter agreement starting in March 2016 for a new build SURF installation vessel, enhancing the current service offering in the Subsea Umbilicals Risers and Flowlines segment in the North Sea.
The new 150m SALT design vessel will further strengthen the company's standing with a 150 tonne capacity Vertical Lay System, 3000 te underdeck carousel as well as 400 tonne active heave compensated knuckle boom crane with an extended reach that can lift 600 tonnes in double fall mode.
In the build up to the announcement in October 2013 the company had undertaken a period of strengthening its SURF organisation in Norway and the UK from which it will manage the projects.
Over the last two years it has hired approximately 450 new employees, upgraded its owned and chartered vessel fleet, increased the number of mission equipment and generated strong financial results while maintaining a solid balance sheet. Pierre noted that the investments include technology: "As part of DeepOcean's ongoing development we have recently been investing in a new state-of-the-art Launch and Recovery system for one of our trenching vehicles. The A-frame was provided by OSBIT Power and the winch by ACE Winches," he stated.
The business has also established itself in the geotechnical drilling market, acquiring a drilling rig from which it can undertake exploratory geotechnical drilling. "We completed this acquisition in line with a strategic alliance with a company called GeoQuip who can also provide drilling support services," adds Pierre. The offshore geotechnical services market is undersupplied and through its alliance with GeoQuip and its relationships with key customers worldwide, DeepOcean is well positioned to become a preferred geotechnical service provider and a viable alternative to the current segment leader in the North Sea.
With several of its vessels in the fleet able to deploy the geotechnical drilling rig, including the recently delivered subsea support vessel MV Deep Helder, the business is already targeting a number of opportunities in the offshore renewable and oil and gas sectors to get this important initiative started. The synergies between the two companies in partnership will result in being able to offer clients high quality seabed drilling and testing services, particularly in deep water and challenging environments such as the Arctic, providing much needed global competition. The new rig is a heave compensated, offshore geotechnical deepwater drilling rig built and commissioned in 2011, capable of operating in water depths over 600 metres and drilling with a combined water and borehole depth of 850 metres.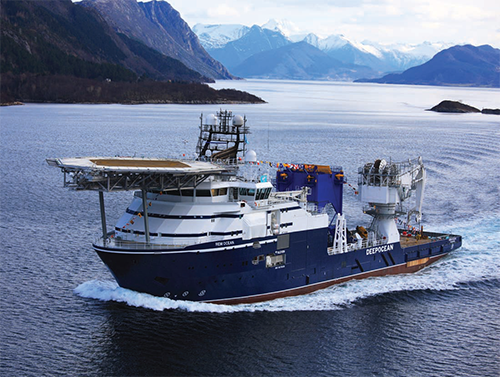 A major milestone for the business was reached in 2013 when it was awarded the single largest contract in its history. Under the five-year agreement with Statoil it will cover subsea inspection, maintenance and repair (IMR) services on all Statoil operated fields on the Norwegian Shelf. As part of the contract DeepOcean provided a vessel of MT6022 design, as Pierre highlights: "Delivery of REM Ocean was completed in March 2014 as scheduled and it has been a good start to the contract."
In June 2013, the business announced a further contract with Statoil under a joint venture agreement with Technip. The contract will cover subsea services, comprising maintenance and preparation of equipment utilised for PRS, ensuring pipeline contingency for the PRS Pool members currently covering up to 15,000km of pipeline. "Under this contract we maintain a high state of readiness, utilising the diverless repair system, which would allow Statoil and the team of operators that contribute to be able to repair a pipe line at short notice should there be a severe incident.
"We have got a reputation for delivering IMR projects to a high quality, encompassing key strengths in terms of inspection and reporting, and also being able to provide innovative solutions to carry out repairs in difficult areas. It goes far beyond a standard inspection service. We can usually come up with innovative diverless based repair services, something that is demonstrated through our long track record of ten years of consistent delivery for Statoil and a well-established reputation for quality. This reputation has enabled us to develop new customers such as Dong Energy, as well as other important operators in the UK, Danish and Dutch sectors of the North Sea," explains Pierre.
Recognising the importance of the supply chain in achieving successful execution of projects, DeepOcean has established key suppliers that it has come to rely on. Commenting on the valuable nature of the support, Pierre points out: "Commitment to HSE and quality and timely delivery are the key features that we look for in our subcontractors."
DeepOcean is positioned in good stead with a skilled engineering, installation and inspection capacity, supported by the customer-focused attitude and the ability to turn around difficult projects on short time scales. The company also values the importance of re-investing into equipment, and continually invests in new state-of-the-art vessels that allow it to take on more complex projects. "Our fleet of subsea trenching equipment is world leading, and at the moment we don't think we have a competitor that touches us on our range of services in the subsea trenching segment," highlights Pierre.
With a strong order book in place as the business moves towards 2015, there is an even healthier market outlook for 2016. However, as DeepOcean continues to grow, the question of attracting the right talent to support such growth poses future concern. "Offshore technical expertise is in reasonably short supply, so keeping control of costs but at the same time having key technical talent available is one of the key challenges for the subsea industry at the moment. We have apprenticeships schemes for surveyors and equipment technicians which is one of the most important areas for training up the new generations of ROV and subsea equipment operators," says Pierre.
In 2013, to further support their recruitment strategy, DeepOcean identified an opportunity to attract highly competent and experienced engineers from other industry sectors, providing them with the skills required for a successful career in the subsea industry. This programme complements its on-going junior equipment technician and graduate development programmes, highlighting its commitment to training and development. "Alongside training, our main focus as we move forward is securing additional work for our portfolio ensuring that we continue high quality execution of our existing projects for existing customers," Pierre concludes
DeepOcean Group
Services: Offshore engineering solutions and project management