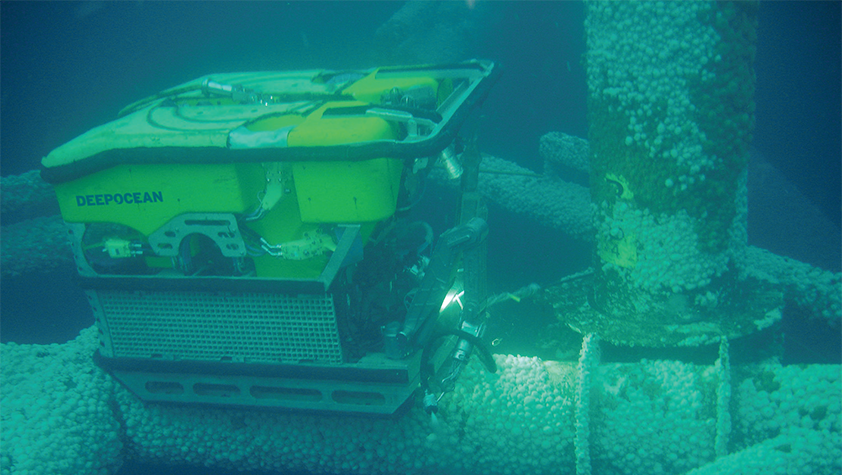 Spectacular assets
DeepOcean is an integrated provider of safe, high quality, innovative services and technologies for the subsea industry.
Demonstrating an extensive track record, DeepOcean offers a breadth of subsea services including survey and seabed mapping, subsea installation, seabed intervention, inspection, maintenance and repair (IMR), and decommissioning. The organisation operates in the oil and gas, offshore renewables and electrical power transmission industries, with offices in Norway, the UK, the Netherlands, Brazil, Mexico and Singapore.
Bart Heijermans, chief executive officer of DeepOcean Group, is based in the Group headquarters in the Amsterdam office. He also spends a lot of time in DeepOcean's main operating office located in Haugesund, Norway. This location is predominantly focused on provision of IMR, as well as surveying, construction and decommissioning. "Statoil has four vessels under contract for subsea IMR offshore Norway and we provide three of those vessels," explained Bart. "We do similar work with BP in the northern North Sea and offshore Norway, and we are also an active player in the survey business, where we do seabed mapping and route planning. We also undertake construction projects for our customers in oil and gas, as well as trenching of pipelines, umbilicals and power and seismic cables, including power cables on wind farms."
Due to a growing fleet of vessels and equipment, DeepOcean offers customers flexibility to mobilise to any location globally. "We strive for relentless customer focus and operational excellence, which is supported by a global team of highly professional and experienced project teams. Alongside Statoil, currently we are working with customers such as Petrobras, BP, Diavaz and COOEC," added Bart.
He continued with some more details on recent contracts: "We have various longterm agreements with Statoil and recently we announced a new five-year contract with them in February 2013 for IMR services. That will start in March of 2014, and last until March 2019.
"Statoil are a very interesting customer in the sense that they understand their business and value the need for IMR services. They also are pushing for innovation. For example thelaunch and recovery systems that we use for our ROVs have to meet more stringent specs when working for Statoil in order to reduce weather downtime. This is also true on the survey side where they are pushing us for new technologies so that we can survey more kilometres a day than before.
"This recent Statoil contract is the largest in our history and was awarded to our subsidiary in Norway, which has built a reputation as the leading contractor for inspection, maintenance and repair in the North Sea. The contract is for five years plus options and includes a new vessel, which will join the fleet dedicated to delivering this contract to Statoil. The contract actually has potential to be worth up to 2.5 billion Norwegian Kroner if all options are exercised."
Although a very important customer for DeepOcean, especially for IMR projects in Norway, Statoil isn't the only client with which it works. As Tony Inglis, managing director for DeepOcean UK pointed out, the business is currently executing a wide range of contracts, including Liwan pipeline trenching in China and Gorgon umbilical trenching in Australia. "We are also working on a number of offshore renewable projects in Europe, including Bard-1in Germany," he said. "And the recent Aasta Hansteen award is very significant for us. The Aasta Hansteen oil field will be developed with the biggest spar in the world, and it is the deepest water job ever in Norway. We will be responsible for the installation and burial of approximately 140 km of fibre optic cable in water depths of up to 1300m so that was a pretty exciting win."
In order to deliver such high profile contracts, DeepOcean is investing millions of dollars in new technology and equipment. For example the UK location is bringing a new offshore construction vessel to the fleet in the first quarter of 2014, called the Havila Phoenix. "This vessel will be taken off an existing charter at the endof the year, to be put into a shipyard for some modifications. It will be extended and have the footings installed to be able to take our 2000tonne carousel," said Tony.
"Havila Phoenix will also be equipped with the ultimate trenching spread. On the front there is a very high powered flying ROV based jetting spread, and at the rear of the vessel we have Rock Trencher 1, which is the most powerful burial machine in the world for subsea work. This vessel will provide customers with a literally groundbreaking solution for subsea construction activities."
Tony also noted that by winning more high profile projects and utilising such state-of-the-art equipment, the business becomes a more attractive place to work. This is a bonus in an industry where finding the right people can be a challenge. "The Havila Phoenix is a great example of this. People see a spectacular asset come on stream and want to be associated with it."
Bart added: "Everybody is competing for the same human resources so therefore it is important that we are being seen as an attractive employer. As a result, we focus on training our people, we advance their careers and we empower them and make sure that they enjoy what they are doing. I think we have made a lot of progress in the last 12 months creating an attractive company culture."
Investing so much time and effort into finding the best staff pays dividends when it comes to encouraging clients to return to DeepOcean. "If they get a good quality result and they get looked after by our project managers, they will come looking for us on the next job," confirmed Tony. "It is paramount for us to try and differentiate by delivering a very high quality of services to all of our customers and we think that gives clients grounds to be reemploying us significantly in the future."
In fact, pursuing an overall dedication to extremely high quality is how DeepOcean is moving forwards into better contracts: "We are working our way steadily up the quality chain in terms of how clients perceive us, as we want them to be trusting us with bigger and more spectacular scopes, and we want to be the party they consider as the benchmark for cable lay and trenching services," said Tony, referring to the UK division.
Bart concluded with his vision for global business: "We plan to further enhance our technical capabilities in IMR and survey and seabed mapping and to set the industry standard. In addition we are entering into new geographical regions and are working hard to expand the number of services that we offer to our best customers. Our clients also expect more, so we see lots of opportunity, but this will be balanced against risk profiles that show the best opportunity for DeepOcean. Our strategic locations and customer relationships mean that we are optimistic for the future
DeepOcean Group
Services: Technologies and services for the subsea industry