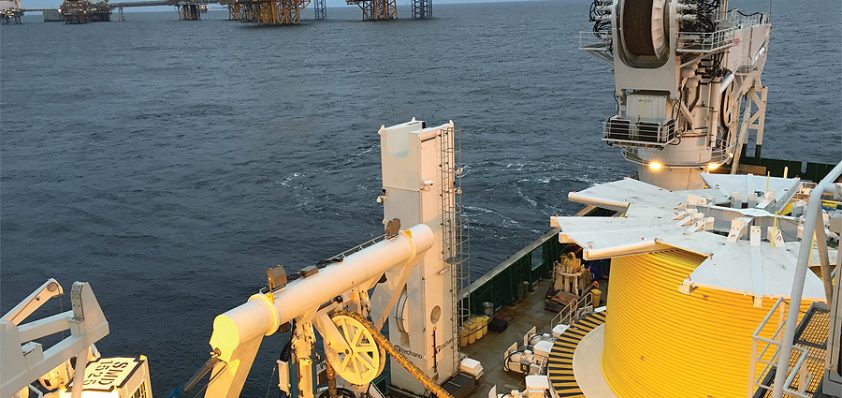 Powerful connections
Since its incorporation during May 2011, DeepOcean Group has established a proven reputation as an integrated provider of safe, high quality and innovative services and technologies for the subsea industry. The group was formed through the merger of the inspection, maintenance and repair (IMR) and decommissioning services of DeepOcean, the seabed intervention company CTC Marine Projects and the towing and supply services of Trico Supply. The combined efforts of these three divisions established DeepOcean Group as a leading provider of driverless subsea construction services and operations.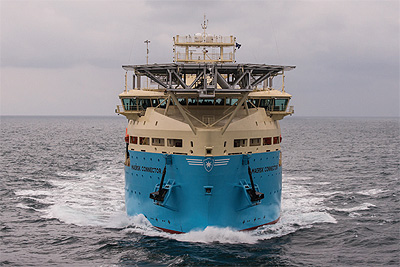 Operating as a single company under the name DeepOcean, the company today offers solutions through five main service streams, comprised of survey and seabed-mapping, subsea installation, seabed intervention, inspection, maintenance and repair (IMR), and decommissioning. Its strong service portfolio, coupled with a fully owned and maintained fleet of specialist equipment and multi-purpose support spreads, enables DeepOcean to bundle its subsea services to deliver cost-effective, tailored solutions to meet individual client needs. "Our strength is essentially derived from the company's versatility and expertise, which has been built up over the last two to three decades of working in the oil and gas industry," reveals Senior Business Development Manager, Andy Readyhough. "Certainly from a project engineering perspective, we believe that we have very high calibre and experienced personnel that we can progress the front-end engineering to produce a successful execution."
DeepOcean's competitive strength is further enhanced by its ability to provide a suitable spread for solving its clients' subsea challenges. The company utilises both owned and chartered DP2 class vessels as platforms for mobilising the right equipment to fit every work scope. This fleet of equipment is supported by DeepOcean marine base facilities within the UK, Norway and the Netherlands, in addition to mobilisation capacities in Brazil, Mexico and Singapore. The combination of the company's fleet equipment, global presence and highly experienced and expert staff and crew, allows DeepOcean to provide its clients with a complete solutions package.
Further to the company's experience within the oil and gas sector, its comprehensive scope of marine experience and offshore equipment has allowed DeepOcean to build a strong and proven track record within the renewables industry. The company has established a solid fleet of installation and trenching spreads so that it able to provide a turnkey power cable service In addition to world-class subsea equipment, DeepOcean provides premier services in engineering and design, route optimisation, geotechnical support, project management and feasibility studies. This impressive in-house capability has helped to established DeepOcean as a true market-leader within the offshore and subsea sectors. In the face of the falling price of oil and its resulting impact on activity within the global oil and gas market, DeepOcean's ability to recognise emerging trends and adapt into new markets has proven to be a key strategy.
"During 2014 the oil price was still relatively high, so there was a lot of enthusiasm in the oil and gas sector. At that time a lot of our business was still in place supporting the offshore oil and gas and subsea industry. Since then there has been a dramatic decline in the oil and gas price and operators have been significantly cutting back in their CAPEX, which has had a major impact in the support industry in the oil and gas sector," Andy explains. "This has in turn affected DeepOcean and our revenue streams from the oil and gas sector have been impacted accordingly. However, we have been fortunate in that we had already identified that the offshore renewables sector was picking up in its activities, a lot of which had good synergies with DeepOcean."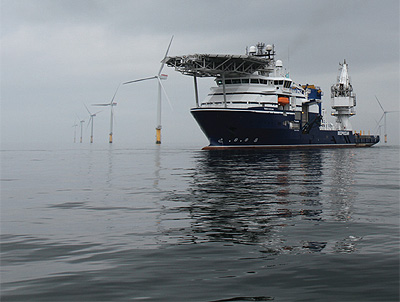 Today DeepOcean is increasingly active within the renewable market and is currently undertaking preparations for several projects that were awarded during the latter half of 2015. During October 2015 for example, the company announced that it had won contracts with DONG Energy for its Walney wind farm extension project in the Irish Sea, as well as for cable installation and trenching work for the company's Race Bank offshore wind farm. Additionally during November 2015, DeepOcean also announced the award of an installation contract with J-Power Systems Corporation for the Nemo Link interconnector between the UK and Belgium. The project will be executed over a three-year period starting in 2016 with the offshore works completing in 2018.
Since the company was last featured in Energy, Oil & Gas magazine during August 2014, DeepOcean has continued its programme of investment to support its expansion into new markets and regions. Prior to this the company invested in a major refit and lengthening of its Havila Phoenix subsea vessel at the Havyard shipyard in Norway and the vessel has since executed a number of successful projects within the renewables sector. During July 2015, DeepOcean celebrated the launch of the new Damen Offshore Carrier 8500, the Maersk Connector. The vessel is due for final delivery during 2016 and will further extend the company's capabilities in the larger cable-laying end of the market. Both vessels will play key roles in DeepOcean's recently awarded projects.
Despite the tough global trading conditions resulting the present low cost of oil, DeepOcean remains highly active through its operation within the renewables market and through its oil and gas activities in emerging markets within Asia, the Middle East and Africa. During 2016 the company will continue to closely monitor the global market and engage wherever there are opportunities to support its clients. "I think we all understand these are challenging times at present and are likely to remain so during the foreseeable future," Andy concludes. "But we are confident and looking at how we can maintain our leading position within the industries that we are working in."
DeepOcean Group
Services: Subsea services and offshore construction