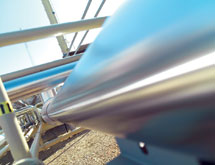 DeeThree Exploration Ltd.
DeeThree Exploration Ltd. closed 2012 with a bang and the company is riding last year's highlights right into 2013. From its two oil plays in southern and central Alberta, DeeThree is currently averaging 6,000 barrels of oil equivalent per day. Going into 2013, CEO and President Marty Cheyne says the company will focus on its most profitable properties: the Belly River play with 38,000 gross acres located in the Brazeau area and the Lethbridge property, which includes 200,000 gross acres in Alberta's Bakken Shale.
By the fourth quarter of 2012, the company had drilled 12 wells at Brazeau, which contains 30 million barrels of recoverable oil, and 17 wells at Lethbridge, which contains an estimated 575 million barrels of oil. DeeThree's 2012 expenditures totaled approximately $140 million and the company projects to invest at least $120 million to achieve another 30 percent production increase in 2013, bringing its year-end exit rate to between 8,000 to 8,500 barrels of oil per day equivalent.
"Based on board approval, the company plans to spend between $120 [million] and $130 million in 2013, which should give us about 30 to 35 wells drilled," Cheyne says. "Those wells will be split half and half between Alberta Bakken and the Belly River plays."
Cheyne says 90 percent of DeeThree's 2013 capital expenditures will go toward these two plays, citing the properties large, contiguous resources as the main draws. Between Lethbridge and Brazeau, the company has a potential 400 to 500 more drilling locations and its estimated recovery factor to date stands at 1.5 percent, which means tremendous potential still lays below the ground.
"We have a huge drilling inventory," Cheyne says. "We could spend $1.5 billion of capital just on these two properties we have right now so we don't have a need to go out and look for other areas. We are going to drill in the areas where we get the best rate return and the highest netbacks."
Belly River
With that in mind, DeeThree has entered a farm-in agreement with a senior oil and gas producer to earn a 100 percent working interest in up to 34 additional sections of Belly River petroleum and natural gas rights, directly offsetting DeeThree's existing core Brazeau Belly River property. DeeThree has committed to drill a minimum of three horizontal wells on the farm-in lands with a continuing rolling option thereafter in return for a 15 percent non-convertible overriding royalty.
"We have basically doubled the size of our play," Cheyne says. "We have added another estimated 250 million barrels of oil in place and have close to an estimated 600 million barrels of oil equivalent in place right now."
With DeeThree's prospective Brazeau Belly River land base now totaling more than 70 net sections, it plans to drill two wells on the farm-in lands in the first quarter of 2013.
"We own the infrastructure at both properties, which means we don't have to tie into any third-party operators," Cheyne says. "We drill and complete our wells and tie into our own facilities so we don't have to go through third parties to get our production on stream."
Cheyne says that owning its own oil and gas infrastructure is just another upside of DeeThree. He explains that the company's true success, however, is owed to the people who make it happen.
Cheyne brings more than 25 years of industry experience to DeeThree, having founded and led companies including Dual Exploration Inc. and Devlan Exploration Inc. – both of which were acquired by Cyries Exploration Inc.
"Everyone here is on the same page – the engineers, geologists, the accounting group – everyone is pulling in the same direction, which is one of the reasons we are very successful and have two of the best properties I've ever owned in my life," he says. "You don't see a junior with the land base like we have and drilling inventory like we have."