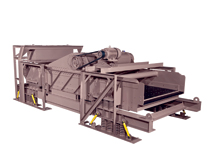 Headquartered in Fort Wayne, Ind., Deister Machine Co. Inc. is still led today by the family who founded the company in 1912. In fact, the Deister family is as involved today as it was when Emil Deister and his 24 employees started providing high-quality machinery to a variety of sectors.
Today, with 180 employees and customers in the United States, Canada, Europe, Australia, Asia and Latin America, Deister is focused on providing the best feeding, scalping and screening equipment to the aggregate and mining industries.
Customer Focus
One of the elements that has enabled the company to thrive, grow and avoid conglomerate buyouts for 100 years is its focus on customer satisfaction. Dale Loshe, vice president of engineer and a 31-year Deister veteran, notes that the company's strategy always puts customers first. "Being family owned, we have the ability to focus on taking care of our customer," he says. "We don't have a corporate plan where we say that we have to grow a certain percentage every year.
"Our goal is to take care of our customers. If taking care of our customers' needs mean expanding our product line, then that is what we do. That focus has resulted in growth and expansion, but our intended result was to meet and exceed customers' needs."
That customer service focus has not gone unnoticed by its clients. One of Deister's aggregate clients, Vulcan Materials, is one of the largest aggregates producers in North America and has awarded the company its Platinum service award for seven years running. The award winner is determined by Vulcan's plant people, who grade candidates from among more than 20,000 vendors. "We've been the Platinum [winner] for the last seven years," Loshe says. "We are one of the few equipment manufacturers on the list; most of the other companies are service providers."
A Practical Matter
There are many examples of how Deister's product knowledge helps its clients maximize production. Recently, a customer in northwest Canada was not getting the support it needed for its vibrating equipment, which was not performing to its satisfaction.
Loshe's team of engineers visited the site and performed an evaluation of the company's screening equipment and its performance, and analyzed its flow. "We do this frequently," Loshe explains. "We do field evaluations and theoretical circuit analysis and make recommendations based on that." In the case of this Canadian company, Deister put together a proposal and made recommendations on equipment that would work with a minimum amount of modifications. "As a result of our evaluation, the company replaced three pieces of equipment and has experienced a significant increase in efficiency and capacity in their circuits," Loshe explains.
Employee Loyalty
The expertise that enables Deister to provide recommendations that result in improved efficiency is a combination of employee experience and technology. "We have people on staff with a lot of experience," Loshe says.
Knowledge of the company's products among Deister employees is not limited to the engineering department. "Many of our sales and manufacturing employees have come out of engineering," Loshe says.
The 100-year-old company also is proud of its employee's loyalty. "We have a very stable workforce," Loshe says. "It's very common for us to have second- and third-generation employees." In fact, Deister's executive group includes both third- and fourth-generation family members. Richard Deister, vice president of customer relations, parts and service, has been with the company for 25 years, while co-CEOs Irwin F. Deister and E. Mark Deister, have been with it for 61 and 50 years, respectively.
Loshe notes that the company's low turnover might be due to the way the owners value the employees. "One of the unique aspects of Deister is that we have a corporate chaplain who provides counseling and other services to our employees," Loshe notes.
As it passes the century mark, Deister and its team are focused on keeping its founding principles intact. "To us, the most important thing is the way we do business, putting the customer's needs and concerns first and then conducting our business with honesty and integrity," Loshe concludes.