Dr Amy Jadesimi takes a look at Nigeria's oil industry and highlights why now is the time to make the country a more competitive business environment
A member of OPEC and among the world's most prolific oil producing states, Nigeria's oil and gas industry is in many ways well developed, producing around two million barrels per day. However, supply outages and low oil prices have plagued the country's most valuable sector this year with stress on the industry further exacerbated by what the Financial Times recently called, 'a perfect storm' of security issues in the Niger Delta region and in the north; rising inflation; a struggling currency; and a new wave of allegations that billions are missing from the government's coffers due to undeclared exports.
The mix of external and internal pressures has shifted growth forecasts such that the International Monetary Fund expects Nigeria to record a recession in 2016 for the first time in 20 years. It is a challenging state of affairs. Nigeria, however, has the necessary legal framework in place to change the trajectory of the petroleum industry and return value to the economy in a manner that decreases Nigeria's dependence on foreign oil to keep things ticking over. Ramping up Nigeria's refining capacity is crucial to delivering this change. The knock-on effect of doing so will drastically enhance the range and quality of services – both related to oil and gas and beyond – available in country. The private sector is best positioned to lead, driving forward a revamped approach that builds on the successes and setbacks of the industry to date.
Currently Nigeria exports 80 per cent to 90 per cent of its crude and imports refined products like petrol and petrochemicals because the country's refineries cannot reliably meet demand. The lack of local capacity (and therefore the absence of an integrated domestic supply chain for oil production) means that vital resources like electricity, petrol and diesel are perpetually in short supply.
The Nigerian National Petroleum Corporation, or NNPC, operates four major refineries – two in Port Harcourt, one in Warri as well as one in Kaduna – which have an installed capacity of 445,000 barrels per day but in actuality process around 125,000 b/d, a meagre 25 per cent to 30 per cent of total capacity. Aging equipment, poor upkeep and fraud largely keep production figures well below the established capacity.
However, in recent years the government has moved to fill the refining gap. In 2002, 18 licences were awarded to private companies to build refineries. But the initiative floundered for many of the same reasons in-country production remains low, such as high project costs, bureaucracy, feedstock disruptions etc. Only one company, Niger Delta Petroleum Resources (NDPR), has brought a refinery on stream as a result of the 2002 initiative.
In an effort to address the slow take up of the 2002 licences, the NNPC established the Greenfield Refinery Projects Division (GRPD) in 2005 with the aim of building three refineries in the Lagos, Bayelsa and Kogi States with a combined capacity of 400,000 b/d, according to NNPC materials. In July 2015, the Department of Petroleum Resources (DPR) under President Buhari issued an additional 25 indigenous companies licences that granted approval to establish private refineries. As of this summer, only six companies had received confirmation from the government to advance to the next stage of development.
The approval process for modular and conventional refineries is divided into three phases: 1) Licence to Establish (LTE); 2) Approval to Consult (ATC); and 3) Licence to Operate (LTO). Six of the total 25 approved in the most recent round are in the ATC stage and if seen to completion will have a combined capacity to produce nearly 700,000 b/d of various products from petrochemicals, electricity and a range of transportation fuels.
Concentrated in the southern part of the country, the following companies have advanced to the ATC level:
Amakpe International Refineries Inc (Akwa Ibom State)
Resources Petroleum and Petrochemicals International Inc (Akwa Ibom State)
Hi Rev Oil Limited (Akwa Ibom State)
Azikel Petorleum Limited (Bayelsa State)
Kainji Resources Limited (Imo State)
Dangote Oil Refinery Company (Lagos State)
Four of the six projects will be modular refineries; only Dangote and Amakpe are slated to undertake conventional operations. The Dangote site has been the most widely covered because of its anticipated production volume of 650,000 b/d. If achieved, it will more than double the country's currently available refining capacity.
Nevertheless, barriers to progress still exist. The high costs associated with these projects alongside land acquisition, bureaucracy and feedstock difficulties continue to guarantee that the refineries in the pipeline will take years to complete. But with Nigeria's economy reliant on revenues from oil and gas for the short to medium term, it's imperative that the industry supply chain continue to develop sustainably to ensure these projects, and any future iterations, are impactful.
A diverse, flexible and innovative approach to building capacity is needed. Nigeria's strategy must consider its current challenges and how new facilities – whether modular or conventional – can be valuable over the long term. Auxiliary services that support the production process must also be encouraged in tandem – private sector partnerships provide a useful method of executing this – to ensure the supply chain is linked from upstream to downstream.
Now is the time to capitalise on the opportunity and make Nigeria a more competitive business environment. Diversifying the oil and gas industry – bringing more refineries on stream and developing services that support the supply chain – will have a knock-on effect that reaches the wider economy. With more resources available – power, fuels, petrochemical products – Nigeria's markets can become more diverse as a whole. Ultimately, market diversity will spread the country's vast wealth through to more of the population and create more skills based jobs.
The current oil price environment has already generated more business for local oil and gas services companies. The IOCs are cutting operating costs and there are indigenous companies in Nigeria that are able to provide cheaper services without sacrifices to the quality of work or expertise. This momentum must continue for the domestic market to break through this difficult period and building vital infrastructure – refineries, roads etc. – is the key to delivering lasting change.
LADOL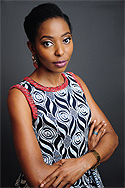 Dr Amy Jadesimi is Managing Director, LADOL. LADOL is a high value industrial Free Zone built around a specialised port and strategically located on an island at the point of entry into Lagos harbour. The largest ship yard in West Africa began operating in LADOL last year, and the Egina FPSO will be integrated at the Free Zone next year. The base offers a wide range of maritime, oil and gas, manufacturing and general industrial services from deep offshore drilling and production support to pipe coating. LADOL was created to help make Nigeria the hub for West African maritime and oil and gas activities through long-term investment in world-class facilities and services.
For further information please visit: ladol.com