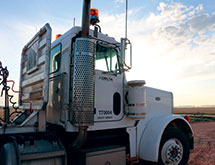 Delta Constructors' entry into the North Dakota oil boom started in 2012 when the company brought a small crew to the Bakken Shale to perform some electrical work. "There was a high demand for electricians," says Rick Hyce, vice president of construction. "There were limited electrical resources. We were hooking up the well sites." It didn't take long for the company's presence in North Dakota to grow.
The initial crew composed of a handful of workers and two trucks quickly burgeoned to more than 100 individuals, who performed electrical, mechanical and insulation services as well as installing pump jacks, tank batteries and treater units. It wasn't long before the company tied in more than 80 well sites, Hyce recalls. Eventually, Delta Constructors had approximately 400 employees on rotation in North Dakota and more than 550 total, Hyce says.
"[North Dakota] is where the majority of our employees work," Hyce says. "We have two fabrication shops and one new paint shop in Watford City as well as operations in Grassy Butte, Stanley, Beach and Blue Butte. Our business line and services has expanded to meet our clients' needs and provide a one-stop shop for their operations. The decline in oil prices has provided us the opportunity to diversify and build our client base. During the boom, it's hard to take on new clients and build your infrastructure."
North American Leader
Delta Constructors is one of the leading oil and gas construction and engineering firms in North America. While it has a significant presence in North Dakota, the company also has locations in Alaska, Canada and Texas, Hyce says.
The company got its start in Alaska in 2007 primarily performing maintenance and industrial building construction work before expanding to its current offerings a few years later.
Hyce chose to seek new possibilities in North Dakota to escape the taxes burdening the Alaskan oil industry. The company spent years working on Alaska's remote North Slope, but has not abandoned work in the state. "We're exploring opportunities in Alaska," Hyce says. In Canada, Delta Constructors has worked for major oil companies on projects in Alberta.
"Delta has supported large projects in Alberta since late 2012 through our professional services division," Hyce says. "This division provides program and project support with integrated teams who have worked on mega projects all over the world."
The company's move into Texas occurred more recently.
"We started pursuing work there in September 2014 when we opened our Texas office," Hyce says. "When the oil prices dropped, we decided to focus our efforts in the Bakken and look for different business lines that still had opportunities in Texas such as electrical utility work. We also have projects in Texas with our professional services business line."
Delta Constructors built its reputation by providing a variety of much-needed skills, including direct-hire construction and project management services, Hyce says. Experience also was a factor. "Our team brings a combination of unmatched experience, industry knowledge, technical skill, best practices and client commitment to every job," he says. "Many of the projects feature extremely diverse talents."
Indeed, Hyce and his five partners have worked together for the past 20 years and have more than 170 years of combined experience in the oil and gas industry. CEO Ed Gohr has more than 20 years of project management experience, while President John Conway possesses three decades experience in construction, project management and program management gained on major projects all over the world. Dave Hopkinson, vice president of business development and safety, has more than 35 years of project execution experience, and Hyce has "overseen more than one million man-hours as a project manager without a lost-time incident."
Glen McCormick, vice president of project services, has worked on full-project lifecycles and has a diverse project-planning background while Dustin Cooper, vice president of commercial services, has nearly a decade of experience in project management.
Providing Value
Delta Constructors' expertise in managing jobs in remote areas where resources are at a premium positions the company as a leader, Hyce says. In fact, the company prides itself in the ability to set up in a remote location that serves as a base and expand as the project dictates, he says.
"I think we provide the value many companies are looking for," Hyce says. He adds that Delta Constructors remains active in North Dakota long after other firms left the region. Work in the state represents a significant majority of the company's earnings, he says.
Holding down costs is the primary way Delta Constructors offers value to its clients, Hyce says. For example, the company performs fabrication work offsite to prevent harsh weather and other limitations encountered in the field from slowing the process. "Anything we can possibly build offsite, we build offsite," Hyce says. The approach can cut fabrication times in half, he says.
Delta Constructors offers a wide range of services in addition to project management and construction, including engineering, professional staffing, supply chain and logistics services, industrial construction services, plant operations and maintenance services. The wide array of services is needed for the company to stay ahead in an extremely competitive marketplace, Hyce explains.
There's also a focus on "innovative ideas" and a willingness to have reasonable expectations to maintain a successful future. "We're not trying to make $1 million overnight," Hyce says.
Hyce says the company looks to maintain past volume and increase marketshare by promoting its reputation for safety, quality and value. "We want to be the company of choice in all areas and regions we work in. We hire the best talent, look for ways to save our clients money and provide opportunities for sustainability in the communities we work in," he says.
Delta Constructors describes itself as a client-driven company "that strives to be an extension of our clients' businesses by partnering with them." Its primary commitment is to work safely, add value and provide quality leadership and work product while keeping cost, schedule and each stakeholder and project need at the forefront of its efforts, Hyce says. The company has partnered with a variety of clients, including most of the major oil and gas companies and several local private and co-op companies.