Strategic developments
Established in 1977 in Texas, US, oilfield engineering equipment design and manufacturing firm Delta Corporation originally supplied wellheads, valves and X-Mas trees to clients in the US and Mexico.
Over the next decade, the company enhanced its operational activity through the provision of a comprehensive range of after sales services, including installation, maintenance, remanufacturing and spare parts. Having developed a successful presence in the US, the company began supplying equipment to Columbia and Trinidad & Tobago as well as other South American countries in the late 1980s.
Proving its commitment to quality, safety and efficiency in the work place, Delta succeeded in acquiring accreditations including API 61, 16A, 6D and ISO 9001:2008 in the early 1990s. Relied upon to deliver competence in the design and production of customised wellheads and valves, the company also provides stringent field-testing of equipment thanks to its sophisticated, state-of-the-art technological machines that are run by highly competent and dedicated engineers.
Continuing its growth strategy, the company took advantage of opportunities in the Middle East and began supplying to Qatar, Oman, Kuwait and KSA in 1995; a move that led to further expansion into locations such as UAE, Bahrain, Iraq, Egypt, Syria, Yemen, Libya and Morocco as well as the establishment of a Delta facility in Qatar in 1996. The facility boasts full in-house capability to support both regional and international oil and gas producers and extracting contractors in managing complete on-site pressure flow operations.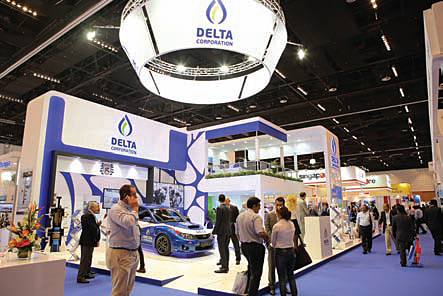 Discussing the company's facilities, Wael Lofty, marketing executive at Delta Corporation begins: "Delta's facility in the US is capable of producing different types of wellheads and X-Mas trees that cover high pressure rating equipment up to 10K psi and 15K psi; all raw materials are secured from US/European regions only, while the final products are being proudly produced in the US to support Delta's global supply. Since its establishment, the facility in Qatar has succeeded in walking on the same track as its mother company. Furthermore, it gives us a competitive edge in the market, because we are the only firm in the Middle East designing and manufacturing wellhead, X-Mas tress and valves; we are also in very close proximity to the oil and gas regions in this region."
After a decade of strengthening its presence in its core areas of operation, Delta acted on opportunities for growth in both Asia and Africa and expanded into countries like Nigeria, India, Turkmenistan and Kazakhstan in 2007. Today, Delta is the only global firm to offer innovative designs, cutting edge manufacturing, workshop and field support services for wellhead equipment, actuators, valves and flow control products. Despite being a leader in its field of operations, the company continues to broaden its scope, eager to deliver the best possible solutions to a global client base that includes oil majors and blue chip organisations such as Shell, BP, Baker Hughes and ADCO.
With a reputation for excellence and its manufacturing capacity resulting in $60 million per annum, Delta is in constant demand for its superior products that are produced to the best quality standards in an environment wholly focused on health, safety and efficiency. Indeed, to meet the stringent demands of its impressive customer base, the company's 5000 sqm manufacturing workshop's modern workshop includes more than 40 machines such as CNC machines that can carry out all types of precision operations and large CNC horizontal boring machines; it also has two test machine benches that are capable of covering up to ten test bays with the capability to perform hydrostatic testing for up to 15000 psi, and gas/nitrogen testing up to 20,000 psi. Moreover, the assembly and testing area also comprises of a horizontal bench for testing all valves and equipment up to 16 inches with a computerised chart, as well as another bench for pressure relief valves. Furthermore, the company is qualified to produce high sour se vice products for material class equipment FF and HH with specialised coating, while its raw materials are of the highest quality and conform to API standards.
Moving forward, the innovative firm remains focused on delivering high quality products to a growing global market and as such it recently participated in the biggest and largest ADIPEC exhibition ever. Based in Abu Dhabi, the exhibition includes over 2000 companies displaying thousands of oil and gas products, more than 60,000 oil and gas professionals and key sellers and buyers from 98 countries in the Middle East, Africa and Asia. A major networking opportunity, ADIPEC is also an opportunity to launch new product developments, as Wael notes: "ADIPEC is the biggest exhibition and conference for the oil and gas industry in the Middle East, Africa and Asia. We have participated in supporting the event on a big scale and we had the chance to communicate with major companies in the region; we have also had the opportunity to introduce new technologies and capabilities."
Focused on markets such as Saudia Arabia, Kuwait and Iraq over the coming years, Delta has the manufacturing expertise and reputation for excellence to flourish in an industry that continues to offer opportunities for growth.
Delta Corporation
Services: Wellhead equipment manufacturer