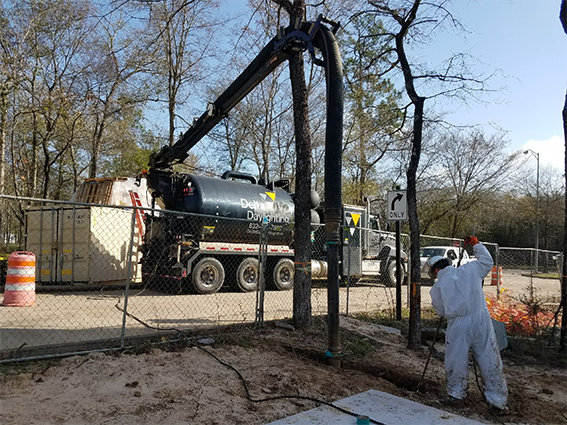 Delta Daylighting provides safe access to underground utilities for repair, rehabilitation or new construction work.
Hydro-excavation involves directing a high-pressure stream of water to break up the dirt around an underground utility and then sucking up the dirt and rocks using a vacuum. It's called "daylighting" because the process literally exposes the utility to daylight.
"If you dig around any type of underground utilities for oil and gas, water, electrical cable or fiber-optic cable – any disruption can have a negative impact on the nearby community," President Jesse Pletts says. "We are safer, faster, less disruptive and more environmentally friendly."
"Less disruptive" is key, Pletts says. "You've probably seen on the news where there have been line strikes that have led to an explosion on oil and gas pipelines," he says. "Every time that happens, regulations in the [oil and gas] industry start to contract. Pipeline owners go to great lengths to ensure they are protecting the environment, surrounding communities and their infrastructure and to avoid mechanical digging accidents where you think you are good but a piece of pipe has shifted in the earth."
Delta Daylighting frequently works as a subcontractor to mechanical contractors that use excavators or other heavy construction equipment. Delta excavates where underground utilities are or might be located while the mechanical contractors must work further away from utilities.
Many of Delta's end-customers are energy companies, although it also exposes water lines for municipalities and utilities where light poles are being installed. Other customers include chemical plants, commercial construction companies and telecommunication entities.
Delta's core services include potholing – digging test holes to expose utilities where a client knows a pipeline exists – and exploratory trenching – done around aging utilities when a client is not sure if a line exists – along with line location, tank cleaning, pipeline and subsurface utility excavation and backfill.
Setting Itself Apart
Most of Delta's clients tend to be headquartered in south and west Texas and into Louisiana but its clients' utilities are located are across the United States. During the last two years, Delta crews have worked in 12 states, sometimes for long as nine months.
The hydro-excavation industry is fragmented with one or two larger players in each region and a number of mid-sized companies with 10 to 20 trucks like Delta and then "a bunch of smaller shops," he says.
Delta says it distinguishes itself from its competitors in three fundamental ways:
Customer service – "We execute the job in a safe, precise, timely and efficient manner every single time," Pletts says. "Oftentimes there are competitors that are uncertain if they will have work tomorrow so they take their time today. We refuse to operate like that. We work at a consistent rate, often exceeding 20-25 cubic yards per day. We don't just want this job, we want the next one too."
Equipment – Delta exclusively uses Kaiser Premier excavation trucks, which cost around $450,000 each. "They are the best in the business," Pletts says. "We have grown from three trucks in mid-2016 to 10 trucks today, and likely will have 12 by the end of 2019. They have large water tanks so we are not filling up as often and large engine blowers so we can move more debris."
Safety – "Our crews are highly trained," Pletts says. "We conduct rigorous background checks and drug screening of all employees. Each receives OSHA training and numerous safety certifications prior to starting work. Each employee has stop-work authority."
Market Changes
The biggest challenges facing Delta are equipment and people. Since the hydro-excavator trucks are so expensive, the company carefully measures the cost of new trucks versus how busy it can keep them. Each quarter, Delta subjects each truck to a 100-point maintenance program.
On the people side, Delta focuses on keeping its salespeople engaged and making sure it has enough project workers who have CDL class B licenses. The work is not easy. "It's labor-intensive work out there," Pletts says. "It's hot. You're sweaty. But the guys are getting great overtime pay and per diems. We try to pay competitive rates. We recognize drivers and workers who do best."
Helping matters is that the excavation industry has seen a slow but steady increase in activity, Pletts says. "2018 was a slight increase over 2017 and everyone expects 2019 to be busier than 2018," he notes. "As the United States becomes a much larger player in global production of oil and gas, that means the infrastructure needs for pipelines will increase and maintenance will continue to be an area of focus. That means there will be many projects for years to come."
Delta has done well in this environment, having doubled in size over the last three years and more than doubling its revenue, Pletts says, adding that he expects Delta to continue to grow. "Our goals are to become one of the premier hydro-excavation companies in Texas and the Gulf Coast region," he says. "We'd like to get to 15 to 20 trucks by the end of 2020."