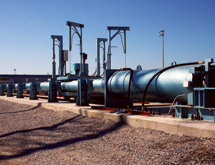 Founded in 2004, Delta Rigging & Tools (DR&T) has become the first name in lifting and rigging solutions for customers in a range of markets throughout the country. Vice President of Sales and Marketing Tom Hudgins says that "despite the stiff competition, DR&T succeeds through its implementation of diverse services, dedication to customer service and a strong internal push for continuous improvement."
The company is the result of acquisitions that started with Industrial Hoist Services in 2004. From there, the company continued to make strategic acquisitions that bolstered its lifting and rigging capabilities. Among the many companies that were brought under the DR&T umbrella were B&H Air Tools, Delta Wire Rope, American Sling, Kelly Wire Rope, D & M Wire Rope, Coastal Wire Rope, Morgan City Rentals, Holloway Wire Rope and Grizzly Wire Rope & Chain. In 2007 the company was branded Delta Rigging & Tools.
Each of these gave DR&T a stronger position in the marketplace, and Hudgins says, "Today Delta Rigging & Tools is the largest provider of lifting and rigging solutions in the United States."
Delta Rigging & Tools' corporate offices are based in Pearland, Texas, and overall DR&T consist of five divisions and 18 sales and service locations. Locations include Angleton, Texas; Baton Rouge, La.; Sulphur, La.; Broussard, La.; Houma, La.; Port of Fourchon, La.; Odessa, Texas; Pasadena, Texas; Victoria, Texas; Grand Junction, Colo.; Williston, N.D.; Hurst, Texas; Tulsa, Okla.; and Wichita, Kan., as well as the acquired Morgan City Rentals' locations in Morgan City, Golden Meadow and Broussard, La.
DR&T has two distinct verticals within its operations: rental and rigging. The company serves a range of customers in industries such as construction, transportation, marine, government and manufacturing, but the majority of its business is concentrated in one specific market. "Our key driver market is energy, and that includes both land-based and offshore operations," Hudgins says.
Complete Services
Despite the substantial number of competitors stacked up against DR&T in the energy market and beyond, the company has more than enough strengths to keep it on top. Hudgins explains, first among them is the fact that DR&T provides slings and rigging products for sale but also has the rental side of its business to provide project-specific and cost-effective solutions.
Additionally, the experience and expertise DR&T has accumulated through its many strategic acquisitions has given it a skill set few other companies can match. "When you look at the basket of products that we offer, we certainly are unique in the marketplace because we have a much broader number of services that we can provide to the market," Hudgins says.
"DR&T is equipped with a staff of long-tenured people, many of them with decades of experience in the lifting and rigging field," he adds. "The company's internal culture also stresses providing the best possible customer service and being easy for customers to work with."
Working Harder
DR&T's key strengths make it a true leader in the marketplace, but being a market leader doesn't make the company immune from the same challenges that face the rest of the industry.
Hudgins says, "The greatest challenge facing the company today is the shallow labor pool in the energy sector, particularly in shale plays where activity and demand are high."
Finding new markets has taken on greater importance for DR&T because of the overall flat condition of the economy in recent years. Hudgins confirmed that the company has made two key acquisitions over the past six months that positions DR&T to make inroads into new areas in the future.
"The addition of Morgan City Rentals and Holloway Wire Rope gives Delta an even stronger presence in the rental and sales sides of its business and will make it easier to serve its existing customers in Kansas, Oklahoma and the Gulf of Mexico," Hudgins says.
Another recent development that DR&T is excited about is the company's new test bed capabilities at the Port of Fourchon in Louisiana.
The facility provides load testing services up to 3 million pounds for the oil and gas industry. "The convenience of having this service within 200 yards of the port's bulkhead provides for faster and more convenient service for customers," Hudgins says.
Looking Ahead
During the past several years, while working closely with Austin, Texas-based private equity group, Austin Ventures, DR&T has successfully executed a strategy of acquiring and integrating a number of high-performing regional market leaders to create a scalable, industry-leading platform across the United States.
The company is building a new facility in Houston that will combine DR&T's current Pasadena, Texas, operations with its corporate offices in Pearland, Texas, with occupancy expected in spring 2014.
"DR&T's future will build off the successes of the past with an eye toward gaining even greater market share in the years to come," Hudgins says.