Denley Hydraulics Limited
Dynamic approach
With a 38-year history in the fields of oil and gas, nuclear, aerospace, power generation and steel technological development, Denley Hydraulics is growing in reputation throughout the industry.
Experiencing a turnover of £4.3 million, the company can name such companies as Siemens, Rolls Royce, British Water Ways and British Aerospace among its key clients. With competencies in electro-hydraulic systems, integrated design and prototyping, testing and certification, control systems, and installation and commissioning, Denley Hydraulics is able to offer customers a bespoke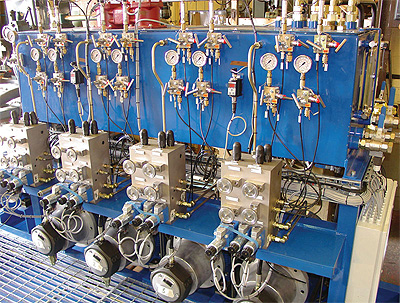 service, working together with a clients own design team to create a complete package solution.
Jon Nock, managing director of the company outlines its capabilities: "We are able to design and build to a clients exact specifications, our projects can take anywhere between three and twelve months from start to finish. We are separated from our competitors by the fact that we are not distributors for other companies but are original manufacturers ourselves. As well as in-house design we manufacture everything in-house by the use of our full machine shop, fabrication capabilities and painting facilities. We are also able to do electrical controls and testing in-house, as well as onsite installation, pipework, pressure testing and commissioning. We follow all of this up with additional service work. One of the main benefits of Denley Hydraulics is that we are big enough to take on big important projects, but small enough to remain dynamic and offer a personal service where customers only need deal with one or two people."
The organisation's 33-strong workforce is extremely multi-skilled with each of the twelve employees in the machine shop being able to operate at least three machines to a high quality level. In addition the company's fitters, who carry out system testing and assembly, are also able to go onsite and conduct installation and commissioning work as well. Quality design and provision is a mainstay of Denley Hydraulics with the company being ISO 9001 accredited with BSI since 1992 and strict health and safety regulations applied throughout the workshop and onsite activities.
The company's diverse range of product competencies, which ranges from advanced cylinders, through individual manifolds to special purpose valves and test rigs, means it is frequently employed to take on large-scale projects throughout the various industries it has extensive knowledge in. Jon outlines some of Denley Hydraulics' latest contracts: "We have an ongoing supply agreement for subsea actuators with one of the major offshore oil and gas operators, and have recently been working directly with Duco, on Block 18 in Angola in conjunction with BP, manufacturing umbilical termination panels. Though some market segments are slow at the moment, we are also making moves into new areas that include wave and current energy. At present we are constructing prototypes for customers that include hydraulic cylinders, which can be used as accumulators in the field of renewable energy, this is an ideal move for us as we can provide the bespoke in-house design that the technology requires."
This commitment to attracting and providing a variety of clients with quality package solutions is highlighted by its attendance at the OTC (offshore technology conference) in Houston, Texas
earlier this year and its impending attendance at the Offshore Europe Exhibition in Aberdeen. Holding a number of lucrative relationships with overseas customers in the US, Singapore and India made the OTC extremely beneficial as the business was able to present its name to the international market and as a result has seen keen interest in UK quality manufacture from US clients.
Looking towards this year's Offshore Europe exhibition, Jon outlines his expectations: "This will be the first exhibition we have attended in 38 years and our intention is to show people the ability we have to work on large projects and to cement our presence in the industry. There are a lot of new markets that are possible areas of expansion for us, we are looking to get into subsea valves, and instrumentation panels and controls and we feel the exhibition will be an essential place to start. As members of the NOF (Northern Offshore Federation) we are going to be based on its stand and I think this is an excellent chance for us to find new business and clients for future progression."
Over the past few months Denley Hydraulics has seen a definite decline in operations due to the economic crisis, though until three months ago business was still going strong. With the growing trend in renewable energies and eco-friendly technologies driving companies like Denley Hydraulics forward, the organisation has a number of oil and gas and environment agency development projects coming through in the coming months. In addition, the nuclear side of the business is still full of activity as a result of huge investment in new stations. For example, the company will be involved in the installation of additional and the upgrade of existing flood barriers in London, and in light of the 2012 Olympics will be handling a number of hydraulic applications for water gates.
Looking to the future, Jon outlines his vision for Denley Hydraulics: "We want to strengthen our foothold in the oil and gas industry, demonstrating to new clients that we have the ability to take on large projects and the diversity to cater for a range of needs. We aim to target new markets and I am very optimistic because of the technological strengths we hold. As trends and advancements are moving toward deeper waters and higher pressures offshore, we can offer the necessary prototyping facilities, alongside our unique flexibility due to our dynamic size, to help the industry develop." With a set of international links already in place and a portfolio that boasts quality and innovation across a range of core industries, Denley Hydraulics is set to increase its influence despite the global economic climate.
Denley Hydraulics Limited
Services: Electro-hydraulic systems, cylinders and power units