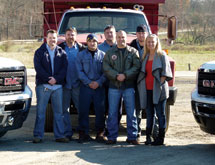 When it comes to delivering onsite maintenance and repairs to drilling rigs in natural gas and oil plays, owner Chad Dupill admits other companies provide similar services to his DG Services LLC. However, DG Services has the discipline and penchant for performing a job well done as only a former U.S. Marine could deliver.
"We care about … our customers' reputation and ours," Dupill says. "Coming from a Marine Corps mentality, no job is too far, no job is too hard and we're going to shoot you straight. We'll be there when you need us, we mean what we say and say what we mean. It comes down to core principles like God, family, company."
DG Services is a spinoff of The Dupill Group, which was founded by Chad's father, Raymond Pete Dupill, in 1986. The company served as a manufacturers' representative catering to nuclear power, oil and gas, power generation and shipyard clients.
DG Services was launched in 2010 to take advantage of the booming natural gas business in the Marcellus Shale in Pennsylvania. It began with one technician to service the region's drilling rigs. Dupill says his customers began asking the company to perform additional services, which helped it grow into a second location in North Dakota, serving the Bakken Shale.
Today, DG Services delivers parts and maintenance to oilfield and natural gas drilling well sites throughout the Bakken and Marcellus shale plays. The company's capabilities include servicing accumulator systems and blowout preventers (BOP), BOP testing and rental equipment. Recently, the company was named an authorized dealer and service representative for Consolidated Pressure Controls of Houston, which manufactures closing units.
Dupill says DG Services is working toward expanding into the well head side of the business, and potentially production, as well. Recently the company has added BOP stack testing, hydrostatic testing and accumulator oil change services. Torque services are available, and DG Services offers a full range of accumulator parts.
"We call ourselves problem-solvers," Dupill says about the young company. "When we launched, our main goal was to fix the customer's problem."
Springing to Action
In November, DG Services received a call from a repeat customer for a rig in Pennsylvania, asking to service its accumulator. The customer was facing costly downtime if the issue was not fixed.
"What we were able to do is [we] went out and troubleshot the problem," Dupill says. "They had bad seals in their pumps, so we were able to pull the pumps and replace them with pumps we had on hand."
Dupill says DG Services routinely solves client problems like this with its fleet of "rolling warehouses." These equipment vans are outfitted with parts necessary to solve the problem and manned by technicians who have seen it all in the field.
"We had the parts to fix the problem when they called, which was good because a lot of times we get called and they don't know what the problem is," Dupill says. "We got out there with the expertise and the parts to fix the problem on site. We pulled their pumps and installed our pumps onto their system to relieve the costly downtime situation. We brought their pumps back to our shop and made the necessary repairs and brought them back out to the rig and replaced them on their accumulator unit."
Natural Transition
With the price of natural gas hovering around $3 per thousand cubic feet, many of DG Services' customers left the gas fields of the Marcellus Shale to pursue oil work in the Utica and Bakken shales. So, even as the natural gas rig count dropped in number, the company is busier than ever in part because customers invited DG Services to their oil rigs, as well. Dupill also believes it is because of the efforts of DG Services' newly appointed COO, Patrick Driscoll, and his entire team.
"Essentially, it's really a difference in depth they're drilling to, but our systems work on them, and the service itself doesn't change," Dupill says.
"That's why it was a fairly easy jump into North Dakota, where they are mainly drilling for shale oil that is sweet crude," he adds.
Dupill says this is a testament to the corporate culture at DG Services. The company prides itself on its reputation for delivering services whenever they're needed.
"We have good relationships with customers and have a can-do attitude that we will be there when they need us," Dupill says. "If we can't solve the problem or we're short-staffed, we tell the truth. At the end of the day, we're honest. We're not gonna say we can do something and not deliver."
This can-do attitude extends to the company's emphasis on training, as well. DG Services has its own in-house training program for its new employees on various aspects of well-control services. Dupill compares it to shadow programs in other industries.
"All of our technicians spend time mirroring our experienced senior technicians in the field," Dupill explains. "It is hands-on, and they complete a number of milestones before we ever send them into well-control school. We utilize our in-house program as well as industry resources available to us to teach well control."
Additional Expansion
DG Services has set its sights on expansion to additional shale plays. In December, Dupill says he and his brother and partner, Cornell, explored the Houston area to prepare for another operation setup in Texas to cater to operators in the Eagle Ford Shale.
"Our vision is to continue to grow with the industry," Dupill says. "We firmly believe the natural gas and oil reserves in this country alone will be key to get the economy back to where it needs to be. Our vision of the future is to continue to support customers and go after different shale plays."
No matter what the job, DG Services will bring the military background ingrained in its top managers to every project. "We operate according to a set of core values stemming from the owner's military background, including honesty and integrity," the company says. "We believe in our core principles of God, family and company."