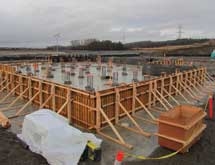 DiFazio Power and Electric
DiFazio Power and Electric has come a long way since its origins in 1953 as a residential electrical contractor. The Deer Park, N.Y.-based company specializes in engineering, procurement and construction (EPC) services and serves as a primary contractor on turnkey power plant projects. "We've evolved through our history from an industry-leading position as an electrical contractor on Long Island to a project management company providing EPC services in building power plants in our region," COO Bob DiFazio says.
DiFazio is capable of managing power plant projects throughout the construction process. "We manage the whole project from beginning to end," DiFazio says. "We assist in securing the permits, purchasing the equipment, installation of equipment foundation, building structures, installing and testing the equipment and systems, and turn the keys over to the owner at the end."
The company has worked on power plant projects throughout the United States, with its main business in the northeastern and southeastern United States. The company's largest current project is located in Canada.
Some of DiFazio Power & Electric's larger EPC projects are performed through a joint venture with mechanical contracting firm Frank Lill and Son Inc. of Rochester, New York.
Frank Lill and Son is experienced in turnkey power plant installations, conversions, and repairs. Its services include design build projects as well as boiler erection and installing power plant process piping, breeching, control systems and dust collectors, according to the company.
"Together, we provide all the skills required in performing an EPC contract," DiFazio explains.
"The goal is to integrate, from both a functional and practical perspective, all the skills necessary to provide full EPC services for a particular job."
The company through a separate commercial division also offers electrical construction services, including lighting and equipment installation for commercial, light industrial and industrial buildings. In addition the company also provides long-term maintenance and building system upgrades.
"We install high-efficiency systems designed to be the most cost-effective on the market that are geared toward a particular property," the company says. "We are committed to building the most reliable electrical system for a client's needs."
Company Growth
DiFazio Power and Electric experienced large growth during the last 10 years as a result of a shift in focus from electrical services toward EPC projects, CEO Darrell Jenkins says. "A large project for us used to be $10 million, now it's $100 million to $200 million," he says.
The company remains strong despite the national economy. "We've continued to grow our revenues the last three years," Jenkins says. "Our backlog now is as strong as it's been in the history of the company. I'm very happy with the performance of our company during these very difficult times."
Jenkins attributes the company's continued success to the nature of the projects it tackles. The company's projects typically take two to three years to develop and finance, and 18 to 30 months to design and build.
These types of long-term development and construction projects tend to insulate DiFazio Power and Electric from the kinds of market fluctuations that characterize other sectors.
DiFazio Power and Electric also benefits from repeat business and a positive reputation in its industry. "In many cases we continue to work with the same clients on a repeat basis; that it's good for them as it is very good for us." Jenkins says. "Our clients know who we are and know we're going to be around for the long haul."
Current Projects
One major project the company is working on is the $225 million, 400-megawatt York Energy Centre in the Township of King near Toronto.
The five-acre, natural gas-fired simple cycle power plant will use two state of the art combustion turbines that will not require any water to operate. This technology is considered "eco-friendly" as no water is used in the generation of electricity. The plant will also be equipped with ultra low nitrogen oxide combustors to reduce emissions, according to the Ontario Power Authority, the governmental entity overseeing the project.
The generators, turbines and transformers used in the project are being brought in from as far away as South Korea, and other major equipment is being manufactured in Canada, and the south and southeastern United States. The project requires significant logistical support and planning for the delivery of six different equipment loads weighing more than 1 million pounds each, Jenkins says.
The company recently completed pouring the major foundation for the project. Site work included the use of continuous flight auger piles during foundation work to accommodate poor soil conditions on the site, he adds.
Work on the plant will be completed in spring 2012.
DiFazio Power and Electric also was recently awarded an several million contract for the electrical and installation and commissioning work associated with the installation of two gas turbines, two HRSG's and the BOP equipment for UGI Energy Services Inc.'s new natural gas-fuelled power plant in Hunlock Creek, Penn. UGI is converting an existing coal powered plant into natural gas, increasing its capacity from 50 to 150 megawatts.
Last year, the company, as the EPC Contractor, completed work on a 100-megawatt simple cycle power plant for First Light Power in Waterbury, Conn.
A GE LMS 100 aero-derivative is the prime mover and was installed and generating at full output in 99 days after receipt of the equipment. Based on input from GE, this is the fastest installation of an LMS 100 to date, the firm says.
Experience and Skill
While DiFazio says the company has a number of competitors in its industry, it is able to find a niche performing mid-sized projects. "I think we're a top-five provider of these services in the Northeast," DiFazio adds. "There's competition from larger companies doing this kind of work, but we don't have their overhead or operating costs."
Jenkins says the company has positioned itself to be able to perform projects in the $50 million to $250 million range. DiFazio Power and Electric also distinguishes itself both through competitive pricing and an experienced staff. "Our experience level, the level of quality of people on the job, and our ability >> to solve problems through design-build processes sets us apart," DiFazio says.
The company extensively trains its employees in U.S. Green Building Council LEED requirements. DiFazio Power and Electric has performed a number of LEED-certified projects in recent years, including a recently completed performing arts center at Adelphi University on Long Island.
"We want our employees to have a fundamental knowledge of what it takes to put us in a position to compete and add value as green energy initiatives keep evolving," DiFazio says.
Eye on Safety
Another critical focus of training for DiFazio Power and Electric is safety. "Safety is a very high priority item for us," Jenkins says. "Because of the kind of work we do, we just can't afford to take any shortcuts."
The company's safety program is overseen by a corporate safety director and carried out by on-site safety managers. The company provides both governmentally mandated as well as in-house safety programs including an incentive program awarding sites that go at least one month without losing work time as a result of an accident.
The York Energy program in particular requires extra levels of oversight as the Canadian government is involved. Supervisors and crewmembers meet on a weekly basis with certified safety personnel to cover possible job hazards related to the site, such as working in confined spaces, trenching activities or with hoisting heavy equipment, Jenkins says.
"I see this committee as very productive in opening a frank dialogue between management and craft employees," he adds. To date the project has experienced no lost time accidents.
Jenkins sees the company continuing to grow well into the future. "We are optimistic about the future of DiFazio Power and Electric, we have been developing a group of young managers that
we see will be capable of continuing the legacy of our company," he says. "We are proud of our past 50 plus years of operation and are looking forward to the next 50 years with great anticipation."