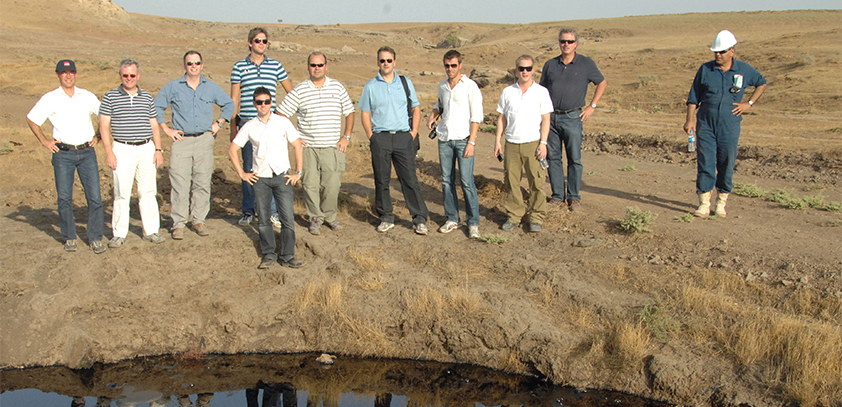 Decades of experience
DNO International is a Norwegian oil company that has grown since its foundation in 1971 from a North Sea petroleum exploration and production company into a global oil major operating primarily in the Middle East and North Africa (MENA) region.
As the first oil company listed on the Oslo Stock Exchange, the company has been an important figure in the development of Norway's oil industry, and in 1984 was one of only four companies to receive a license for drilling the Norwegian Continental Shelf (NCS) following a Governmental re-organisation to provide domestic companies with privilege to the region. The first move into the Middle East was made during 1995 when onshore drilling began in Yemen; the first oil production from this country occurred in 2000 at the Tasour field. The last 12 years has seen DNO International strengthen its presence in Yemen, spread into other Middle Eastern countries such as Kurdistan and Oman, and continue gaining new capacity across the NCS.
DNO International is involved at all stages of upstream activity from exploration, through development, to production. Exploration is an art and science for the company requiring the use of multiple mediums to accurately pinpoint oil fields including satellite imagery, gravity and magnetic data, seismic information, drilling, and rock sampling. DNO International's geologists and earth scientists are some of the most skilled in the industry and have been essential in positioning the company at the forefront of the market. Its success in Yemen is one example of this.
Clyde Petroleum and Norsk Hydro operated the Tasour-1 field in Yemen's Block 32 on the assumption that it contained five million barrels of oil. DNO International took responsibility in 1998, however, and its own exploration suggested that the area held at least twice as much oil reserve; a major breakthrough was made in 2002 with the drilling of Tasour-7 that pushed estimation up to a total of 20 million barrels. By the end of 2011, however, the total volume gained from Block 32 was 36.8 million barrels with at least another four million barrels expected before Tasour runs dry.
Following on from its success at Tasour, DNO International has explored and gained licenses for fields in another four blocks throughout Yemen – 43, 47, 53, and 72 – and at the end of 2011 was producing an average of 5000 barrels of oil per day (bopd) in the country from 50 wells. Though this reflects a slight decrease in levels over the last few years due to many wells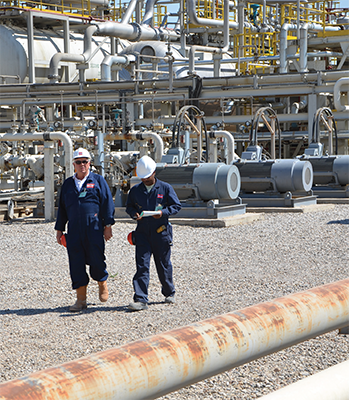 reaching the tail end of production life, exploration and appraisal continues in the region and is expected to raise production levels once again. In anticipation of this, the Yemeni team is being expanded to a total of 90 people.
More than 12 years of success in Yemen has made it the company's key production region. DNO International has mastered fast track, low cost development of fields in order to maximise the value of its assets and Yemen has been the company's proving ground. A key element in achieving this is a policy of working closely with the local population and industry, which provides a solid foundation for long-term presence. During 2011, for example, political unrest in Yemen meant DNO International moved its expatriate staff to Dubai for safety purposes yet the company maintained a 95 per cent production uptime because many of its staff were Yemenis.
Apart from Yemen, DNO International is also present in the UAE, Tunisia, and the Kurdistan region of Iraq where it was one of the first companies to be granted a license in 2004. The rapidly rising star in the company's portfolio, however, is Oman. A presence was formed in the country following a merger with UAE-based RAK Petroleum's oil and gas assets in late 2011, which also bought three UAE licenses into the company's possession. The acquisition saw DNO International gain holdings on four Omani blocks: production in Block 8 and exploration in Blocks 30, 31, and 47.
As with Yemen, exploration and appraisal in Oman continues to unlock its full potential as an oil and gas producer and key component of the company's long-term MENA strategy. DNO International's primary goal when entering a new block is to reach the production stage swiftly but also to gear it towards plateau production as efficiently as possible. The Tawke field in Kurdistan, for example, increased from 50,000 bopd when DNO International first began extracting oil in 2007 to almost 100,000 bopd in 2012. With three Omani blocks currently being explored, production in the country will rocket in the coming years. Block 47, for example, is expected to come online mid-2013 with beginning production rates at 5000 to 10,000 bopd.
In 2011, DNO International reached a peak production level of 51,315 bopd – the highest yet in the company's history. Revenues also reached a historic peak, with figures almost double that of 2010. This put business in a good position as it entered 2012, and the addition of licenses in Oman pushes the company's MENA momentum onward. Results up to Q2 2012 have shown a slight decrease in both production and revenue as a result of declining production in Yemen as well as a temporary halt in exports from the Tawke field, but this has not disturbed the company. Production across many wells has continued unaffected, helping to retain a healthy outlook.
Looking at 2013 and beyond, DNO International continues to develop new wells in Yemen to replace the existing ones reaching tail end of production, as well as placing heavy emphasis on its brand new presence in Oman. September 2012 saw the striking of new movable oil in Kurdistan's Benenan-3 well, part of the Erbil license, marking the region an ongoing source of new assets. Meanwhile UAE remains under small but steady production, and Tunisia represents significant potential, not only through onshore wells but offshore fields as well. DNO International is in a strong position throughout its market and with decades of experience guiding it, the company is set to maintain its position as a leading MENA oil producer.
DNO International
Services: Exploration, development and production