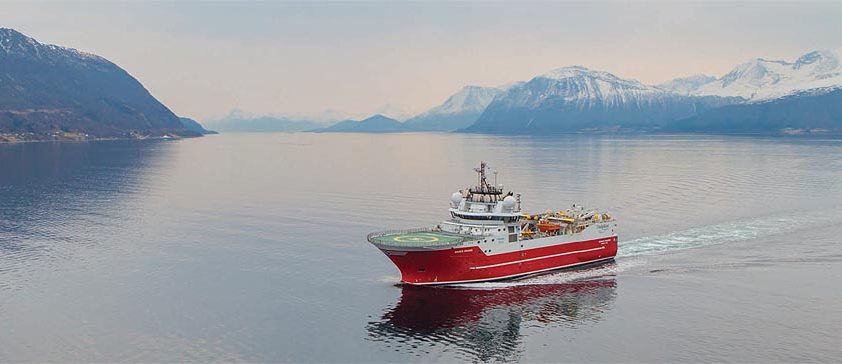 Powerful solutions
In late 2010 Dolphin Geophysical was established, embarking on a path to become a high-end first-class marine seismic service company.
"We have stuck rigidly to that goal, ultimately leading to our success," begins Peter Hooper, COO. "We had a very focussed and aggressive business plan to build a fleet of eight vessels. With seven currently in operation we have the last planned new-build, the 22 streamer Polar Empress, due to be delivered in March 2015. It is a credit to our technical department and contracted ship owners to have been able to consistently construct and deliver these vessels on time. The success of the business plan relies on controlled expansion, and attention to detail. In Q2 2014 the launching of two vessels simultaneously, the 16 streamer vessel "Sanco Sword" in Norway and the 16 streamer vessel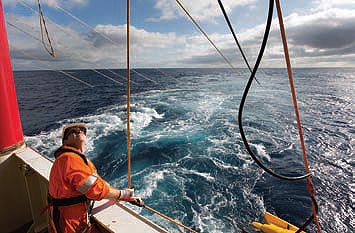 "Polar Marquis" in Singapore, was a significant achievement," he adds.
Today the business holds a respected and firm market position based on solid performance. Many of its clients return with repeat business, such as Shell and TGS, with 2014 marking the third year of delivering services to these two key customers worldwide. Globally, Dolphin's growing customer base is incorporating a greater number of major oil companies and NOC's, whilst also developing strong relationships with smaller cap exploration company customers, building on its reputation for being able to deliver powerful solutions.
"We have the capacity to deliver exactly what the customer needs, often in challenging frontier areas of operation, utilising efficient and extremely powerful vessels. Further to the developments in towed acquisition techniques such as Dolphin's SHarp combined acquisition and processing broadband seismic product, we also own our own processing software," highlights Peter. Following the purchase in 2012 of the seismic processing software company Open Geophysical Inc, developer of OpenCPS, land and marine seismic processing software, Dolphin has continued to build on the infrastructure of the software developed by Open for approximately four years prior to the acquisition, which includes a modern graphical user interface, and a modern data flow that naturally incorporates parallel processing. This is completely unlike older systems that were often initially written in the 1970's or 1980's and have had GUI's and parallel architectures bolted on top of the original code. What's more, it is fully interactive for parameter testing while also allowing batch processing.
"Since purchasing Open, we've helped to build up the geophysical applications significantly and now have a full suite of tools for time processing and imaging," he explains. "2014 is another growth year, marked by exciting developments such as the launch of our depth imaging software and services.
"At Dolphin we believe we have a competitive advantage in that we use exactly the same software on all vessels and in all of our offices. It is the same GUI all the way from real-time QC on the boats, through fast track processing, interactive testing and analysis, time imaging and finally depth model building and imaging. This allows more flexible movement of staff between vessels or offices and at the same time allows office-based geophysicists to develop their processing skills by working on both time and depth imaging projects.
"Not only do we generate work from our own vessels, producing fast-track products offshore, and further processing the data at our onshore processing centres, but also marketing available onshore processing capacity to process existing third party data sets at Dolphin's processing centres in the UK and Singapore, with plans to expand in the NSA Region," he adds.
Operationally active in Australia, the North Sea, East Africa, Central America and Asia, in July 2014 the business is opening up a new and larger processing centre in Singapore from where all its Asia Pacific operations are managed. "We continue building up a presence in Asia as we increase our volume of offshore operations and our onshore processing capacity. We have also expanded our Houston office considerably in the last two years as we target operations in Central and South America, with Andy Phipps recently joining the Dolphin team, and leading our future NSA growth as President of the Western Hemisphere," explains Peter.
A portion of the fleet has been active in Brazil over the past 12 months conducting a large 3D multi-client survey in partnership with TGS. With contracts in the NSA region due to commence with both Shell and Repsol, 2014 remains a very active year as Peter comments: "Having nearly completed the "vessel build" phase of our business plan, we have continued to solidify our global position with clients and have started to see the rewards from the last three years of hard work." That hard work has been particularly highlighted in the success and growing reputation of each individual vessel, demonstrated by a very strong backlog into Q4 of 2014.
"No matter how well a job is conducted, we are ultimately unable to control the global market. There was a dip in Q4 of 2013 experienced by Dolphin and several of our competitors, which prompted us to strengthen our global push so that we are not reliant on one market region, and less seasonally exposed. By increasing our fleet size we have in turn been able to generate more flexibility, resulting in greater efficiency and utilisation. The uniform combined large streamer count and power of our high-end vessels also makes for efficient fleet planning," says Peter.
With its flexible and customer orientated focus, Dolphin remains an open organisation that focuses on careful planning to achieve its goals, as Peter points out: "Through common project planning with customers, we are fully aligned with our clients when it comes to de-risking their project operations and their survey. A lot of the places in which we work are very environmentally challenging, remote, frontier areas, or have other challenges such as complex field operations in more developed areas, and our clients recognise that through the Dolphin organisation they get access to the right people when they need them, so questions can be quickly answered and operational risk managed through good planning. The business recently received its ISO 9001:2008 accreditation, Dolphin's QHSE department leads the push to achieve a major corporate target of documented continuous improvement- formalising processes, records, and risk management within a living management system utilised by the offshore crews and staff at all worksites. We also give our clients full access to senior management. We are a dynamic company delivering a high quality service."
As the business continues to expand, it employs a large amount of new talent into the industry, both from universities and other industries. Within the business Dolphin provides an internal training programme, customising knowledge to allow new-hires to rapidly contribute to the company's performance. Equally, as it has acquired businesses it has recognised the skill within those companies and incorporated those individuals into its evolving structure as Peter indicates: "We are not a start up company anymore, and with global growth we have adjusted our structure to ensure the business is managed effectively by motivated employees, delivering a high quality of service, no matter where we operate in the world."
Over the next 12 months, in line with the business plan, global expansion and global revenues are targeted. "We have seen been exponential growth since 2010, and revenue targets next year are significantly over $400 million. Our vessels are designed to meet the future needs of the seismic industry, and as clients request wider and larger configurations, Dolphin delivers reliable services, through one of the best fleets in the marketplace."
At the time of writing Dolphin's heavily pre-finded Gotha Multi-Client survey in the Barents Sea is making excellent progress. The data is currently being acquired using Dolphin's proprietary SHarp broadband acquisition technology and processed in Dolphin's UK processing center, using Dolphin's OpenCPS software platform. The data shall be available to clients in time for upcoming APA 2014 and 23rd acreage Rounds.
"This is an excellent illustration of the fact that Dolphin has become a mature company, with the ability to innovate and compete in all segments of our industry. With our focus on powerful solutions, the key for us is to open up new market areas utilising this powerful and modern fleet and high service levels. Although we have almost completed building the fleet, we continue to build and strengthen the company, and as such look for new opportunities. The market place looks quite healthy as we go forwards with a healthy supply and demand balance expected. Through keeping in touch with the market and having the correct team in place Dolphin's future is strong," Peter concludes.
Dolphin Geophysical
Services: Marine seismic company