In the pipeline
Dominion Gass was established in 1987 as Dominion Technology Gases, the only Scottish-based specialist industrial bottle gas company that offers the full range of diving, welding, industrial, laboratory, test and calibration gases.
Headquartered in Aberdeen, the company's largest market is the North Sea, which is also served by Norwegian subsidiaries based in Stavanger and Bergen. Dominion also operates a factory in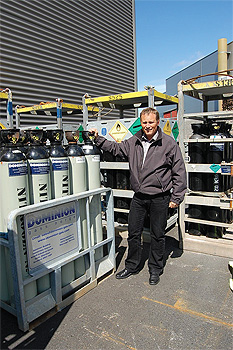 Singapore covering South Asia and the Pacific market. As an international oilfield services company, it specialises in the supply of offshore cylinder gases, liquids, chemicals and associated equipment to the global oilfield industry. Maintaining a high standard for quality products is key to upholding Dominion's strong reputation. Its motto is 'complete standards', which demonstrates to customers its constant efforts to attain the highest standards in innovation.
The bases in Norway were established as part of Dominion's strategy to be located all around the North Sea, enabling it to offer customers the best service possible. "The office in Norway employs all the different types of gases," explains Dag Bogetvedt, general manager of Dominion Gass Norge. "We have diving gases for the North Offshore customers, test gases, welding gases and we even have a licence for medical gases.
"Dominion is an offshore service company and as a lot of our competitors are industrial companies, they don't specialise in the offshore market. We are 95 per cent offshore focused at all times so we are really experienced in this area and all our equipment is offshore related – that's beneficial to our customers because we are specialists in the offshore sector and can provide them with a complete service based on an in-depth knowledge and experience of the market. We recently undertook a project for the Ormen Lange pipeline in Norway. It was a large contract that required a large amount of gas and logistics planning to complete, but I am pleased to say it was a great success."
Having observed increased activity in the West African region at the moment, Dominion has identified a good opportunity to further its global expansion. The announcement of plans for a new gas plant in Ghana were announced earlier in 2009. The company hopes the new plant will enable it to greatly improve the services it provides to existing clients and potentially attract some new customers. The investment in the West African site will exceed £1.5million. Once completed, the Ghana plant will act as a hub allowing the company to better service the surrounding oil producing countries, including Nigeria and Angola. It will also have the capabilities to produce the complete range of gases required by the oil and gas industry. With onsite laboratory facilities, every batch of gas that is produced at the plant can be analysed and certified before being delivered to customers.
Dag comments on the new facility: "Ghana is a separate operation, which will be run and managed from Aberdeen with support from local management in Ghana. In Norway, we are helping to provide the new factory with equipment, a service that we already carry out for other Dominion subsidiaries elsewhere in the world. For this purpose, we have a fleet of equipment that can be easily transported around the world – sometimes we send it to other offices and then they can send it to us depending on needs and the market situation. As part of this we have recently invested in a mobile filling plant, which has been purpose-built as a containerised unit that can be moved around the world to whichever project requires it. It is currently being used in the construction of the Ghana plant."
The current global recession and resulting challenging market conditions are not impeding Dominion's progress in Norway as the company develops its operations overseas. Dag explains that the company's geographical location is largely to thank for this: "We are optimistic about our future. Norway hasn't seen much of the downturn in the market and western parts of Norway remain largely unaffected at present; the unemployment rates here are still very low. Obviously we are experiencing the slowdown in terms of some offshore projects being postponed or slightly delayed, but as a general rule the market here is still strong."
In the future, Dominion aims to continue its global expansion. Dag explains: "Dominion will spread around the world in the coming years; we now have departments in Singapore, and in Perth, Australia; we have a sales office in Houston, and we have set up the plant in Ghana. We are also already located on the North Sea market, in Stavanger, Bergen and Aberdeen. So based on this strong global presence, I think Dominion will expand further to give customers a better service because a lot of our clients are large offshore service companies and they are already located round the world. If we can provide them with a complete service then that will be beneficial for them and for us as well."
Dominion Gass
Services: Oilfield services