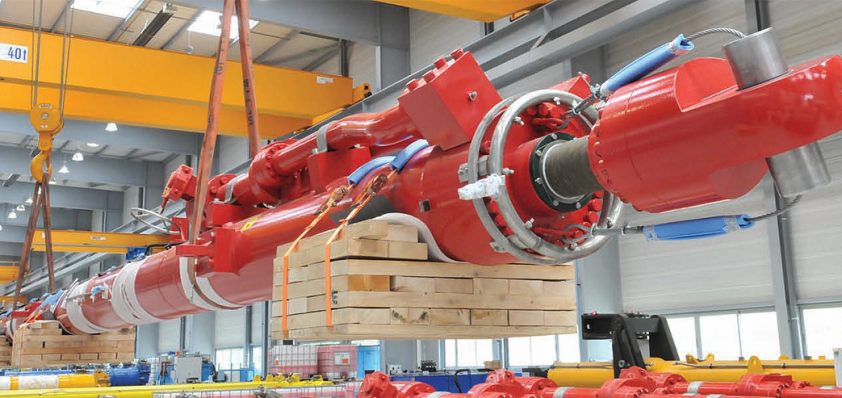 In demand
Since last appearing in European Oil & Gas Magazine in 2012, Douce Hydro SAS, a designer and manufacturer of hydraulic cylinders, has recorded its best year ever in terms of awarded projects and income.
In the past 12 months the company, an organisation with over 60 years experience in its field, has spread its wings and penetrated new regions in the world. As demand grows in new markets such as Brazil and Asia Pacific, the business has also opened its operations in Northern Eurasia. "We have started a relationship with a new Russian partner with very promising perspectives," says Laurent Lasser, global business development manager. Not only that, but a new factory dedicated to small cylinders has been opened in Romania and its major factory in Albert, northern France, is now the biggest and most state-of-the-art in the world for extra-large special hydraulic cylinders.
The company's dedication to constantly evolve, develop and meet customers' needs led o a visit by Mr. Pierre Lellouche, the secretary of state for Foreign trade, who used it's success as an example for French industry of what a small company can achieve. "Douce Hydro came from one per cent export in 1990 to 90 per cent in 2012. This was achieved by listening to customers, developing high engineering value and investing in industrial capacity," explains Laurent. The visit resulted in Douce Hydro CEO Jean-Marc Vandenbulke receiving the 'legion d'honneur' for his contribution
to French export in the world.
While many firms suffered during the recession, Douce Hydro continued to enjoy success and has a positive outlook for the future. Laurent elaborates on this: "Energy is a strong market and there are many important opportunities appearing in offshore oil and gas and renewable energies. For the cylinder industry, the main challenge will be having enough capacity to follow the boom of offshore exploration, hydropower and renewable energy's needs for these products."
The company, with a turnover of £30 million and over 250 employees, is proud of its innovation and is keen to expand its portfolio of efficient and revolutionary products. Two recent solutions are a new cushioning technology that uses a high viscosity fluid dedicated to ultra-high amounts of kinetic energy to absorb, and Keralock, a system with the ability to lock rod diameters up to 600 mm at any point of the stroke. It is fully failsafe due to its available manual override and is used on a J lay tower folding system. This locking system can retain a force of 1000 MT in both directions. Despite Keradouce, a coating used by Douce Hydro for cylinders in harsh environments, enjoying strong recognition from most customers, new coatings are being developed by the company to establish it as having the most extensive and best performing rod coating range in the market. "We are constantly developing new solutions in order to follow our customers' needs in terms of corrosion and wear resistance," enthuses Laurent.
Adding to its portfolio, the business has recently acquired the French nb2 in large cylinder manufacture (MAAC), giving it a new factory in Brittany and considerably increasing its capacity in engineering, manufacturing and project management. "MAAC is extremely knowledgeable and remarkably experienced," explains Laurent. "This will undoubtedly be a strong asset to Douce Hydro's growth next year."
Already looking to the future, the business believes there will be a boom in the needs for deep offshore drillships and platforms, as well as FPSO turret locking systems. To prepare for this, Douce Hydro has massively invested by installing a new four head welding bench with the ability to weld both ends of two cylinder barrels at the same time. The company has also invested in an ultra-modern monitored test bench that is able to test eight cylinders at the same time and can conduct an FAT twice as quickly as any competitor. As demand for weld overlay coating grows, Douce Hydro has expanded its capacity by acquiring three machines dedicated to lasertek coatings.
Looking ahead, Laurent has an idea of how he would like the business to progress over the next three to five years: "Douce Hydro will continue to invest and expand to give a relevant industrial answer to its customers' needs. New local operations will be set up and the company will expand its capacities and footprint to reinforce its status as a global player." With energy still a strong drive and many opportunities in the oil and gas industry on the horizon, it looks like the future will continue to be bright for Douce Hydro.
Douce Hydro
Products: Hydraulic cylinders