Downhole Chemical Solutions
Defying expectations
With its roots in oilfield chemicals running deep throughout the company – the experience of its technical team is measured in centuries, not just years – Downhole Chemical Solutions (DCS) is a recognized leader in the development, manufacture and application of performance-based slickwater fluid system additives. "We are what we call a 'pure play stimulation chemical company, specializing in exclusive chemical products and services that are proven to provide superior performance, enhanced returns and consistent quality," begins DCS' Chief Executive Officer, Wayne Curtrer.
By combining its team's geology, reservoir analytics, frac design and stimulation chemical experiences, DCS is able to assist its clients in all aspects of their stimulation program. Starting with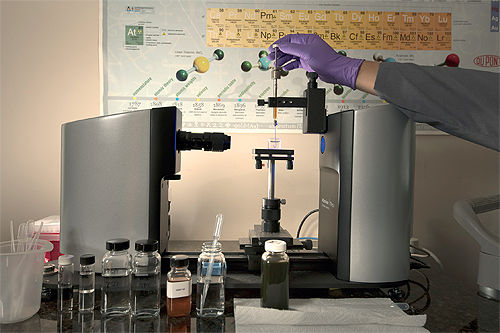 pump schedule design input, and running all of the way through to analysing post frac flowback, the company can serve as a trusted advisor to said clients' completion programs.
"Our approach to business is somewhat unique, in that we are a laser-focused organisation, dedicated to our core competency, which is delivering exclusive slickwater fluids and chemical offerings," Wayne continues. "We effectively marry three core areas of thinking. The first is our molecular knowledge, which covers our team's unmatched understanding of the chemistry behind our solutions, while the second is what we refer to as our application knowledge. This relates to how DCS's chemistries actually perform in downhole conditions, and this expertise is one of the things that really sets us apart as we are able to address E&P clients in a constructive way that they understand. The final element is our operational knowledge as it relates to the manufacturing, logistics and field application of our products."
Patented solutions
In recent years, DCS has taken its expertise a step further still, by enhancing its knowledge and offerings around high-concentrated friction reducers (HCFR's). On average, friction reducers account for approximately 55 per cent of the total chemical spend on a stimulation task. Traditionally, the delivery method for the chemicals used in comthese products have been liquid emulsions or slurries that contain minimal polymer content. This has often been found to be highly inefficient and a contributor to higher operator costs.
In response to this – in January 2019 – DCS introduced its first DriFlowTMdry polymer unit to the market. Utilizing patented polymer dispersion technology, DriFlowTM reduces total chemical spend by up to 25 per cent, delivers true on-the-fly dry polymer delivery and real-time water quality monitoring, greatly reduces HSE risks associated with liquid friction reducers, and comes equipped with a fully integrated communications system with cloud-based data acquisition.
"The introduction of our DriFlow system has taken DCS into an entirely different realm as it relates to how we can serve our clients with industry-leading, cost effective solutions," Wayne enthuses. "Dry friction reduction is a complex technology to handle, hydrate and disperse, so in doing so we believe that we have truly set the bar in this field, and that has led to DCS becoming the leading provider of it in the United States. As of September 2020, we have 11 of these systems operational, with a further five sets to enter service before the end of the year, and three more planned by the end of Q1 2021."
Today, DCS boasts coverage in Midland and Pleasanton, Texas, where in the case of the former its presence can be found in the prolific Delaware and Midland Basins of the Permian, and in the latter, it operates in the greater South Texas, specifically in the Eagleford Shale and Eagle-Bine Shale areas. Further afield, it also operates in the Anadarko/Arkoma Basins in El Reno, Oklahoma, and in the Marcellus and Utica areas of Claysville, Pennsylvania. In the last 18 months, the reach of the company has also extended internationally, with a large amount of its product being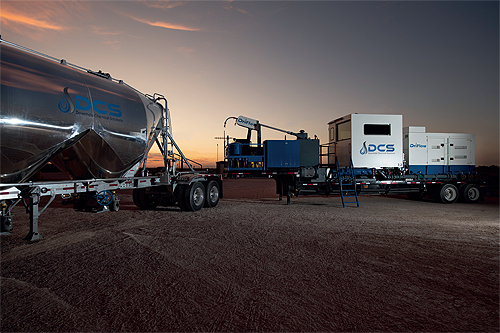 shipped down to Argentina, where it is being used by Pan American Energy and Argentina's state-owned oil company YPF.
The success of DCS and its patented solutions have resulted in the company being listed on the prestigious Inc. 5000 list, the annual guide to the fastest-growing privately held companies in the United States. Reflecting upon this, Wayne goes on to detail what he puts this continued prosperity down to, and how DCS has, in fact, always been a company that has defied expectations. "The key factor behind our success is – simply put – the outstanding, repeated performance of our offerings, which has been extremely well received by our E&P clients in particular," he says.
"When we first founded the company, back in November 2015, we did so at a time of low oil prices, so we essentially started life at the bottom end of the market," Wayne adds. "Personally, I was born and raised in and around the oil and gas industry, so I have seen first-hand the ups and downs that it can face. This allowed me and the rest of the team to approach setting up DCS knowing that it needed to be a company that could withstand the peaks and valleys it would inevitably encounter. This helped us to overcome the trying times we have seen, and in fact thrive through them.
Forward plans
"As we came into Q1 of 2020, we were coming off the back of seven months of continuous growth and profitability, but then Covid-19 hit. What we made a concerted effort to do, however, was not to rush to diversify or modify the business, but to really hunker down and focus on remaining the preeminent slickwater fluid system provider in the market. What we have found is that when you have a simple, focused business plan such as ours, you are not forced to make a great deal of changes when challenges arise."
With the business now having returned to profitability following an expected dip during a spring marked by Covid-19 related restrictions, and with the majority of those employees who were furloughed at the height of the crisis now back at work, immediate efforts include delivering the above mentioned new DriFlow units over the next few months. Increasing the number of these units in active service will further support the wider goals of Wayne and his team going forward.
"To put it simply, what motivates us is winning, and our entire ethos as a group is based on the principle that if you win at the small things, then you are likely to win at the big ones too. In business, this generally results in profitability, and that allows us to take care of our people, whether that be in the form of providing healthcare or pension plans," Wayne states, before setting out a longer-term vision for DCS. "In the next few years, we would like to take the business to a point whereby it could potentially be acquired or merged onto a bigger platform so as to be able to bring even more solutions and units to prospective clients. As previously stated, DCS is leading the charge when it comes to things like our DriFlowTM technology, and we have no intention of taking our foot off the accelerator, and we believe that with the right support we can continue to grow at an even faster pace."
Downhole Chemical Solutions
www.stimchems.com
Services: Slickwater fluid systems and viscosifying friction reducers