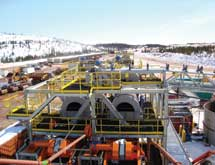 Established almost 30 years ago, the DRA group employs approximately 3,000 people in its offices around the world. Following the opening of a Canadian office in 2005, the company has recently focused on ramping up operations in the Americas.
At the beginning of 2011, Wray Carvelas took over as CEO of DRA Americas, having previously held the position of DRA's director of projects for the African region. In this capacity, he was responsible for managing a project portfolio valued at approximately $5 billion.
Carvelas has 20 years of experience in gold, copper, iron ore, diamonds and platinum. He is particularly skilled at fast-tracking projects, plant turn-arounds and shutdowns. By appointing someone of his caliber to head up the company's Americas operations, the company is sending a clear message of its intention to grow its business in North and South America.
Since arriving in Canada, Carvelas has grown DRA Americas from eight employees to more than 30, with another 20 to 30 positions to be filled by summer 2012, the company says.
"We are really excited by the opportunities we see for growth in this market," Carvelas says. "There is currently a gap in the market servicing small to mid-tier resource companies, and we believe we can make an impact offering our customized services to suit the individual needs of clients."
Success in Africa
DRA was founded in 1984 in Johannesburg originally as an electrical and instrumentation company, quickly broadening into a full-service mining and mineral processing engineering consultancy. The company maintains headquarters there, but it has operations in Canada, the United Kingdom, India, China and Australia as well.
DRA's capabilities include process engineering; metallurgy; structural, civil and piping design; electrical and instrumentation engineering; infrastructure; project support; construction management; commissioning and process optimization. The company most commonly works with chrome, coal, copper, nickel, cobalt, diamonds, gold, iron ore, zinc and platinum group metals.
Expansion to the Americas
DRA Americas understands the importance of establishing partnerships with local contractors whenever it enters a new region. Partnering with local companies is essential to gain a better understanding of how business works in these areas.
"This partnership approach gives us valuable insight into the local culture, laws and tax regime, and it expands opportunities for our partner companies too," Carvelas says.
Not only is this key to understanding how business works in these areas, it is often a requirement to earn contracts in these regions.
Carvelas says South America is similar to African nations in that project owners prefer to work with local contractors who are familiar with the way things work in their own environment and want to reinvest in their local economy, as well.
"We identify people and partners where we can see mutual benefit and complementary skills and strengths which provide opportunities for both companies to grow," Carvelas says. "Nurturing relationships with local companies is a cornerstone of our growth strategy and gives us leverage in new markets.
"My vision is for this company in the Americas to follow what our company has achieved in Africa," Carvelas continues. "We want to be the contractor of choice in the Americas, just like we are in Africa."